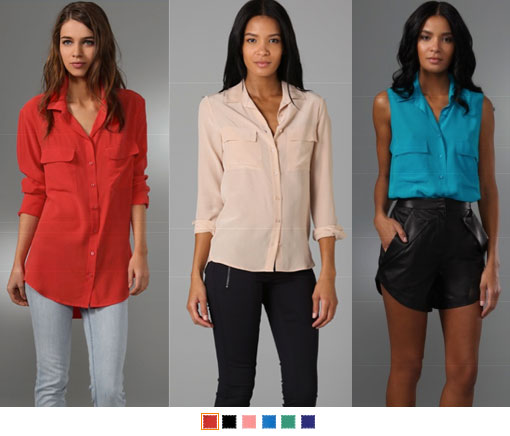 I just have to share the fact that I have worn one of my Equipment shirts the last three nights and I still can't take them off. They are a no-brainer, must have at least one in your closet if you don't already. They come in beautiful vibrant colors that make a statement year round. The stretch silk fabric is so soft and flattering for any body type. I just wore my Signature Blouse tucked into my black wide leg trouser jeans from Seven and a chunky Lanvin necklace. The shirt also looks great over straight ankle J Brands, black skinny Paige jeans and ripped up Current Elliots.
Blondes, go for the Sangria and Coral.
Brunettes, go for the Nude and Electric Blue.
Buy The Equipment Signature Blouse at ShopBop
– Kathryn, The Blonde