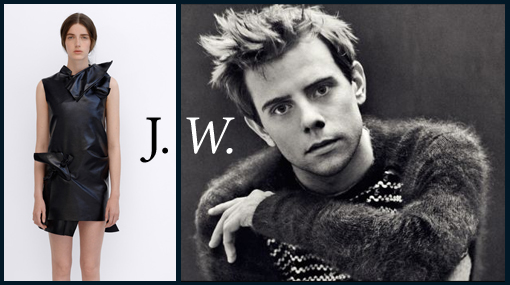 We recently met up with British designer J.W. Anderson, one of the fashion world's rising rock stars, who is known for being "supremely poised", "taking risks on the catwalk" and his "architectural, androgynous silhouettes." We were already big fans and now he's been rubber stamped by LVMH Moët Hennessey Louis Vuitton. They recently announced they are backing his signature brand and "banking on him to refresh" Loewe, the storied Spanish luxury house.
Smart choice as J.W. is widely know in fashion circles for his iconic sweaters, particularly the widely popular "window pane" style, iconic "banding" on tops and tunics, body con knits, and highly sculptural designs. We sat down with J.W. at Saks Fifth Avenue in Beverly Hills to talk about his Resort 2014 collection, share some of his insights into today's fast-paced fashion world, and, of course, a bit of high tea! Read on. Nothing is more fascinating than learning about a designer that's transforming the runway and street style.
B&B: The theme of your work seems to be about pushing the envelope, do you agree with that?
ANDERSON: Of course, it's all about pushing the envelope! I was probably never meant to be a designer, but, when I started, I wanted to make sure we would be a leader in the field so that it was not about replicating things, it was about finding that newness. The idea is, I hope, that we are a leading brand, in terms of design and in terms of trend, and trying to take risks on things.

NJ: Definitely! I think you're all about risks, and that's what everyone is finding so exciting!

ANDERSON: I love dresses, and I love evening wear, but for me, I think what makes me tick is when I see people wearing a 'look' where they have taken a risk, and feel comfortable. I always think that is really interesting. For me, fashion is an art form, and it's kind of an investment. You have to kind of invest into it.
B&B: What do you think is the difference between the East Coast, you know, that New York Woman vs. the LA woman. Is that an interesting thing that you've been discovering?
ANDERSON: Yes, I am definitely starting to discover that. What I like is that in America, there is a very kind of awareness of fashion, but in a different way from London. I am a big fan of Day Wear, and I see myself as a Day Wear designer. I think America is one of the bests, or the best of obtaining that look.

NJ: You know, I have this check list, especially these days. It has to look great, be clean, sort of minimalist, but has to have an edge, and it has to be comfortable.

ANDERSON: Yeah, that's what I've been exploring most. My whole thing now is about fluid shapes, and things that are more like anti-fitted and like relaxed wear, but in a contemporary way. I think that's my new challenge for myself, is I think in fashion we went through a very heavy stage, where everything was very heavy, very robotic. Things are changing, and whenever I come here, I always get a sense of such freedom, women are so free here to wear whatever they want, and I like that. I like that everything is a lot lighter and more relaxed.

NJ: That's so true. When I pack for overseas, I always wonder if I should pack 'dressier' more 'rigid' things, so I'm not inappropriately dressed in a business situation especially since I tend to dress more outside the box. In the U.S. here everyone seems to feel the freedom to embrace their individuality.

ANDERSON: You know, it was quite nice to go from New York, to Paris in consecutive days, because you go from really cold, to really hot, and it shows you the demographic. As a designer you cannot design for just one customer. It's an open playing field.

NJ: That is one of the great signature elements of your work . Today's women tends to stay in the outfit from day, until evening. That leads us to our next question…
B&B: Going day to evening is there anything you like to do with your clothes that sort of changes the look?
ANDERSON: I always think a shoe and a bag make a look, because a shoe and a bag twists the look. I love moccasins, I've loved moccasins since day one. I always think that a moccasin and a very good pair of stilettos is what every women should have. It's such a classic. It can make a look take on two different concepts. As well with bags, I always think for an evening bag its really good to have something that is slightly conceptual, it becomes like it is really a piece of art. Where as during the day, it should be just something you can throw everything in!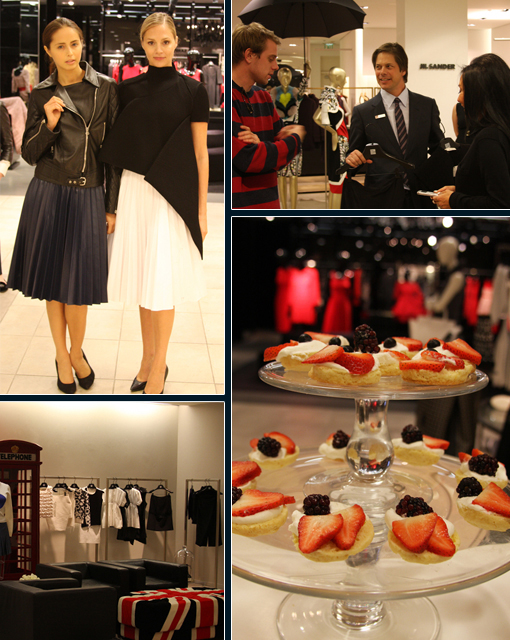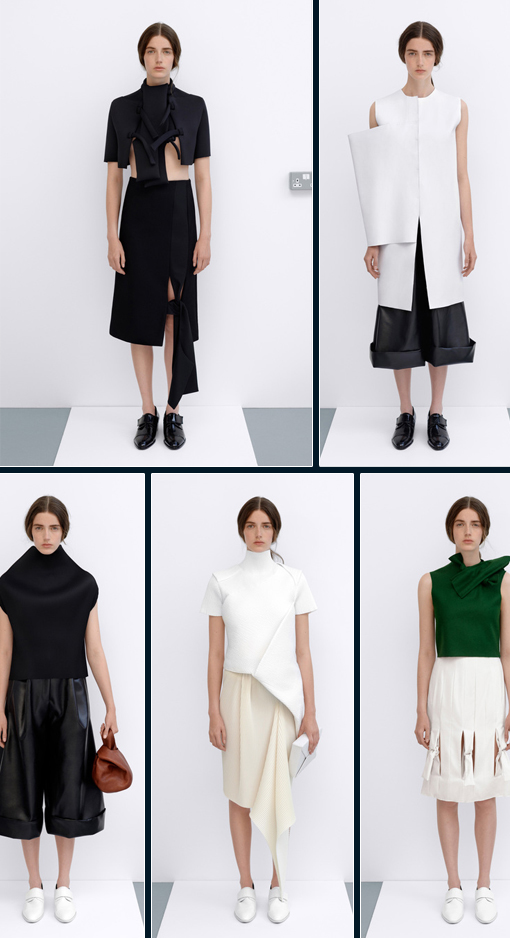 B&B: So you use oxfords sometimes for runway, it seems the shoe is a part of your total look. Are you planning to expand to shoes?
ANDERSON: Yeah, well we will have shoes next year. So we will have shoes & bags. We started with bags in this new collection, which we did this sort of moon shaped bag, which was an envelope bag that had a moon cut out for your hand. But we are definitely expanding, were working with a few different brands now, and plan to open stores next year.

NJ: So is there any pressure on you to come up with the 'it bag' ?

ANDERSON: Yeah, there's a little bit of pressure on the 'it bag' but not really, my approach for both is by soft structure, I feel like with leather bags, we only have hard structure bags , and I kind of want to do a lot of soft structure bags. I'm kind of into, floppy, light weight, very kind of nappa oriented bags because I think it's part of the market that's not really touched.
B&B: Do you think you have a J. W. "Girl"?
ANDERSON: If I were to put a celebrity to it, I love Rooney Mara she has worn a lot of our stuff, and I am obsessed with her! I think she's super chic and has a very nice way about her. I think the girl is always a bit of a risk taker, she's a bit humorous but very intellectual, someone who's always willing to take a risk and push boundaries. That ultimately can put any top with any pair of jeans, or any denim with a chic top.

NJ: And that's a very LA kind of thing.
B&B: What do you think was your career changing moment? Was it the interview with Anna Wintour?
ANDERSON: I've known Anna for a while, and she's just been an amazing support.

KATHRYN: How did you get to meet Anna?

ANDERSON: I met her in one of the showrooms, years ago. And she's been supportive ever since, and fundamental. Hmm…I trying think to think of what was one of the turning points. I think it was the first collection we did in women's wear. We did this very boyish white-like industrial look. We did paisley, and no one had done a look on paisley. Then the next minute paisley was in, I think it was that moment where we had done paisley, and then the following season it was a trend. People got into it. You just need one thing.
B&B: What would you say is the hardest part about that for you, is it creating the new ideas, or keeping pace with the production?
ANDERSON: Now that we're in the situation we're in, it elevates things. But I think for me, design is never really a challenge, it just comes. But I think it's just the other stuff; it's the parties, all the social events, the promotional aspect. When you're doing collections, it's massive amounts of work. I think I work 7 days a week!

B&B: Do you think you have a signature piece or an investment piece from your collection? If someone was getting to know you, and said that they wanted to invest, what would it be?
ANDERSON: The motorcycle jacket is really a classic, and any of the knit wear. We are kind of known for our knitwear. I feel like knitwear is something everyone can wear!
B&B: Do you have a favorite Red Carpet moment? Since LA is such a red carpet town.
ANDERSON: I loved when Bjork wore that dress to The Oscars when she was a swan. I kind of loved that. I always think on a red carpet it is always best to wear something long, with a train, or a collapsing neck. I always prefer older, sophisticated women on the red carpet, because they always nail it! They always do it in their own way, and it doesn't feel like forced fashion.
B&B: Do you think there are any rules for style for different times and ages in a women's life?
ANDERSON: I'm going to say no. I love when younger girls dress it up. I also actually love short skirts on mature women, I think it's very becoming, especially if it's with a flap. If you feel the confidence to do it. For me, it's just all about the confidence level.
B&B: So we always ask, who's your favorite blonde, and brunette?
ANDERSON: Rooney Mara is my favorite brunette, I love her! As far as blondes, kind of in a trashy way, but still very chic, is Pamela Anderson, she's kind of great. When she's not doing her "thang", and just being natural, I think she's gorgeous. I love when people use her in high fashion because she always looks so chic. She needs a new moment.
B& B: Thank you. Enjoy your time in LA. It's been an absolute delight. For all our readers, you can find the latest J.W. Anderson collection at Saks Fifth Avenue in stores and online as well as at Net-A-Porter and ShopBop.
With Love From LA,
-NJ Goldston, The Brunette, Kathryn, The Blonde, and Lauren, The Blondette
photos: The Blonde & The Brunette