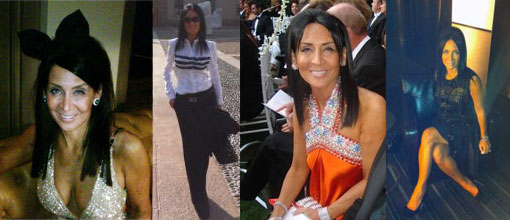 After receiving such a great response on our Fashion Q&A with The Blonde, B&B decided to direct the next round to The Brunette. Here's how she responded:
Fashion motto: It's all about the details.
How would you describe your personal style: Modern elegance +Fashion forward (or urban uniform) with a touch of the unexpected.
Celeb fashion crush: Audrey Hepburn
What is your favorite place to shop: It's a 7 way tie between Prada, Neiman Marcus, Saks , Barney's,Lanvin, Polyvore and Netaporter.com
Favorite Designer(s): Prada, Balmain, Theory, Oliver Theyskens for Theory, Celine and Kaufman Franco
You would kill for front row at: Prada (again) or Balmain
Most flattering jean style and brand: The Current Elliott legging (and jeggings are already out but I don't care) and 7 For All Mankind cropped and rolled.
Go-to travel outfit: Ann Demuelemester black pants, jacket, t/turtleneck and sweater. So worth the investment and this outfit has gone through more airport scanners than I care to admit.
Fashion Jewelry: I agree with The Blonde! Lanvin and Vera Wang.
Accessory you most adore: My stud earrings.
Secret to hide least favorite area: Low-waisted pants or dress.
Outfit your man wants you to wear: Little Black Dress or any backless dress.
Favorite heels: Pedro Garcia. I've been living in their booties and a patent leather heel all winter.
Favorite flats: Dansko patent leather "doctor" clogs combined with my Ralph Lauren Pink Pony leggings and polo shirt to support Breast Cancer. I'm not kidding!
Running around shoe: MIU MIU patent leather flats (notice a theme!)
Favorite sweater brand: Bluemarine (carefully collected and wrapped in tissue)
Best tank: James Perse. Again, The Blonde is so right.
Favorite dress: Prada "Gladiator" Dress
Favorite blazer: My "Michael Jackson" Balmain. Rarely worn and carefully stored.
Leather jacket: Little black leather Prada jacket with zipper. Folds. Travels. Goes with anything.
Favorite Handbag: Gotta go with Louis (Vuitton).
Fashion Flaw: I wear too much black and need to put more color into my wardrobe.
– The Blonde & The Brunette