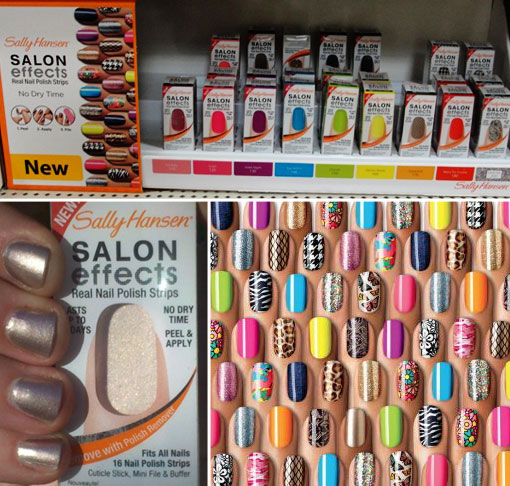 Okay, so I know I'm a little late on telling you about this not-so-new product, but I only recently got the chance to try it out myself. Better late than never! Especially when it comes in the form of an at-home "salon" style manicure for 1/2 the price.
Yes! I am talking about the Sally Hansen Salon Effects. Don't be fooled with the fact that they look like the press on nails you would buy as a kid that fell off 10 minutes later, these are actually quite the opposite.
There are 16 sheets in a packet, and they're meant to be used one sticker = one nail. Although, I have found it is rather simple to use 1 sticker for 2 nails, and get twice the use out of just one pack! Not only are they super easy to apply, but I have never seen any press on nail polish come in such an assortment of styles and colors!
At about $9.99 a pack, they're a little more expensive than your average nail polish, and they're only single-use, but the effects are amazing! They give your nails a streak-free, consistent finish, and stay extremely smooth without the need for a topcoat! They last about 10 days, and come off with basic polish remover. Over here at The Blonde & The Brunette, we give this product two thumbs up!
In stores like Walgreens, Target, and CVS. I have noticed they are often out of the most popular colors, so if you're having trouble finding them in-store like I was, pick them up online at www.drugstore.com.
Xx. Jadan