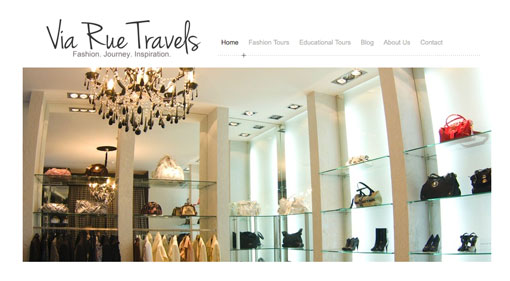 I just found out about Via Rue Travels through Jessica Quirk's blog, What I Wore (she is co-hosting a Paris tour for Spring 2012), and thought I'd share it with the B&B readers, in case you hadn't heard about it. Via Rue Travels provides fashion tours to European fashion hubs including Paris, Milan & Venice and Rome & Florence. A little intro to Via Rue Travels, as quoted from their website:
"Via Rue Travels is a boutique travel company that specializes in fashion and lifestyle tours. From its inception, Via Rue was created with the fashion enthusiast, savvy shopper and cultural explorer in mind. Our goal is to connect our guests to the people and places that inspire design and creativity. Each innovative tour is a response to the expanding appetite of style aficionados for a sophisticated travel experience that showcases the best in original fashion while featuring world-class art, authentic food, and local culture."
7-day tours are currently open for Spring 2012. Paris itinerary highlights include:
Coco Chanel tour
Half-day trip to Champagne region
Visit to Anne Valerie Hash's couture showroom
Private lessons at Lesage, a Chanel-owned couture atelier
Guided shopping tours at La Vallee Village, Blvd Haussman District, Champs Elysees and Triangle D'Or
Perfume workshop with L'Oreal
Guided tour at Yves Saint Laurent Foundation and Louis Vuitton Espace
This is truly the trip of a lifetime for any fashionista! I'm thinking a B&B field trip is in order!
– Ashlee, Brunette Contributor