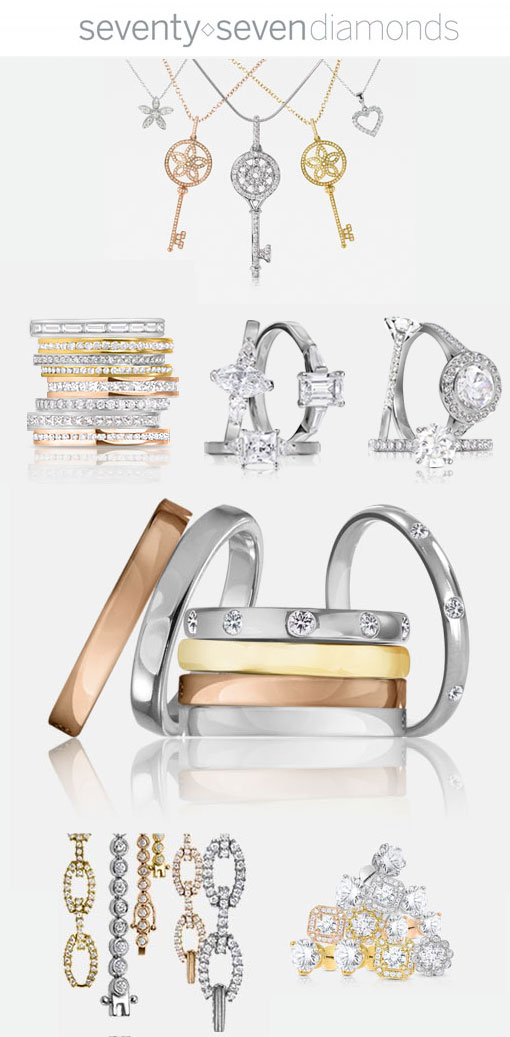 It seems The Blonde & the Brunette are a bit fixated on bling right now. Why not? It's the holiday season and nothing makes us happier than to sparkle in style and we know this is also the season for many a proposal. So in case you want to drop a hint, shop for yourself or a special gift, we just discovered a new global resource; Seventy Seven Diamonds, based in London, ships free worldwide, offers a 60 day return policy and a best price guarantee. Love that. They are globally known for their beautiful diamond rings and jewelry and offer a range of designs from the perfect classic, vintage or contemporary look for engagement rings, bands, eternity rings to sensational modern studs, hoops and designer pendants.
How is this possible? Apparently, they have the largest collection in the world of natural, certified diamonds with over 200,000 in stock ( I wondered if I read that correctly…I did) so they can offer great pricing, even 10 to 15% discounts, on many items for the holidays. The added plus is the site is extremely thorough and educational about what you really need to know when it comes to your diamond and jewelry decision making.

One other thing. I was intrigued by their name and wondered what it meant. It's actually a unique bit of historical trivia in the romance department. Quite simply, Seventy Seven is a reference to the year 1477, when the modern Western form of the practice of giving and exchanging engagement rings began. Apparently, the first diamond engagement ring was given to Mary of Burgundy by Archduke Maximilian I of Austria. Let's give the Archduke a big round of applause for kicking off this wonderful tradition.
Finally, and this may be the most important part, all of their diamonds are conflict-free and comply with the industry's strict Kimberley process regulations. You won't find any blood diamonds here. Originating from Canada, Russia, Australia and Africa, 77Diamonds are sourced direct from the mines. They are expertly polished and sent to trusted laboratories for certification before ever being displayed on their website.
Time to start browsing. I can't think of a better way to add some sparkle to your life or someone you love.Seventy Seven Diamonds
– NJ, The Brunette