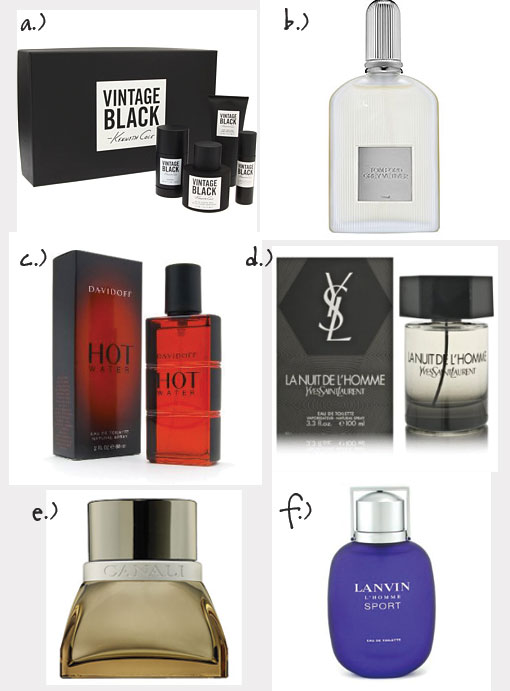 As a second part of the "fragrance" post, we did our research on men's colognes as well. The following colognes are the very best of men's fragrances. Aside from when to wear these colognes, you'll, more importantly, find tips on how much to apply.
What to wear at the office:
Wearing cologne at the office, however, must always be done with care and attention. No one should ever smell you from down the hall let alone when they walk past the coffee machine 20 minutes after you've left. Focus on strategically placing small amounts of cologne just underneath your shirt collar and around your neck.
a.) Tom Ford Grey Vetiver $85. Grapefruit citrus blends with pimento, moss, nutmeg, and, of course, vetiver. Vetiver is a fragrant scent derived from the root of the perennial cuscus grass indigenous to India and Malaysia. Upon first notice, this starts out as a citrus scent but, as the day progresses, it slowly smolders against your skin as the nutmeg and moss bottom notes come through with subtle revelations to enhance your stature.
b.) Kenneth Cole Vintage Black $48 This new urban, masculine cologne has the top notes of pink grapefruit and lime that soon give way to dewy greens, hints of white pepper, tequila (yup, tequila), lavender, and, finally, oak with sandalwood thrown in for good measure. Apply it sparingly.
What to wear on a date night:
Wearing cologne in the evening naturally has different rules of application. While you still want to add a touch or two around your neck and jaw line (allowing her a gentle whiff every now and then), you will also need to apply a little down the center of your torso.
c.) Davidoff Hot Water $42 Patchouli and the unique use of red basil and absinthe converge with pimento creating the complete antithesis of Davidoff's popular Cool Water scent. Hot Water makes quick use of patchouli (a warmly scented oil derived from an Indo-Malayan shrub) The oil has the aroma of heat. Blended here with basil and pimento one gets an unusually masculine and primal scent.
d.) Yves Saint Laurent La Nuit De L'Homme $43. Vetiver and cedar wood ride over a mixture of bergamot, lavender and cardamom revealing an earthiness not often found in men's colognes. It provides a gentler and less overpowering scent for intimate moments, but still provides a strong masculine presence.
What to wear at a formal event:
You want a cologne neither subtle and masculine nor strong and sexual. You want a refined scent befitting the setting and your attire.
e.) Canali Men $35. Canali succeeds with its inconspicuousness. Floral and citrus top notes of clementine, pineapple, bergamot, orange flower, and lily blend easily with jasmine, coriander and nutmeg spices creating a postmodern sophistication. Apply carefully along your neck and upper torso for a balanced aroma.
What to wear during casual/sports outings:
Most men don't just wear a cologne on off days — but they should. In fact, these hours of leisure may be the most important times to wear a cologne because the woman in your life (or the potential women in your life) notices you more in the casual moments than when you're dressing for the work week. A few splashes on your chest is really all you need.
f.) Lanvin L'Homme Sport $24. Unwavering in its manliness and sheer power, this is the singular sport and casual scent for the Everyman. First noticed is the animalistic aroma of musk. As your potential woman steps closer, the subtle fragrant notes of the bergamot fruit and patchouli oil warm and console her senses with their blend of citrus and floral aromas.
MAKE IT A RESOLUTION TO SMELL YOUR BEST THIS COMING YEAR!
– Jadan, The BnB "It" Girl