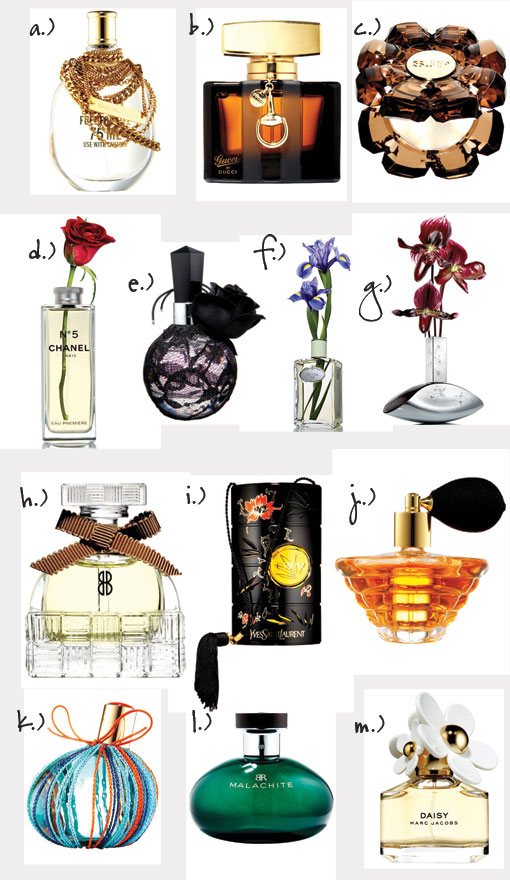 Here at The Blonde and The Brunette, we have rounded up our favorite fragrances at the best price for all occasions so we can share them with you!
What's best for evening:
b.) Gucci by Gucci $80. This Tahitian tiare flower is blended with pear and rounded out with honeyed patchouli. It smells like royalty.
c.) Sarah Jessica Parker Covet Solid Perfume $32. Together, the floral, honeysuckle, Sicilian lemon, chocolate, and musk create a sense of provocative luxury.
What's right for work:
f.) Prada Infusion d'Iris $90.Prada blends orange blossom, wet-smelling iris, mandarin, vetiver, and incense for a charming, light, bright scent.
h.) Bill Blass $20. Notes of pink hyacinth, lily of the valley, tuberose, and jasmine create the smell of fresh-cut flowers and is simply beautiful.
l.) Banana Republic Malachite $35. With floral notes of water hyacinth, peony and the warmth of sandalwood. This perfume is graceful yet uncomplicated, and very easy to wear.
a.) Missoni Acqua $60. With notes of bergamot, melon, peony, and what perfumers call "sole," this is meant to evoke the sun hitting the water. Don't save this for a holiday; treat yourself at your desk.
d.) Chanel No. 5 Eau Première $110. Rose-and-Jasmin-infused, it is elegant, but it's lighter and fresher than the first Chanel No. 5, more of an everyday spritz.
What's right for weekends:
m.) Marc Jacobs Daisy $70. Free-spirited and sunny, with notes of violet leaves, wild strawberry, ruby-red grapefruit, and vanilla. Playful & sparkling, this smell feels effortless.
k.) Diesel Fuel for Life $95. Energetic, vibrant, and fruity, with notes of black currant, jasmine, and patchouli. It's the one to spritz on when you need an instant boost.
What's right for special occasions:
g.) Calvin Klein Euphoria Crystalline Edition $55. Juicy pomegranate combined with black orchid, amber, black violet, and mahogany wood. A modernist head turner.
i.) Yves Saint Laurent Opium Parfum $250. It's opulent yet earthy and warm, with lily of the valley and mandarin balanced by jasmine, amber, and patchouli.
j.) Lancome Tresor Elixir $50. A smooth and sexy version of the original, with notes of violet, rose, sandalwood, and vanilla.
e.) Valentino Rock n' Rose Couture $35. This is not for wallflowers. This scent combines succulent black currant with rose, gardenia, and musk for a slightly naughty feel.
– Jadan