We just found a "luxury" nail polish! World famous celebrity and fashion photographer, John Russo, known for his featured work on the covers of Vogue, Elle, Harper's Bazaar, Glamour, Marie Claire, GQ & Esquire, just launched his own nail lacquer line. The polishes arrived at our offices and there was practically a cat fight over who was going to get to try them.

Here's why we know this, because, well, we live in Beverly Hills and so does John. Until now, John had privately distributed his coveted beauty products which were only worn by his celebrity clients like Hollywood's a-listers Gwyneth Paltrow, Abbie Cornish, our friend Nicole Richie, Cindy Crawford, Zoe Saldana, my next door neighbor Christina Aguilera and Evan Rachel Wood. But what do you do when you want to get the word out to mere mortals? Let the B & B in on the secret.
Honestly we can understand why it was kept under wraps. If you could hoard these sensationally gorgeous and unique colors all to yourself, would you want to share? After all, luxury is about something that is truly rarefied.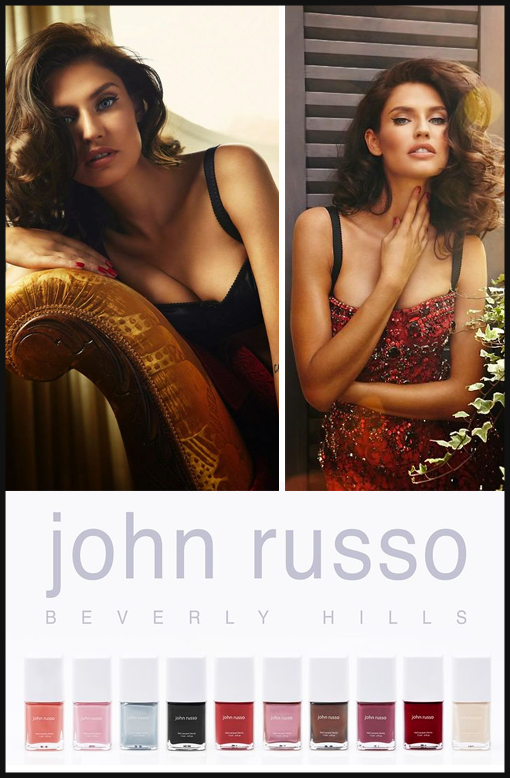 Now the semi-deep dive. The colors are so perfectly matched to this spring and summer's fashion palette that you can literally find the perfect shade to match any outfit. I am a sucker for his pastels with Joe Gray, Miss Cairns, Bubble, Ava, Sophia, Bushey and Laley at the top of my list. Click here to see each absolutely yummy shade.
Of course, you're wondering if we put it to the test. I did. I wore, the Oriole Lane, to the Met Gala two weeks ago in New York. It held up and I went seven days without a polish change to every fashion meeting under the cloudy New York sky's! Thank you Mr. Russo.
So if you want a little bit of luxury in a bottle, you can find his bold nail lacquer in person at the Montage Beverly Hills, the Montage Maui, the Four Seasons Santa Barbara and online at John Russo Beauty. $18 each. Well worth it.
With Love From LA and the front lines of the polish wars,
NJ Goldston, The Brunette