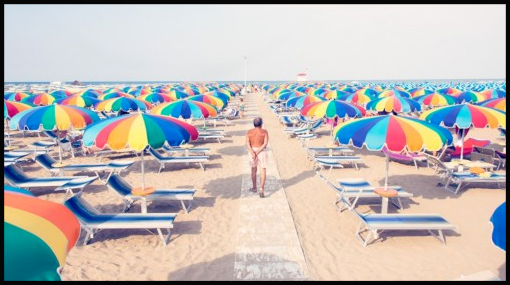 Gray Malin has pretty much gone and summed up everyones dream job. He spends his time traveling to the most beautiful places around the globe, documenting each one through images, and his greatest adventures become his greatest inspirations. They're mine as well.
Malin's newest series, La Dolce Vita has wowed me once again! He just finished a 2,000 mile road trip along the coast, while documenting Italy's most famous beaches! From the Amalfi Coast, Cinque Terre, Mondello, Praiano, Capri and many more. His visually captivating images make you feel as if it's 1970, you're sitting along side him, sipping a Campari, and taking it all in! There is something in the way he captures the retro-vintage beach umbrellas that captivates me, and doesn't want to let me go!
After sifting through his photos a handful of times, I am SO beyond ready to take my own Italian adventure! Who knows, I may just have to buy myself a parting gift of my favorite city as soon as I arrive home!
Ciao Bella!
Xx. Jadan Huter