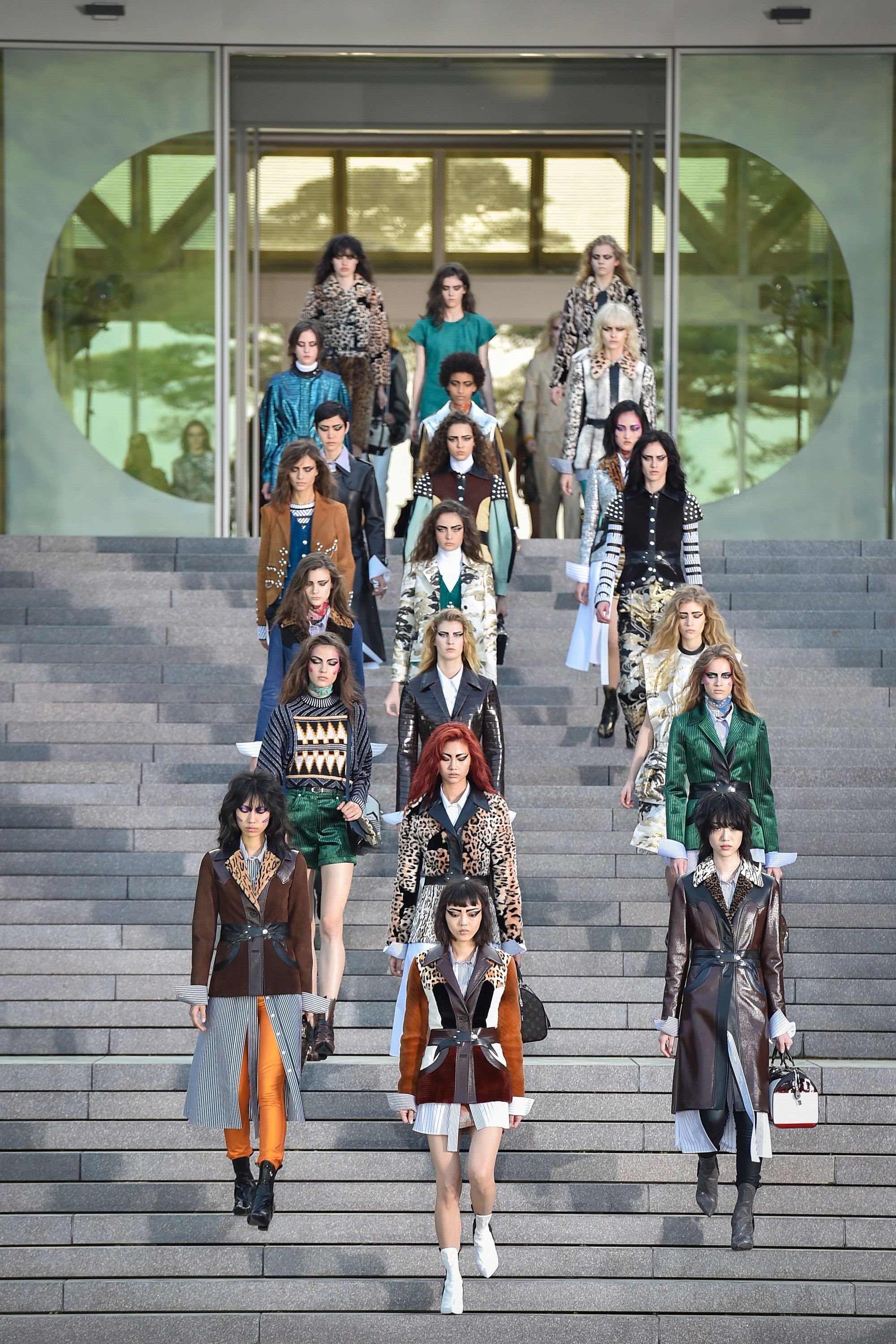 Days ago I headed East, Far East, via Tokyo and the bullet train to Kyoto, for a front row seat at the Louis Vuitton Resort 2018 Cruise collection. A true tour de force, Louis Vuitton managed to upstage themselves (and all other cruise collections this season). There was a slight sense of déjà vu as their two previous resort shows at Rio's Niterói Museum and Bob Hope's John Lautner-designed home in Palm Springs (which I also attended) set the stage literally for an exotic location that was truly deserving of the collection and vice versa.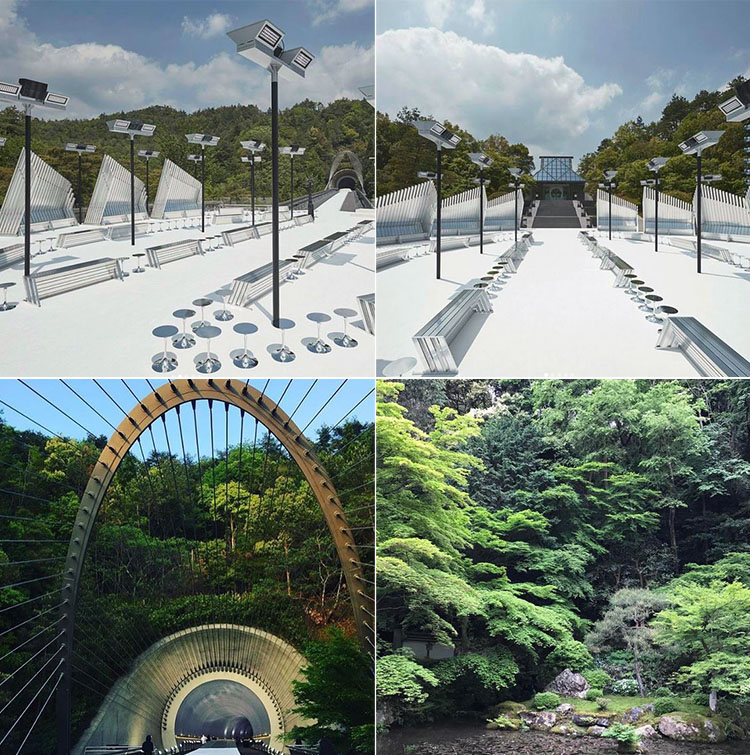 Decided back in November from a list of over 10 locations, Vuitton CEO Michael Burke and Creative Director Ghesquière seem to love the challenge of distant venues with architectural wonders (and travel is obviously central to the brand and cruise) that seem from outer space. This time, an hour's drive from Kyoto, in a remote green valley (reminiscent of an isolated New England woodland), the I.M. Pei designed Miho Museum served as the spectacular venue. Truly a modern day Shangri-la, the stunning locale along with creative inspiration from Japanese designer Kansai Yamamoto, pushed a Japanese infused collection to a fierce, wearable tipping point that paid tribute in an elegant mashup to Japan, samurai armor, Kurosawa's vibrant colors, the artist's designs for David Bowie, traditional fisherman prints, and Kabuki makeup. Models even had one of the longest runway walks in fashion history. An elevated custom-built runway spanned all the way from the tunnel past the suspension bridge to a museum entrance covered in custom white carpeting and custom steel louvered seating reminiscent of Ghesquière's first LV show.
Kansai Yamamoto Inspiration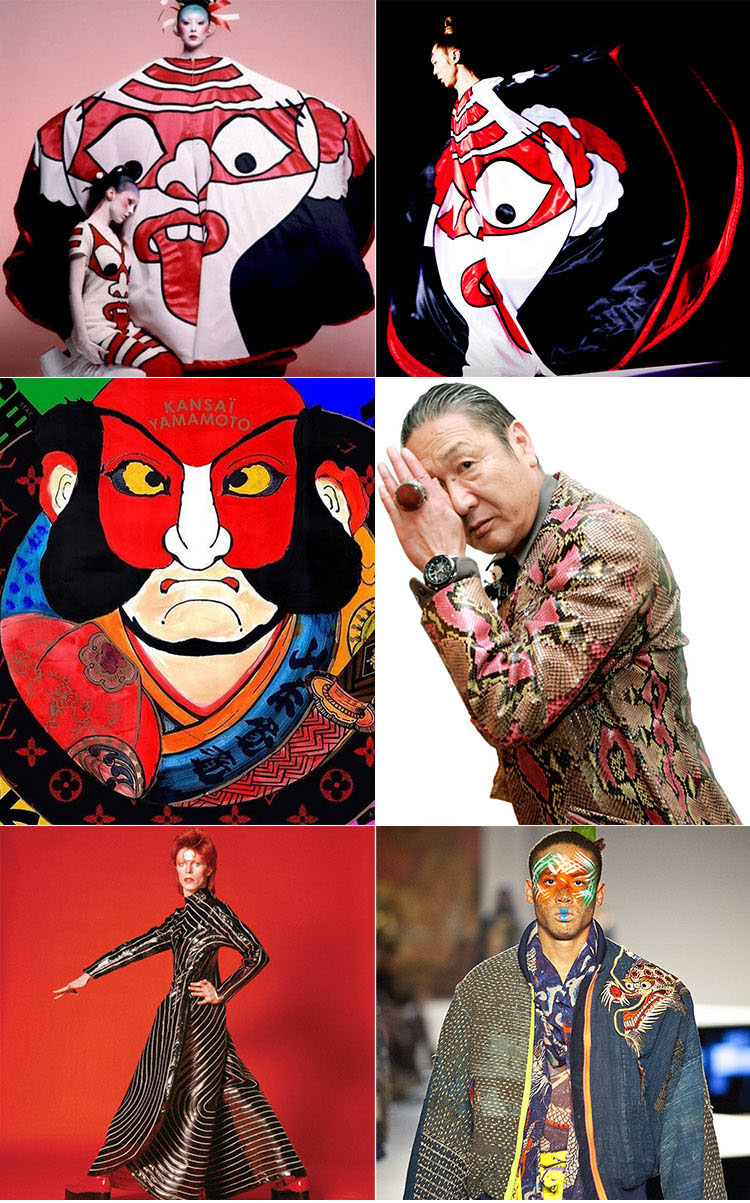 Japanese References & Boyish Influences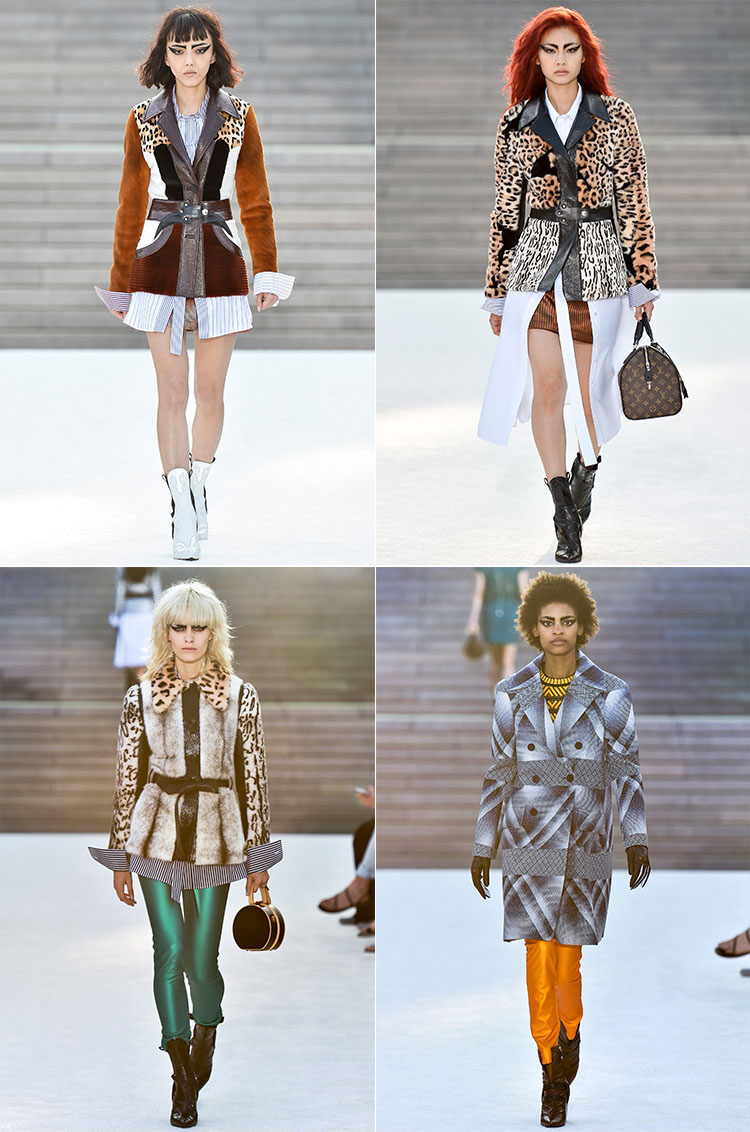 There was so much to absorb but personal standouts and trends included boyish shirting, jewel tone "rubber" pants, and layering mixed with strong prints to samurai-inspired vests, vibrant traditional fisherman prints, hourglass jackets, kabuki-eyed bags, "lantern bags", Kansai Yamamoto-inspired sequin dresses, and the pièce de résistance(s) soon-to-be editorial and celeb Red Carpet favorite embellished black and gold dresses.
Samauri Style
Traditional Prints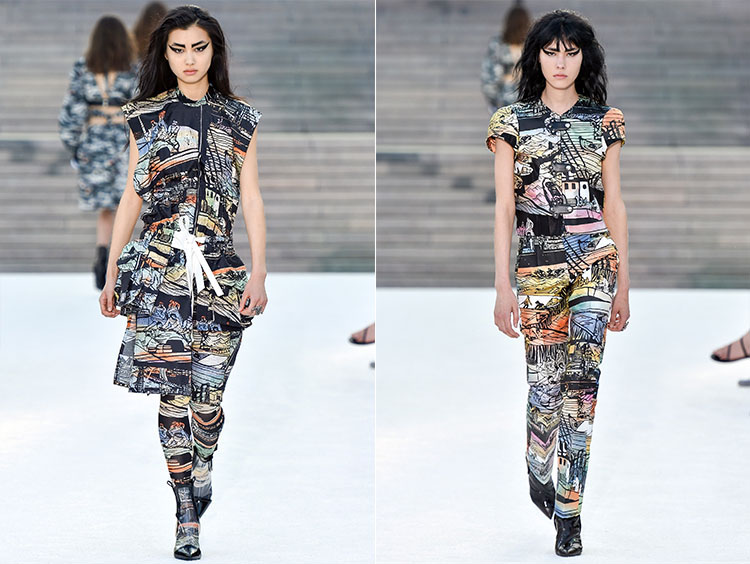 Hourglass Jackets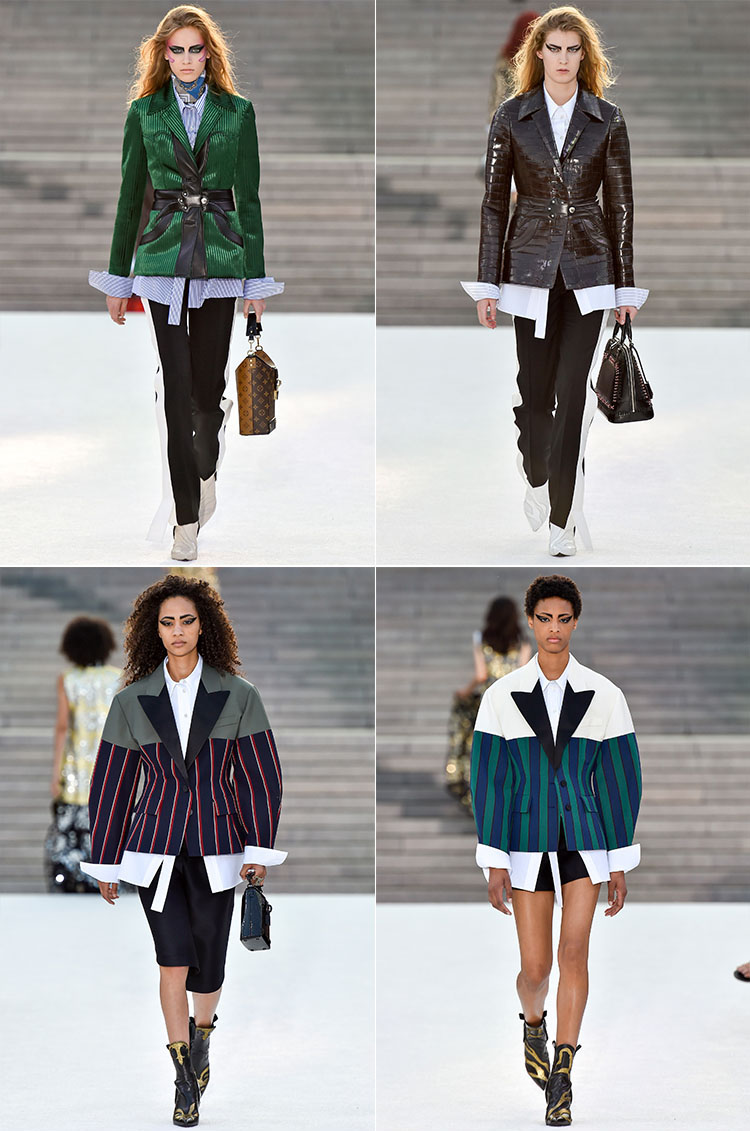 Sequin Dresses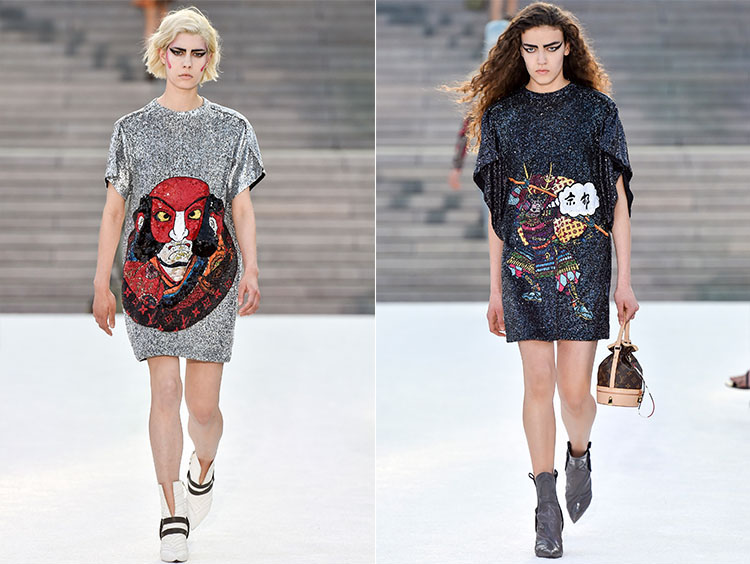 Tour de Fierce Black & Gold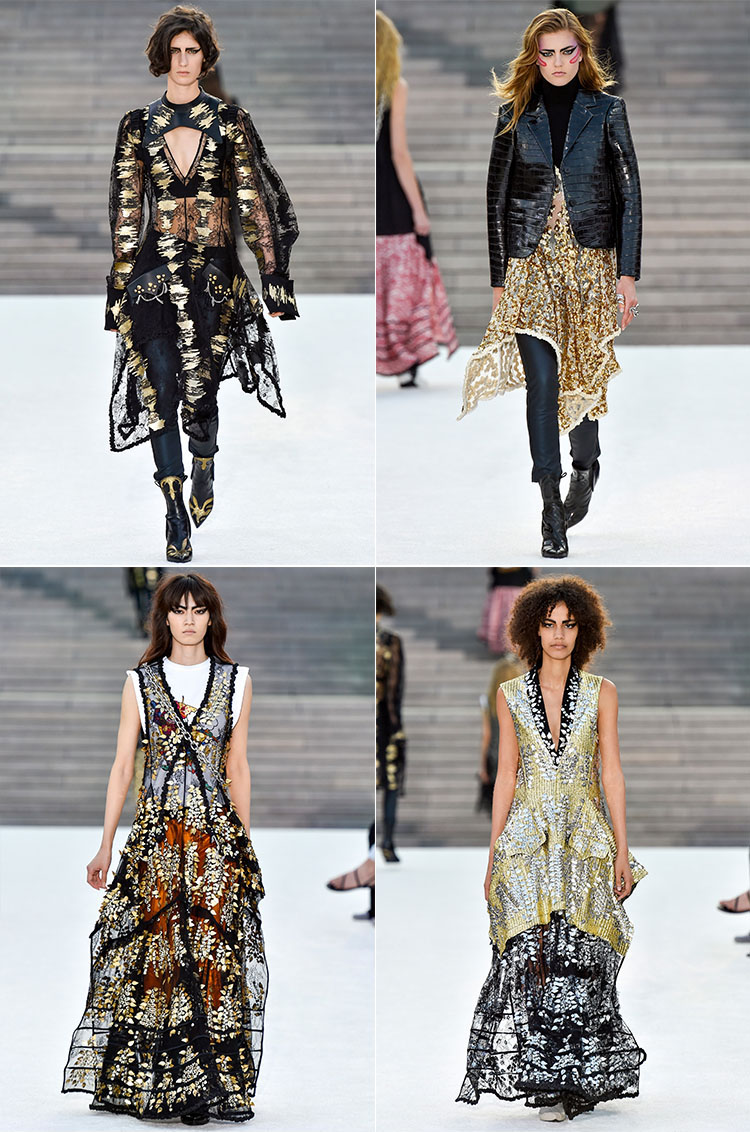 From The Front Row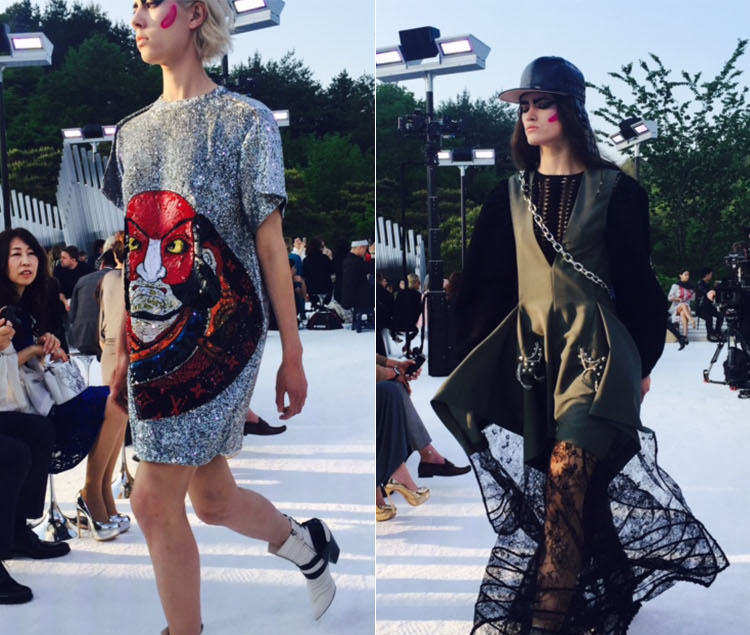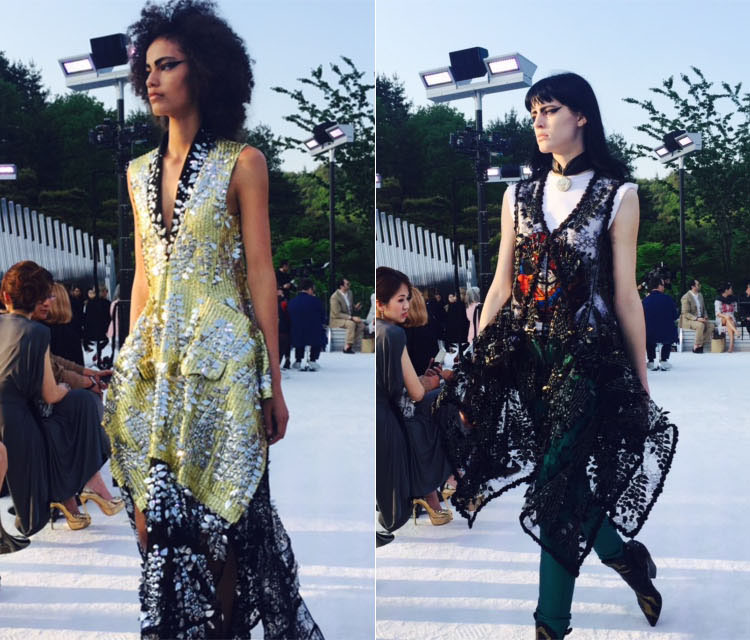 Kabuki-Eyed Bags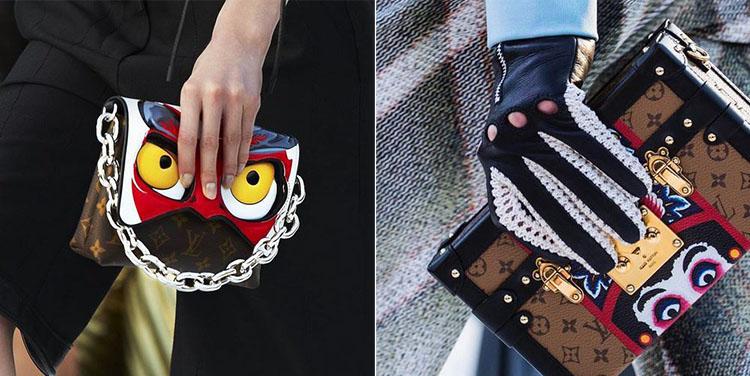 Samurai Bags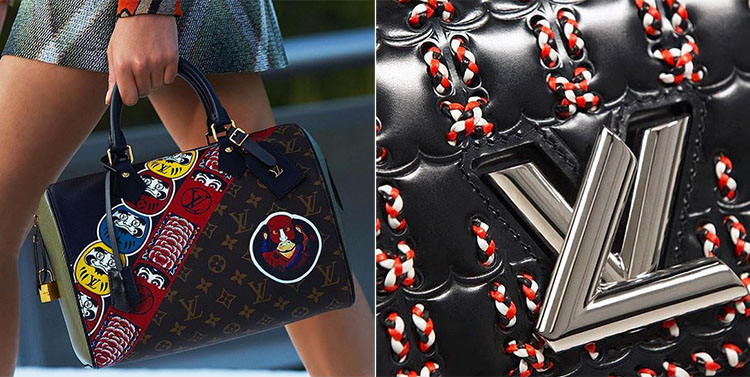 Lantern Bag
Kabuki Make-Up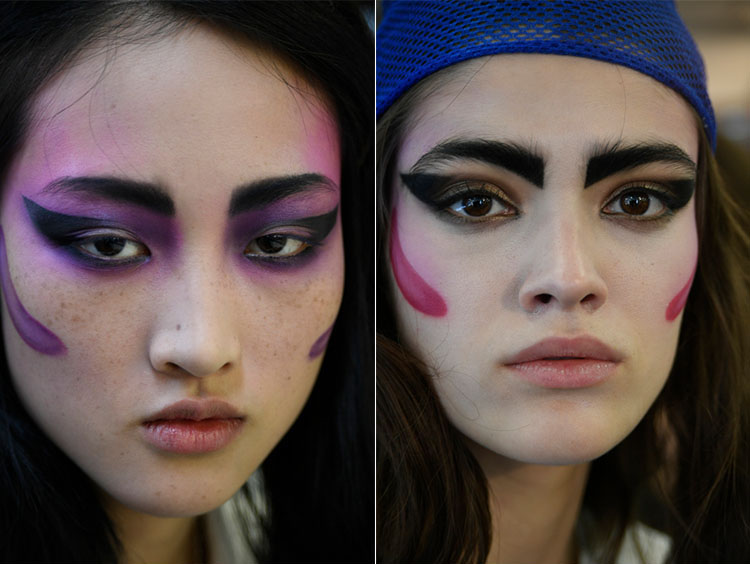 The Celebs & The Socials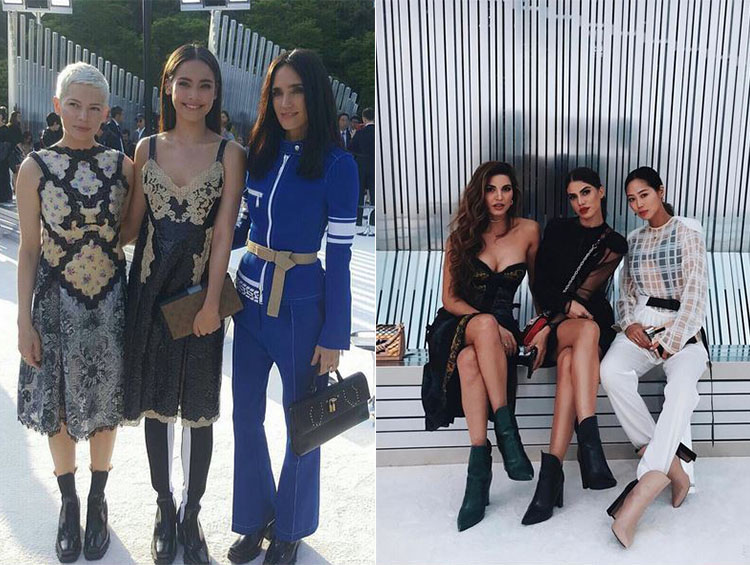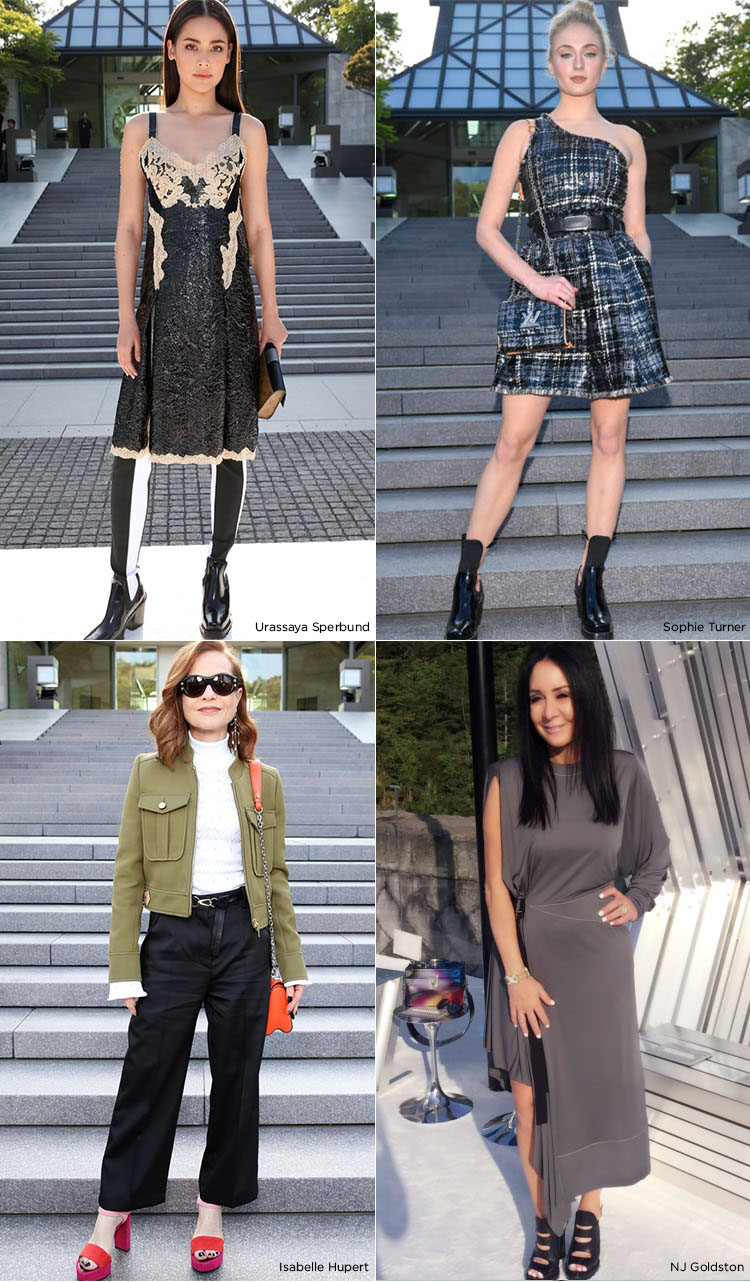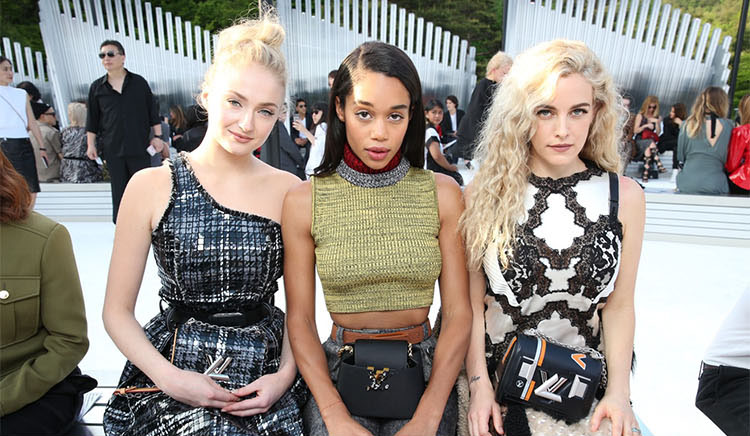 One last note, the guest list, due to the locale, was smaller than usual with only about 500 attendees including friends of the house, press, and clients along with a select group of celebs from actresses Michelle Williams, Urassaya Sperbund, Jennifer Connolly and dear friend of The BnB, Riley Keough, (all dressed in Fall 17 and yes I want those boots and dresses) and social influencers from Tommy Ton to Aimee Song and me in SS17. We then descended back to Kyoto for a traditional Japanese dinner. In true LV style they took over and closed an entire street with individual restaurants complete with Geisha's serving and performing throughout the meal. Yes, that's their business cards below along with Tommy Ton hamming it up and my very exclusive metallic Louis Vuitton "City Trunk" bag. Then it was on to an after party with Tyga suddenly popping up on the scene and me sharing late night drinks and LV show talk with Yana Rudkovskaya, wife of four-time Russian Gold Medalist Evgeni Plushenko.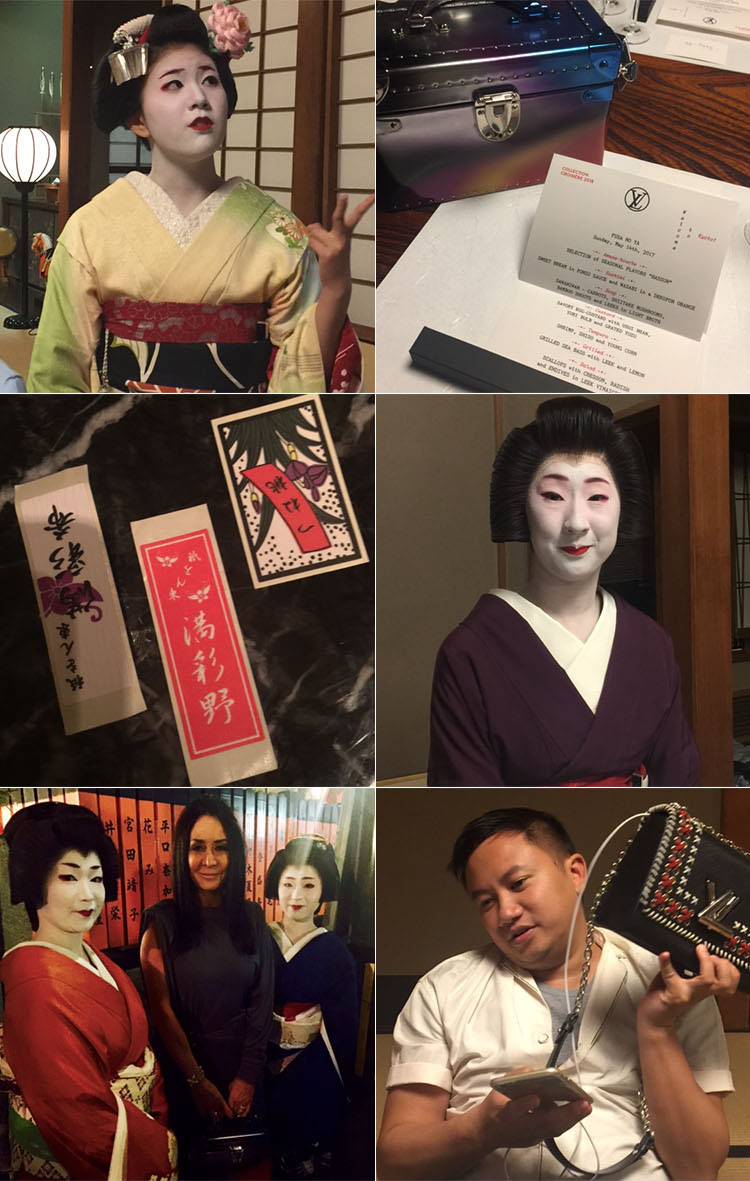 No matter who you are or why you were there, the collection was a daring female empowerment love letter written with modern armor for modern lives. Nicolas and LV, we love you right back.
From The Front Row,
NJ Goldston, A Very Lucky Brunette