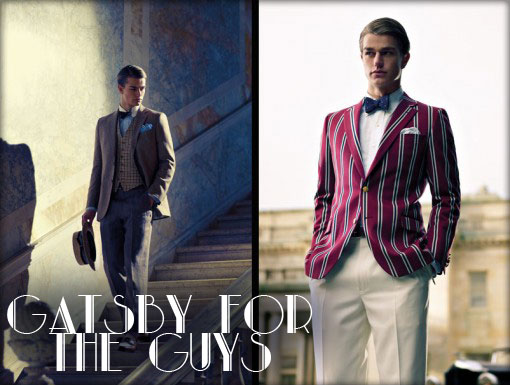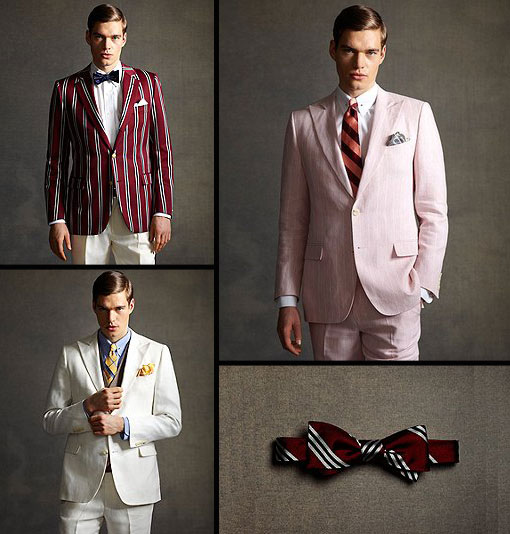 The highly anticipated release of The Great Gatsby happened last night. Everyone's been writing about Gatsby fashion for the ladies but the guys haven't been left out of all the fashion fuss. Brooks Brothers has just debuted a dapper, limited edition menswear collection produced in collaboration with the film's costume designer Catherine Martin. She "not only modeled the film's 500-piece wardrobe off Brooks' early 1920s catalog offerings (some of which F. Scott Fitzgerald bought for himself), but Brooks Brothers made the costumes, too—yes, right down to Leonardo DiCaprio's tux."
The line is comprised of Art Deco-inspired formal-wear and day wear, including tuxedos, tailored suits, suiting separates, shirts, ties, shoes and accessories. Brooks Brothers even issued a statement acknowledging "they don't normally dabble in this sort of tie-in stuff. We're not a highly promotional brand, but, we do it when it feels right."

They explained that "most pieces are inspired directly by looks worn by Jay Gatsby (Leonardo DiCaprio) and Nick Carraway (Tobey Maguire). However, as smart retailers, the characters' costumes have been "modified for the collection so they are at once clearly inspired by the era but entirely wearable today." Now everything from regatta blazers to boater hats, Gatsby's bow tie, Nick Carroway's green shawl-collar sweater to a few significant pieces including a pinstriped pink suit made from 100 percent linen-the same fabric used for the film-are available in store or online at Brooks Brothers.
Fellas, it might be time to splurge. There's nothing like a well-dressed man at a summer event maybe even your own wedding. The ladies will be swooning like Daisy.
xo
NJ, The Brunette