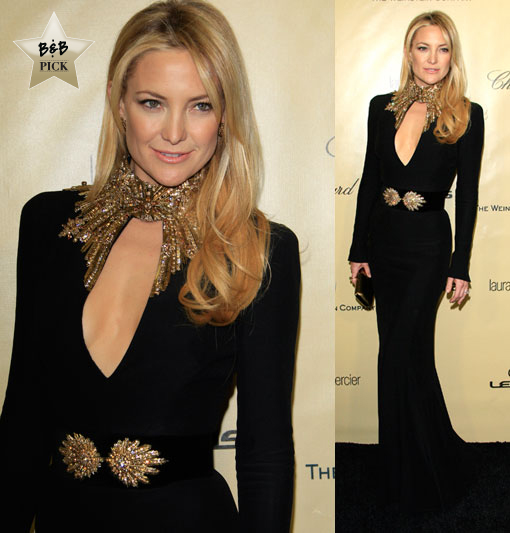 Kate Hudson is our pick for best dressed at the Golden Globes last night. Her custom Alexander McQueen perfectly captured the black is the new black trend along with its very elegant keyhole neckline, dazzling embellishment and cinched waist.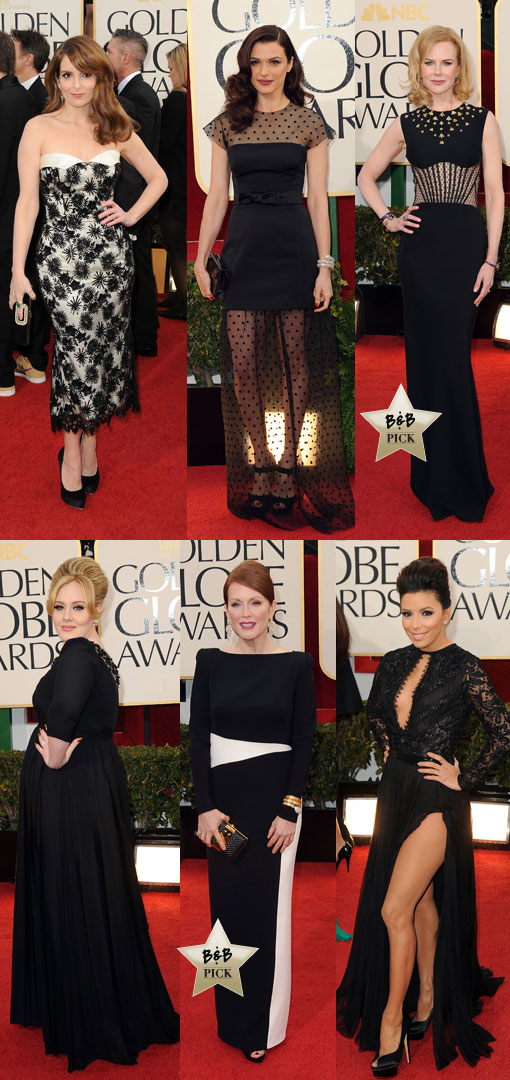 (left to right) With black gowns as the key theme, Tina Fey rocked it in a strapless tea-length L'Wren Scott. Rachel Weisz looked stunning in a lovely semi-sheer Louis Vuitton showcasing her great legs. Nicole Kidman won raves in a stunning black and gold Alexander McQueen. New mom and Golden Globe winner, Adele, looked great on one of her first night's out since the birth of her son. Julianne Moore stepped out in a stunning black and white Tom Ford while Eva Longoria went sexy with lots of leg and cutout neckline.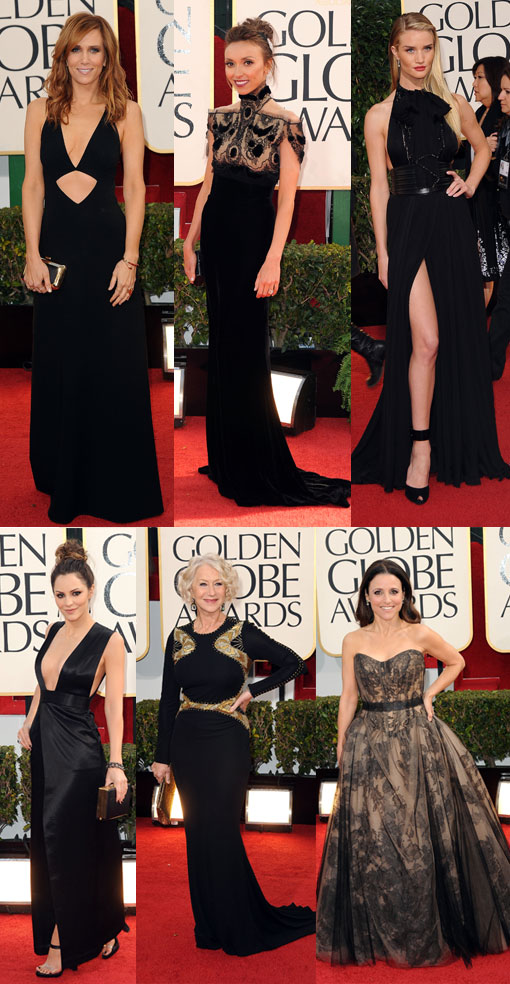 (l-r) More stunning black gowns hit the Red Carpet with Kristen Wiig going with a plunge neckline, Guilliana Rancic going with this Fall's strong baroque look. The "sexy" theme looked great on Rosie Huntington-Whitley in Saint Laurent and Katherine McPhee in Theyskens Theory. Helen Mirren was stunning in Badgley Mischka and Julia Louis-Dreyfus went with a lovely black and nude-patterned ballgown.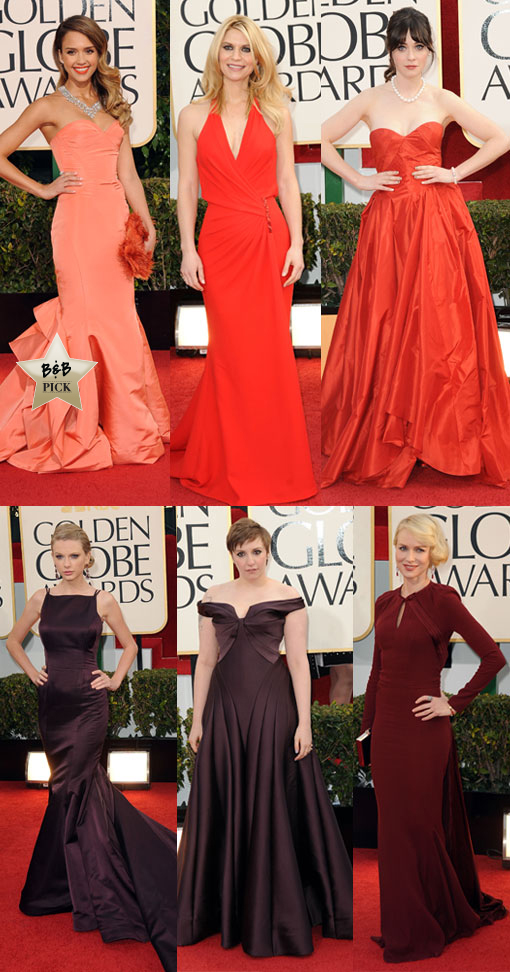 Bold was another great look. Jessica Alba wowed in Oscar de la Renta. New mom Claire Danes in Versace and Zoey Deschanel, also choose Oscar de la Renta. Taylor Swift and double Golden Globe winner Lena Dunham chose deep purples and Naomi Watts went with a stunning shade of burgundy.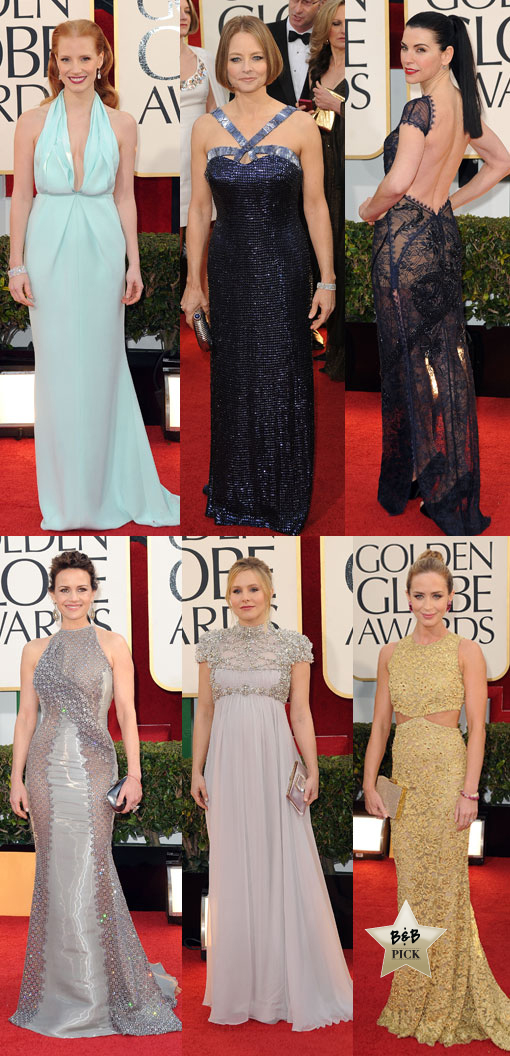 (l-r) Golden Globe winner Jessica Chastain wore a light blue Calvin Klein while midnight blues looked lovely on honoree Jodie Foster, in Giorgio Armani, and we loved Julianna Margulies in a fabulous Pucci. Nudes and golds were another big theme along with whites. Carla Gugino channeled sheer panels, and the statement earring trend, while pregnant Kristen Bell look perfect in Jenny Packham and Emily Blunt was totally smashing in a gilded Michale Kors.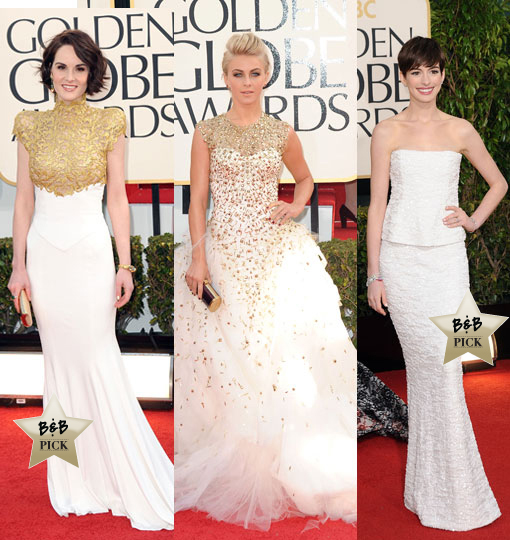 (l-r) Some of the best looks of the evening included Michelle Dockery and Julianne Hough in white and gold confections but Golden Globe winner Anne Hathaway dazzled in white Chanel Haute couture vying with Kate Hudson for best dressed.

(l-r) Shades of white, blush and nude looked exceptionally glamorous on Amy Adams in Marchesa, Amanda Seyfried in Givenchy, Jennifer Lopez in Zuhair Murad, Hayden Panetierre in Roberto Cavalli, Kelly Osborne in Zac Posen and Martin Katz earrings, Megan Fox in Dolce & Gabbana; Maria Menounus also wearing Martin Katz jewelry, Kerry Washington in Miu Miu and Kaley Coco.
Photos by: Patrick McMullan
The really wasn't a misstep on the Golden Globes 2013 Red Carpet last night. Despite the uncharacteristically frigid LA weather (or maybe in spite of it), it was an exceptionally elegant evening. The stars turned out in gowns with elongated silhouettes accentuated by cinched waists often with keyhole or cutout necklines. Long sleeves, plunging or strapless necklines were a favorite mostly in black and black and gold. Making black the new black. White, nude, and blush confections were another big theme followed by bolds, a few purples, a touch of baby blue and burgundy gowns. Big statement earrings (as in BIG) were also a key trend with Martin Katz jewelry turning out to be a big celebrity favorite for the evening.
Many a celeb interviewed on the Red Carpet reiterated that their gown had literally "just come off the plane from Paris yesterday" which means they hadn't made up their mind on what to wear until hours before the big night. There seemed to be a slew of gorgeous new moms (congrats to Adele, Megan Fox, Sienna Miller and Claire Danes) along with lots of couples happily holding hands and supporting each other from Ben Affleck and Jennifer Garner, Nicole Kidman and Keith Urban, Daniel Craig and Rachel Weisz to Megan Fox and Brian Austin Green.
As soon as the show was over, many of the ladies ran upstairs (at the Hilton) to make a a quick change into different gowns for the In Style, Weinstein Company and HBO after parties and more photo ops; but that's another post for another day.
What were some of your favorites?
xo
NJ, The Brunette and Ashlee, Brunette Contributor