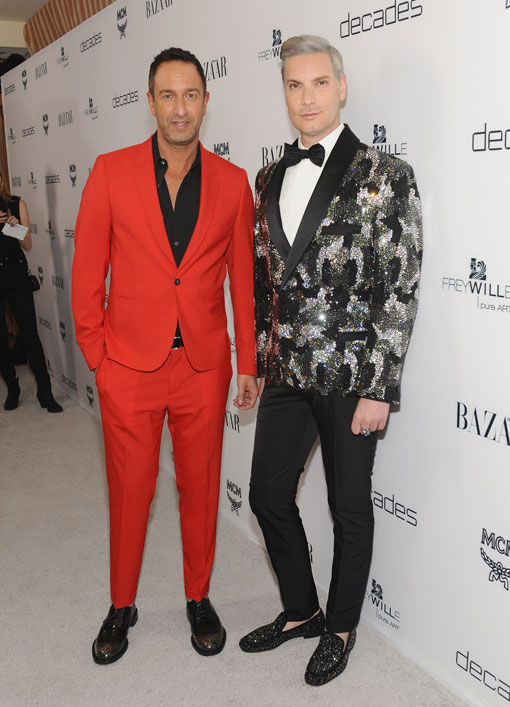 The Dukes of Melrose: Christos Garkinos and Cameron Silver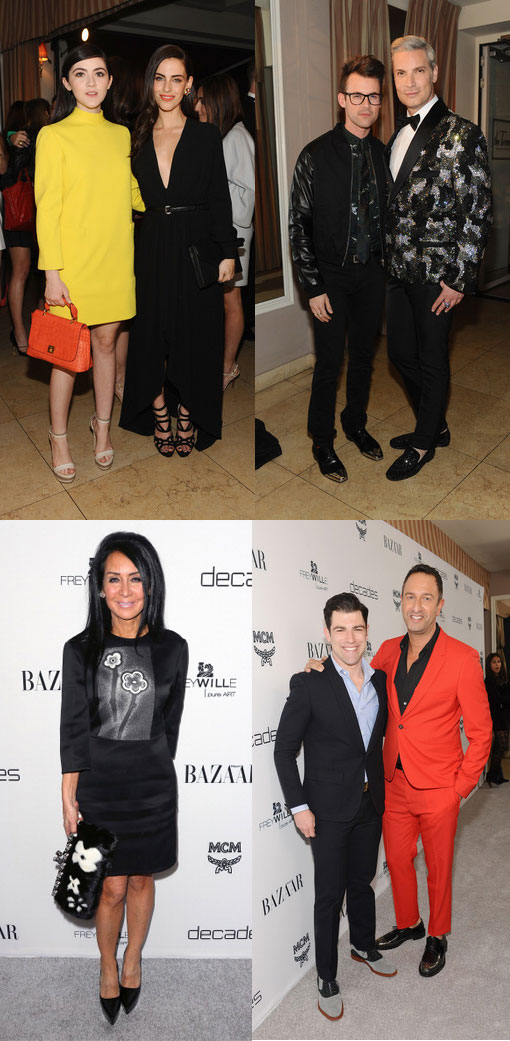 Isabelle Fuhrman & Jessica Lowndes, Cameron Silver & Brad Goreski, NJ Goldston, The Brunette, Max Greenfield & Christos Garkinos.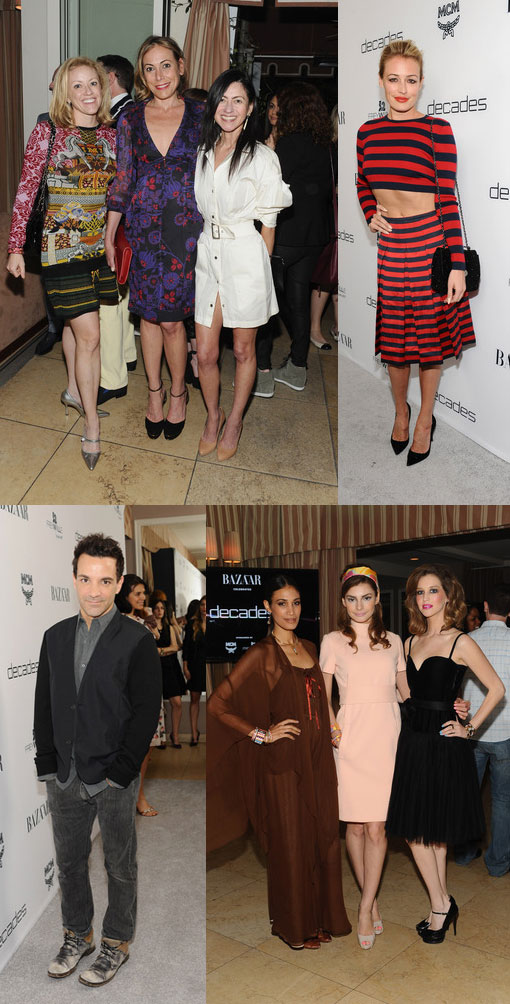 Angelique Soave & Magda Berliner, Cat Deeley, George Kotsiopoulos, and the Decades models.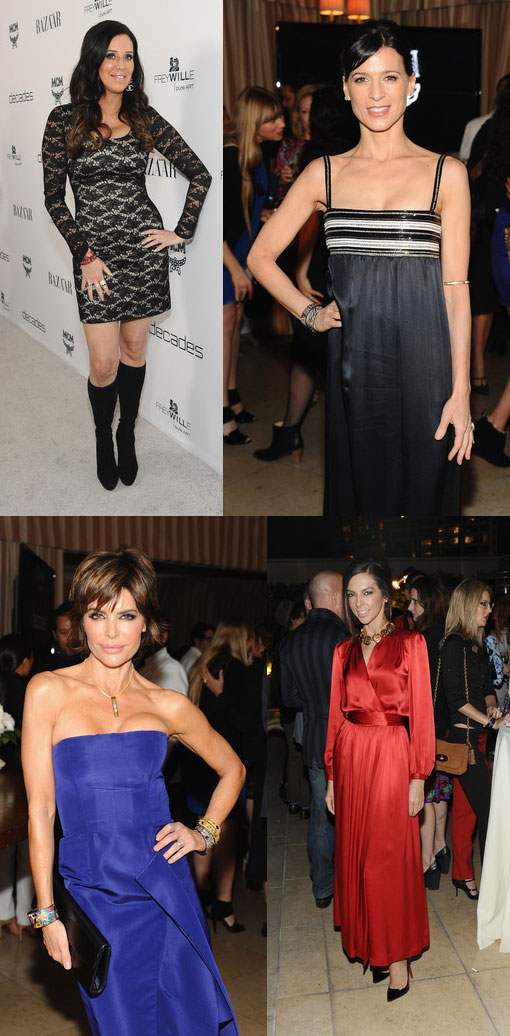 Patti Stanger, Perrey Reeves, Lisa Rinna, Terri Seymour.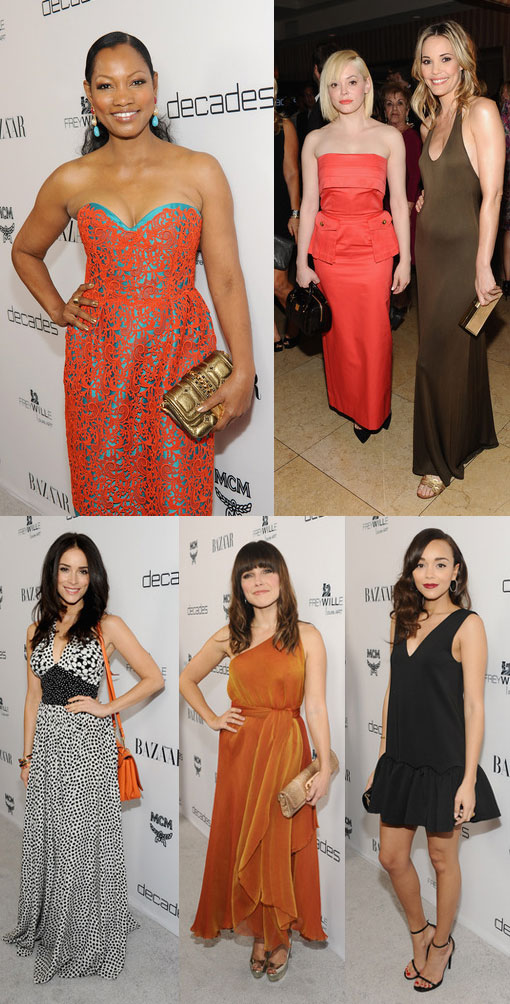 Garcelle Beauvais, Rose McGowen & Leslie Bibb, Abigail Spencer, Sophia Bush, and Ashley Madekwe.
(Photo credit: Stefanie Keenan/Getty Images)
Life is good especially when your new show is about to launch. Last night Harper's BAZAAR celebrated our dear friends and Decades owners, Cameron Silver and Christos Garkinos, who will now be forever known for their new, well-deserved BRAVO series "Dukes of Melrose". Held at The Terrace at Sunset Tower (yes, the same place as the Vanity Fair Oscar Party), this was the hot party in LA last night. After an exciting "silver" carpet (get it!) a very gracious, Cameron and Christos gave a brief welcome speech to the celebrity-packed room, thanking friends and family for their support and excitement for the show. The evening included cocktails & bites, beats by DJ Miles, a sneak peak at the series trailer and a late night dance party to cap off the evening's festivities!
We mingled with some of our old friends from Abigail Spencer to Perry Reeves, who were dressed by Decades, along with the Decades models. If you're a vintage freak, we even have the "dets" on the looks. Abigail Spencer in Dolce polka dot halter dress (not vintage) with vintage hat. Sophia Bush – Vintage Halston in gold c. 1970's with MCM bag. Rose McGowan – Vintage Chanel coral dress c. 1980's. Garcelle Beauvais – Oscar de la Renta, with vintage 80's Chanel earrings and MCM clutch. The lovely Perrey Reeves – Vintage YSL couture c.1982 with MCM silk clutch, vintage Azzaro shoes and Frey Wille bangle. Leslie Bibb – Vintage Halston halter dress c. 1970's in forest green, Frey Wille bangles and MCM clutch. Lisa Rinna – Oscar de la Renta. Terry Seymour – Vintage red silk YSL with YSL vintage coin necklace, c. 1970's.
You know me, I went with Prada. Future Vintage. This time from the Spring 2013 collection including the incredible floral print mink and crystal clutch. Life sometimes is a party. I'm always happy to be invited. The only question, is what will I do if Cameron and Christos invite themselves to my closet?!
Congratulations to my two favorite "Dukes" in the world.
xo
NJ Goldston, The Brunette