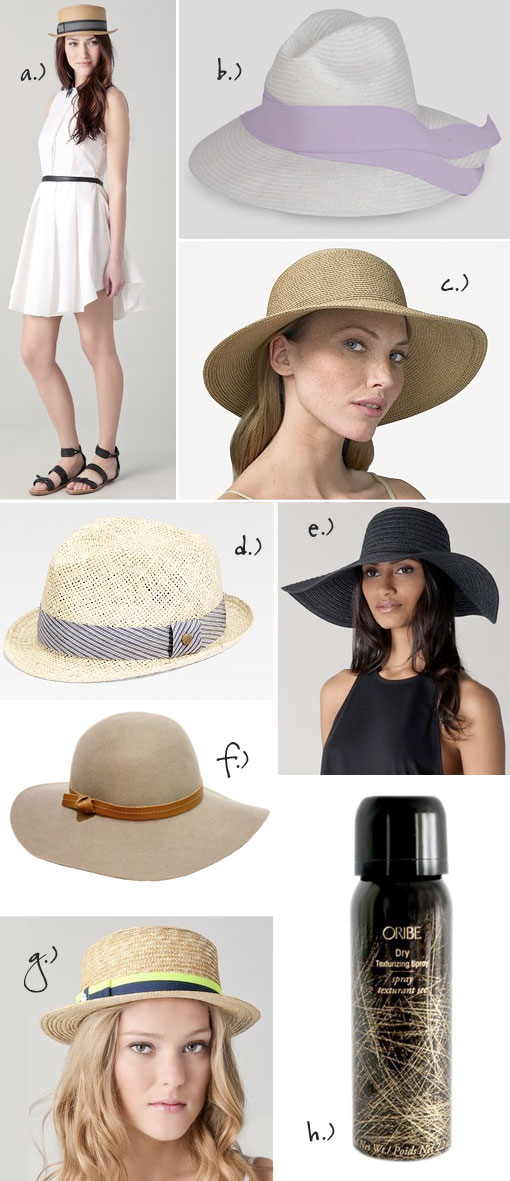 Last week, Jadan showed us some of her favorite personal looks featuring hats, as well as some essential styles for starting your own hat collection. With so many amazing styles available this season, this week we are bringing you even more of our favorites.
A hat is a perfect accessory and I hear too much that women or men say they can't pull a hat off! Whether you are planning your look for Coachella or want to keep that damaging sun off your face and still look fab; grab a hat! Here are some adorable ones we found, to fit your look.
I love the look of a hat with a flowey dress and sandals like this photo below or wear one to the pool or beach:
a.) Eugenia Kim Marcel Toyo Boater Hat $242
b.) Emporio Armani Grosgrain Hat $195
c.) Eric Javits Floppy Hat $198. This is a great hat that travels so perfectly (it's made to be rolled up) and it looks good on anyone! It is the perfect hat for laying by the pool or the beach because it has ventilation and the perfect amount of sun coverage. It comes in Natural, Cream and Black. Love this hat!
d.) Rag and Bone Summer Trillbry Straw Hat $175. This is the cutest hat to put with a flowy sundress or shorts and oversized t-shirt.
e.) Cheap Monday Lori Hat $30. Comes in black too.
f.) Hat Attack Wool Felt Round Crown Floppy $74
g.) Juicy Couture Straw Boater Hat $58. This style is really hot right now, a new take on the classic boat hat.
Some of my tips for wearing hats:
If it is hot outside, wear a hat with ventilation.
Always carry some dry shampoo to fix flat hat head. Spray at the root of your crown. This texturizing spray from Oribe (pictured h. above, $19.50) brings your volume right back where you want it. It is also purse-sized and smells amazing!
Keep the sun off your face with a large brim hat.
Short brim hats for indoors; keep the large brim for outdoors.
-Kathryn, The Blonde