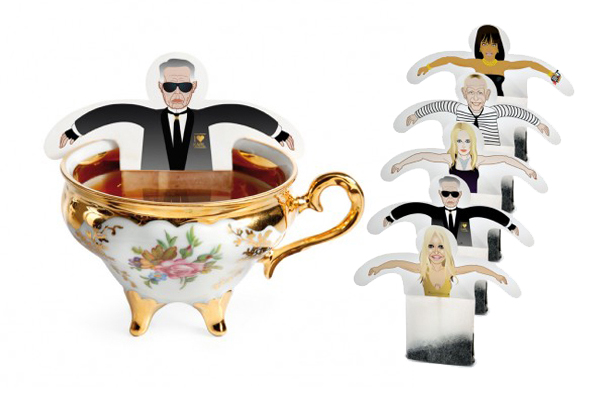 A new take on "entertaining"…give them a cup of tea with the best! Now, having tea with fashion heavyweights like Karl Lagerfeld and Jean-Paul Gaultier is no mere fantasy… My newest obsession! Prèt-à-porTEA, a playful set of 5 style genius tea bags. Look closely for some hilarious details, like Naomi Campell's infamous cell phone!
Set includes one each Jean-Paul Gaultier, Donatella Versace, Naomi Campbell, Karl Lagerfeld and Claudia Schiffer. Another great touch? Part of the proceeds donated to Bethanien-Kinderdoerfer, a German charity that provides assistance for disabled children.
Prêt-à-porTea Bags, $16 and available at Fred Flare.
Xx. Jadan Huter