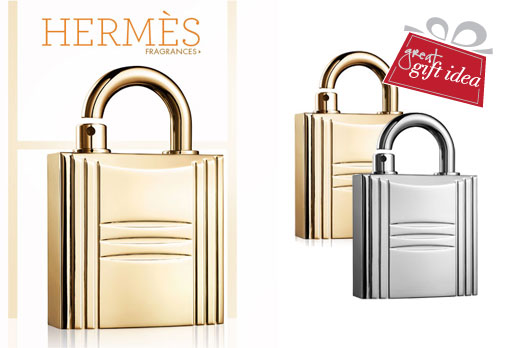 Can't get your hands on an Hermes bag. Almost no one can! This is just as exclusive. The Hermès Perfume Bottle and Refillable Jewel Lock Spray is available online just for today at Neiman Marcus and then in store or at Hermès Boutiques.
As we all know, the Hermès lock has a cult following so this perfume bottle is a huge hit and makes a very special holiday gift. A certified fetish object and signature of the distinct fragrance, the lock spray is easy to carry even in an evening clutch. It's also quite an attention grabber since it is made to be taken out of a bag and admired. The lock spray is delivered empty and can be refilled over time with a choice of four feminine pure perfumes. Pick your perfect poison:
Parfum des Merveilles/ Provocative and gourmand.
Caléche/ The extreme elegance and refinement of a floral bouquet, married with the nobility of the woods.
24 Faubourg/ Warm and sensual, glowing like a sunset.
Kelly Caléche/ An unexpected caress of leather among generous floral harmony.
Hermès Lock Spray available in Silver Tone and Gold Tone $90. Refills in 0.25 fl.oz./7mL.
Don't think twice. Buy this today because it really won't be available tomorrow!
-Kathryn, The Blonde