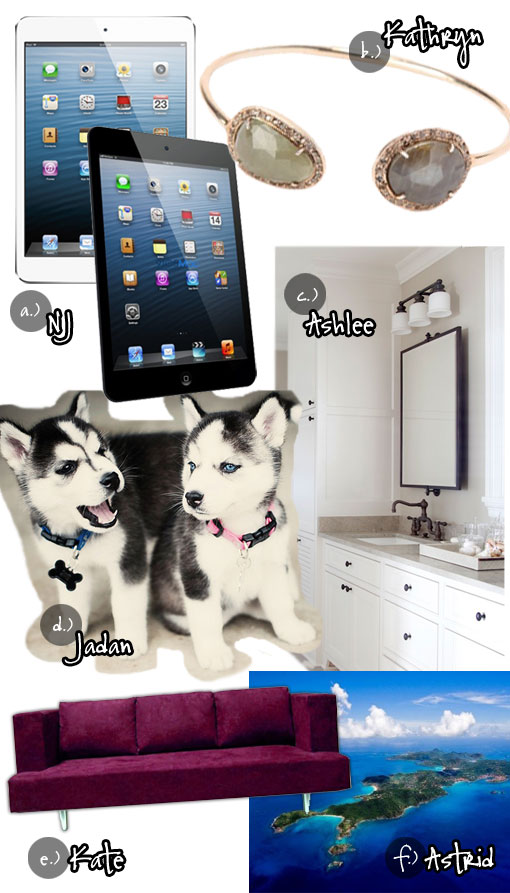 a.) NJ: I'm longing for the iPAd mini. This year's biggest gift only smaller. Of course, I want it in black versus the white!$329.
b.) Kathryn: Jemma Sands $1125 14k gold vermeil adjustable cuff bangle set with two raw diamond bezel set sapphire gemstone slices.
c.) Ashlee: The ultimate sign that you are not a kid anymore is when your Christmas list contains household items. This year, I have my sights set on a new bathroom vanity. Hey, a girl can dream, right?
d.) Jadan: In a perfect world, I'd come home to one of these blue eyed beauties. To me, nothings compares to that fresh puppy breath! Alas, I hear adopting a furry friend is about as time consuming as a newborn baby. Maybe I should put this wish on hold, and enjoy the simplicity of my life and travels for now!
e.) Kate: My apartment would be a much better place to host folks if I had a couch for them to sit on and a TV for them to watch. So, while this is silly to want things like these, I would say a couch and a large TV would make me a much better friend :0)
f.) Astrid: A girl can dream and I am dreaming of St. Bart's. It's paradise on earth. Happy holidays, everybody!
– The Blonde & The Brunette Team