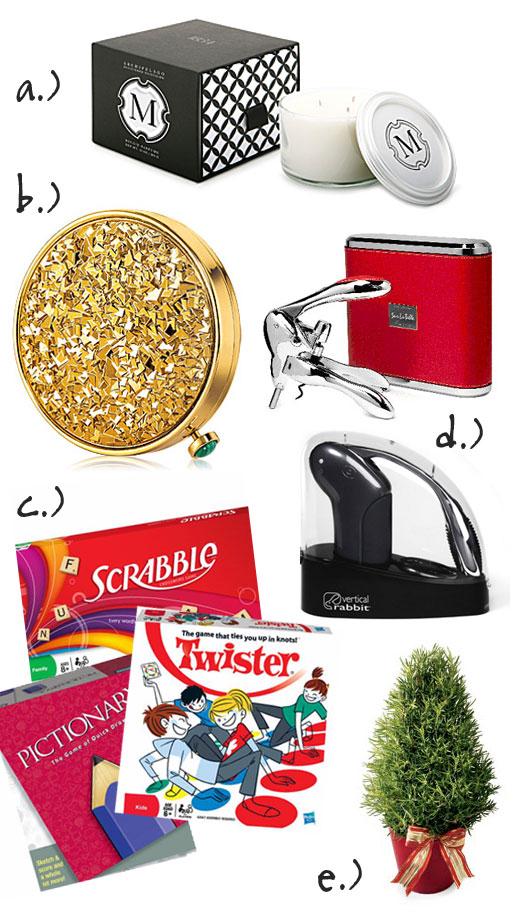 With the holiday season upon us, we know you'll be attending many gatherings in the upcoming weeks. So we put together a list of our favorite hostess gifts to get you prepared:
a.) Archipelago Monogram Candles $35. Personalized soy candles with the scent of ebony wood, cashmere vanilla and black orchid. These smell AMAZING.
b.) Estee Lauder Collectible Compacts $28 – $125. We like the Limited Edition 'Prosperity' Compact ($75). The compacts are refillable and the transparent powder works with most skin tones. Take it to the next level and get it engraved with your giftee's monogram. My mom and I have been gifting these to eachother for years and have built up quite the little collection (which display beautifully in our bathrooms). If you're in a pinch, you can pick these up at Macy's, Nordstrom, and Neiman's stores.
c.) Board games. We're talkin' all your Milton Bradley and Parker Brothers classics: Scrabble, Twister, Pictionary, Trivial Pursuit, etc. Games are great icebreakers, plus, all easy to grab last minute (even on your way to the party). Or for the more distinguished host or hostess, opt for a luxury chess, checkers or backgammon set.
d.) Metrokane Rabbit 'VIP Edition' $130. Comes with silver corkscrew and foil cutter in a luxurious leather and chrome gift case. For a more budget-friendly option, try the Vertical Rabbit. It comes in a giftable lucite case. This is the one I have and I LOVE it.
e.) Rosemary tree. Not only are they festive, but they smell great and are a unique alternative to the flower bouquet or potted plant. Whole Foods has them starting at $10 , but many other grocery stores have them as well.
– Ashlee, Brunette Contributor