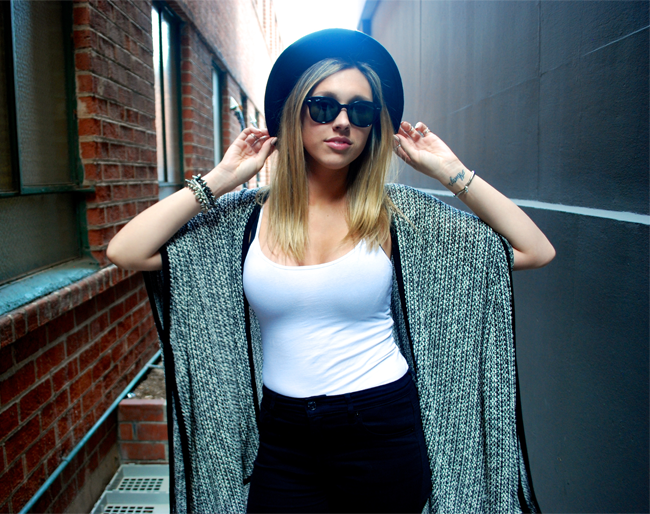 Okay, so if you're like me. When you're getting ready for your typical day, you first thought is to just grab a basic pair of jeans and a top and go out the door. Well we've got some tips to making those plain basic pieces, well a little more chic. These 4 quick and easy tips will help you step up your style game for 2015.
STYLE TIP #1: Pick a theme. My usual go-to is black and white, I just love how clean and chic it always looks and it's very effortless. Whatever color scheme you decide to go with, stick with it! It always looks so messy when you have 10 different colors on that do not match. I always start with one piece of clothing that I'm loving and really want to wear that day, and build my outfit around that.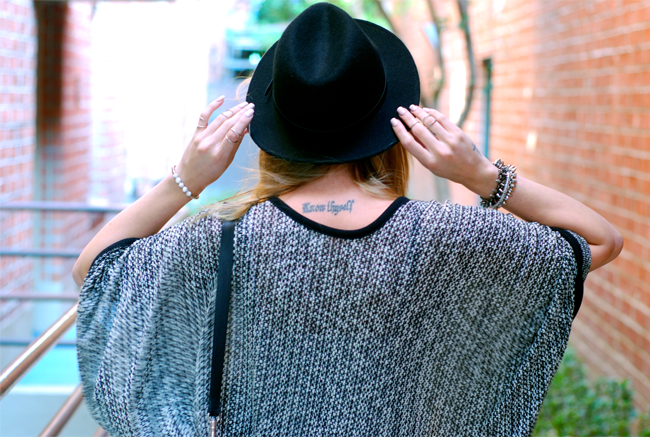 STYLE TIP #2: When in doubt, grab a hat. Hats are my ultimate go-to! Whenever I don't have enough time to do my hair in the morning, I just throw on a hat and it instantly makes my look chic. There are so many different styles and colors of hats, I recommend once you find a style that you love (I've been currently loving my fedoras!) stick to it, and buy a variety of color ways.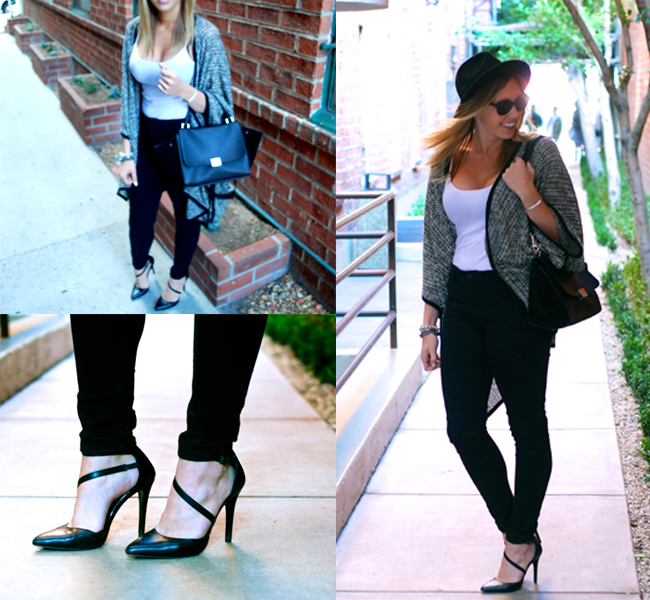 STYLE TIP #3: Add some height! I always recommend a pointed toe pump, to help elongate your legs (espically black jeans with black pumps)
And I'll let you in on my little secret.. If you've walked around in 5+ inch heels for more than a few hours, you understand my pain (literally.) Even though wearing heels look great, they are usually painful after a while. The trick is as simple as a piece of tape. Crazy right?! If you tape your third and fourth toes together (starting from your big toe) it alleviates pain in the ball of your foot. Here's why, there's a nerve that splits between those two toes, which causes pain whenever pressure is applied. The tape removes the strain on the nerve, allowing you to dance the night away!
STYLE TIP #4: Add a little sparkle. Jewelry is one of the best and easiest ways to make a boring outfit, fabulous. Stacking bracelets, and layering rings and/or necklaces is very on trend for 2015, and we personally love the way it looks. Im wearing our B&B bracelet collection, and I like how it instantly gives my boring basics an instant edgy feel.
What are your favorite ways to make your boring basics look chic? Let us know in the comments!

xo,
-Lauren, The Blondette