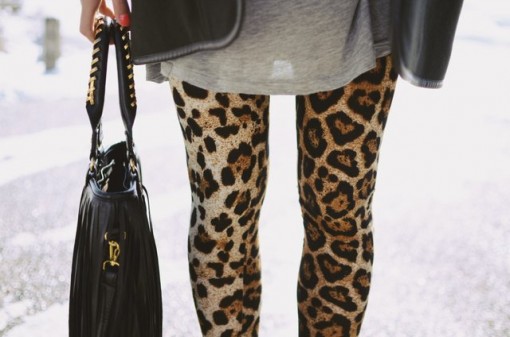 Diversify your stems this season. In other words, spice up your closet with bold print leggings and add a boost to your wardrobe. The runway is flooded by a new wave of abstract and classy prints, so take advantage!
Why? Bold print leggings allow you to break out of your "boring" box, while still staying in your "comfort" box (literally and figuratively!) . Now's time to celebrate the array of prints you can easily incorporate into your casual chic / semi-formal outfits, and The Blonde and The Brunette are here to tell you how!
Helpful Tips:
Since your leggings will be a bold pattern, look for something simple for a top because you don't want to go overboard with your outfit.
Nail down a gorgeous street chic ensemble by teaming up your fave leggings design with a leather jacket, a slouchy t-shirt or a XXL sized sweater.
Motorcycle boots give this look a grungy/rocker look, while heeled booties dress it up to give it a more formal look.
Keep accessories to a minimum, you don't want to look "busy" or "cluttered". It is better to stay chic and simple.
For super crazy affordable leggings including animal print and Halloween tights, try Forever 21 or Only Leggings, but for Tell us YOUR favorite way to wear your bold print leggings! Pleeeeze.
Xx. Jadan Huter