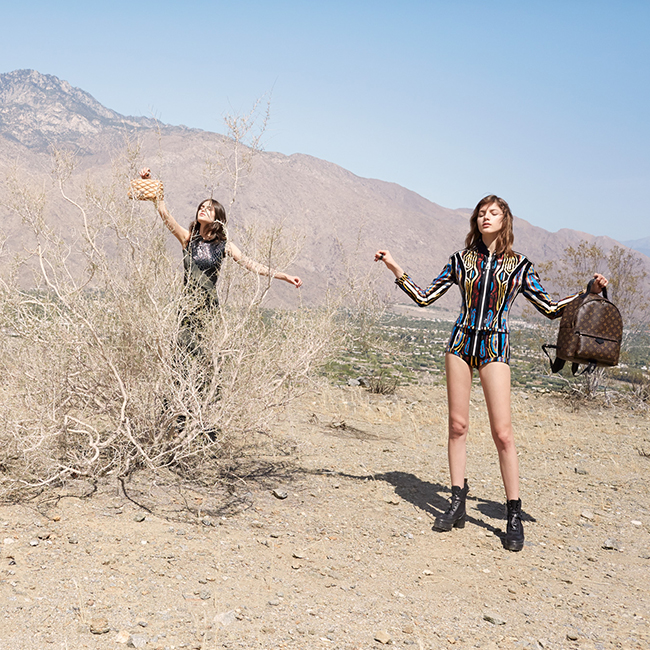 This was a do not miss. I flew back from the Met Gala and quickly made my way to Palm Springs for the Louis Vuitton Cruise 2016 Runway Show at the Bob Hope Estate in Palm Springs. With over 500+ guests flown in from around the world, requiring over 800 hotel rooms, Louis Vuitton assembled an international crowd from celebrities ranging from Kanye West (who's about to do a collab), Michelle Williams, Miranda Kerr, Alicia Vikander (who is rumored to be the new face of Louis Vuitton), clients, and journalists taking over Palm Springs.
Once again, I had another extraordinary experience that is etched in my mental memory book. It's hard to know where to begin but it was a fashion extravaganza that was perfectly timed for the moment LA is having on the fashion scene with the right locale for the right collection with the right designer. By the way, if you were invited , your seat assignment and after party invite were waiting in your hotel room in the signature LV cases—always a new color depending on the collection. Happily, I'm building quite a collection.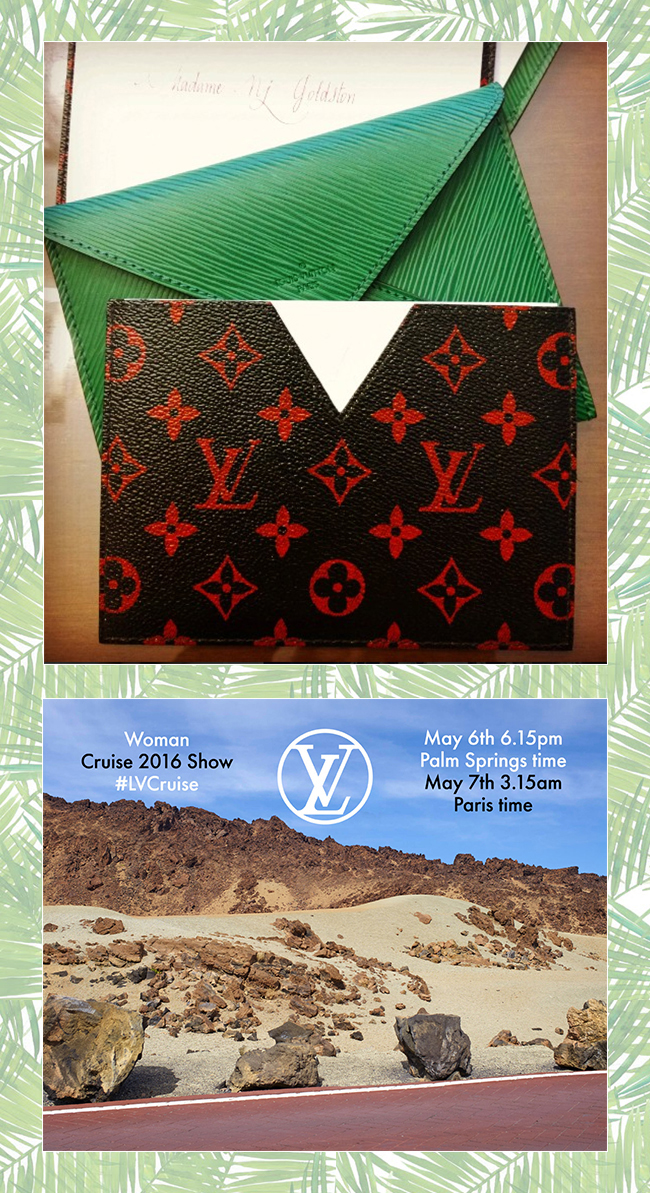 First things first. The crowd. Everyone was LV-clad, mostly from SS15, and arrived at the staging and after party venue from the Parker hotel via luxury shuttles including A-List celebs. It was a select crowd and anyone who was there was on the very, very short list, knew it, and loved it. I think it's the mark of a great designer that although most of the crowd were wearing many of the same looks, they translated, and looked great and not the least bit repetitive. And if you're wondering about all these desert scenes, that's the view off one side of the Bob Hope estate. I wore a sequined zip-front Louis Vuitton tunic and paired it with a white and black trimmed soft-sided Louis Vuitton petite malle.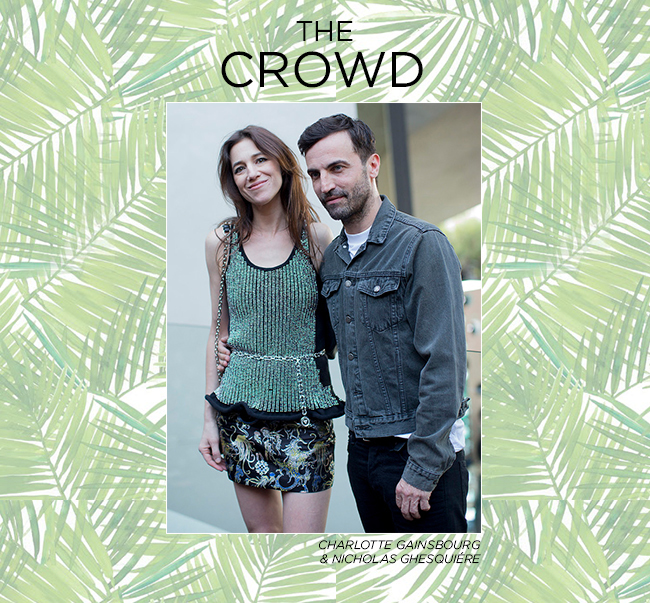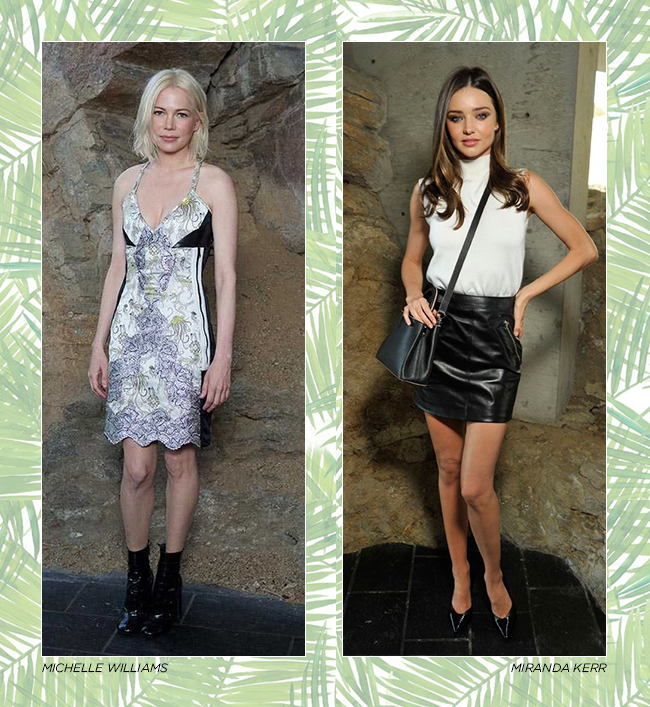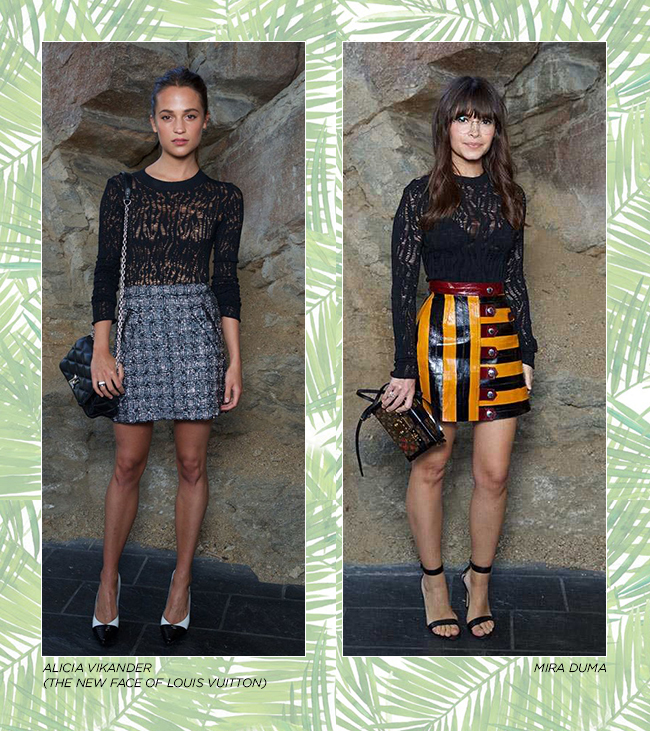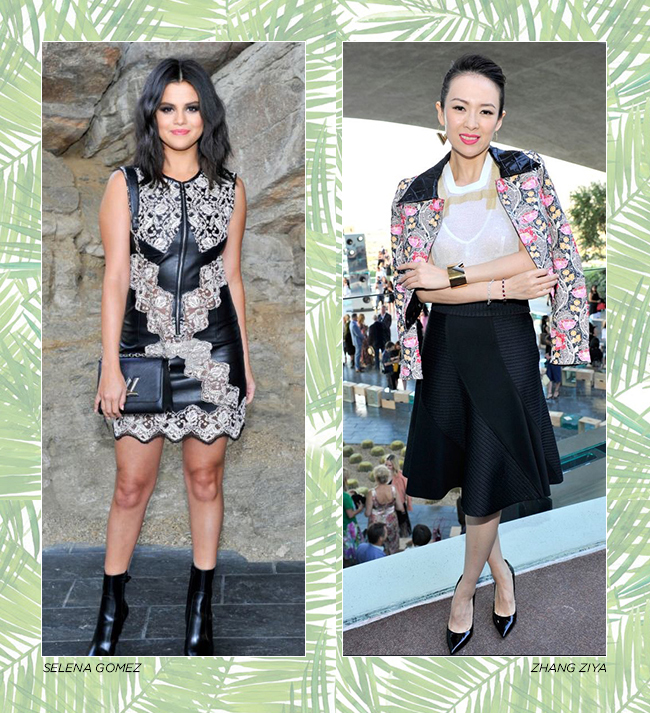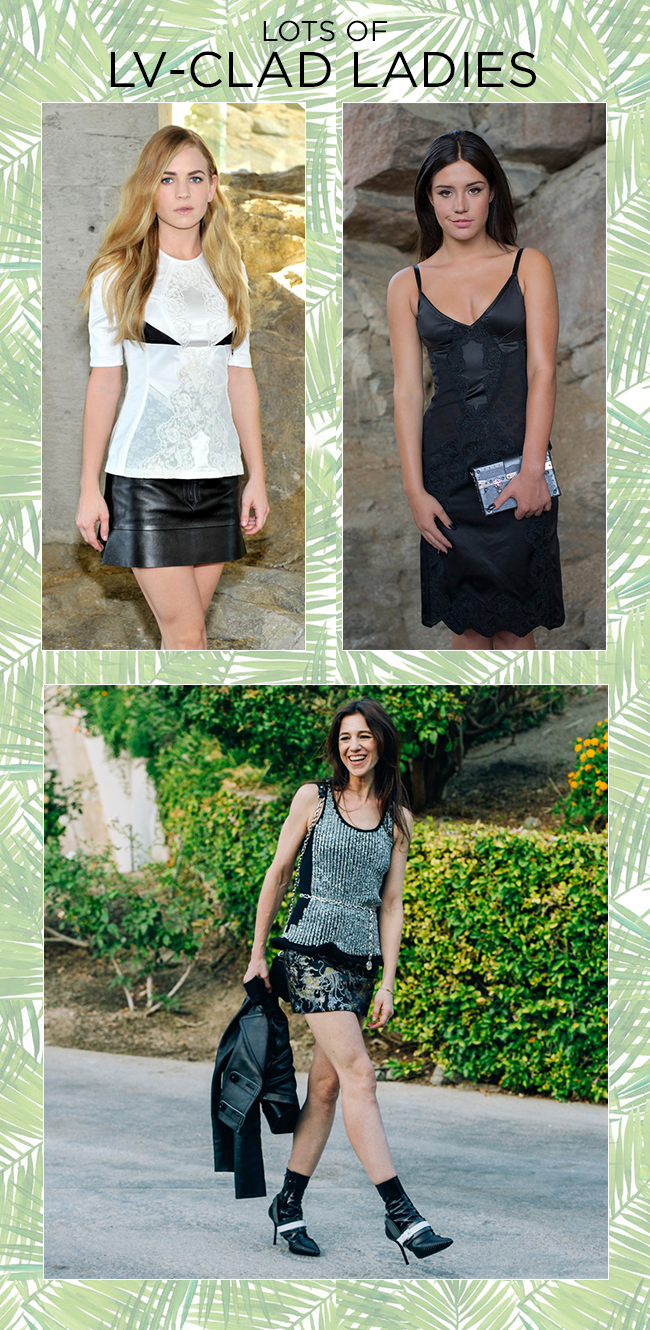 Of course, there was normal slew of models and fashion bloggers dressed by Louis Vuitton including Kristina Bazan, Aimee Song, Susie Bubble and moi.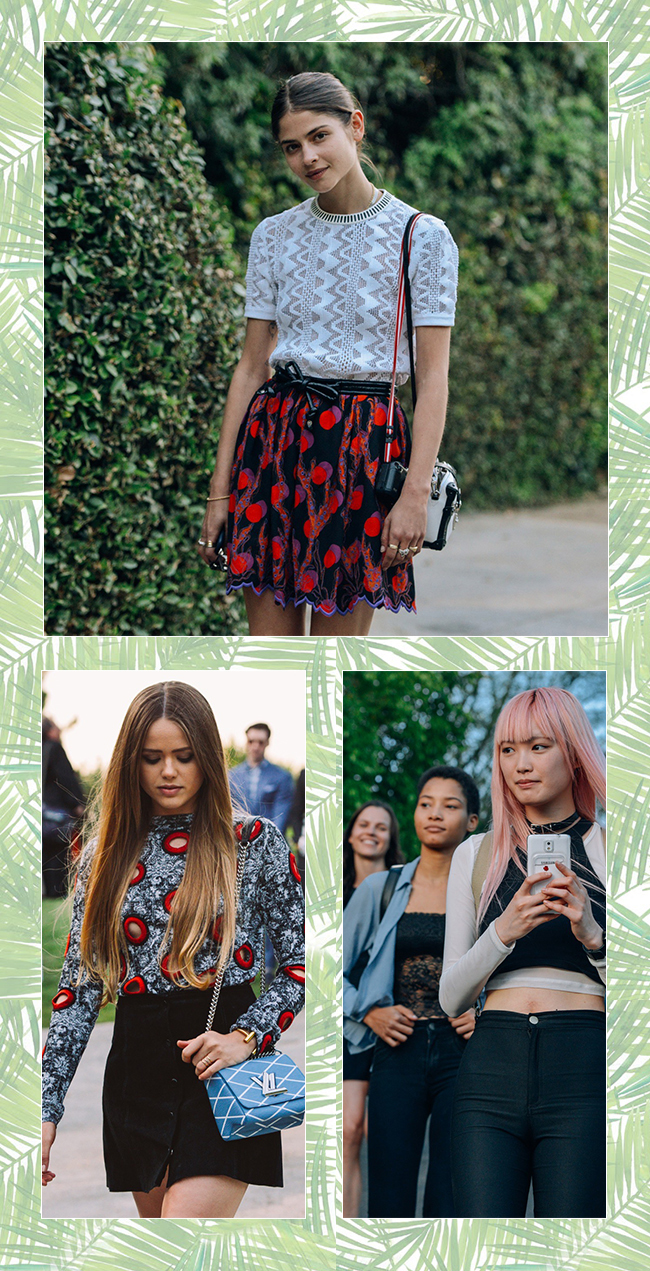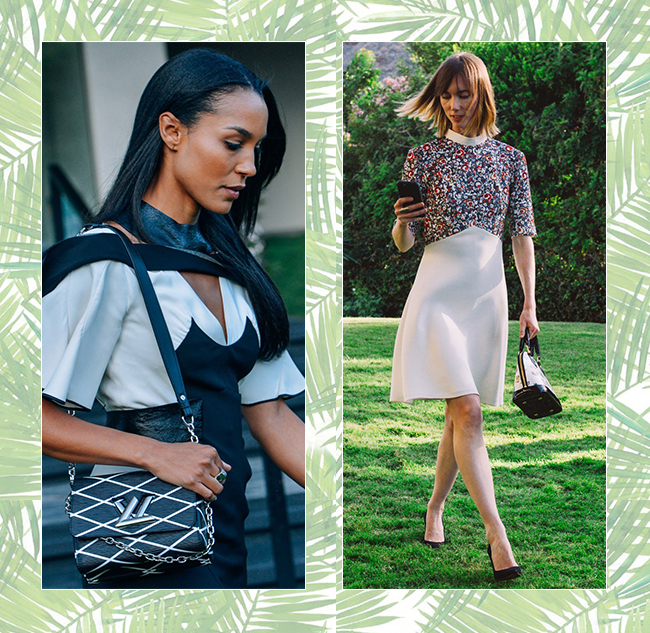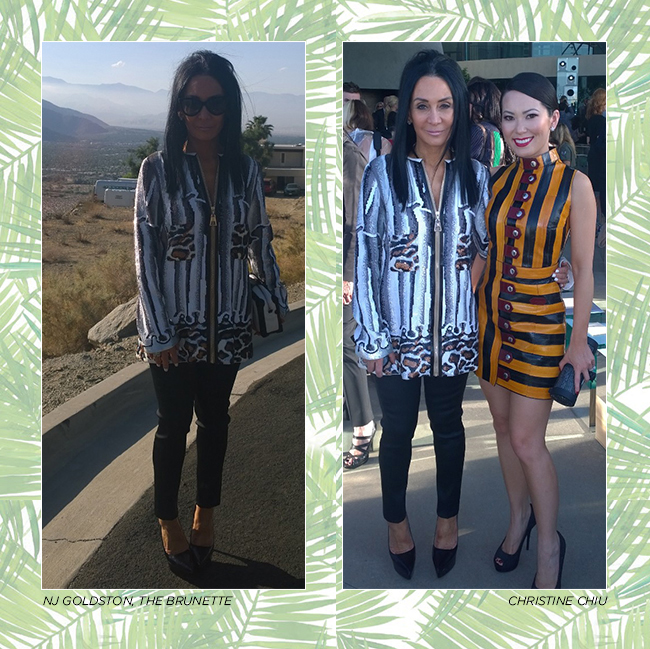 O.K. Now to the venue. I'd only seen pictures of it but had always wanted to experience first-hand the extraordinary Bob Hope Estate by famed architect John Lautner. Over 20,000 square feet perched on a mountainside high atop Palm Springs, with an entire view of the the desert town. Designer Nicolas Ghesquière's locale choice is genius. Somehow they pulled it off after moving the show from Seoul to Palm Springs in under two months. Apparently he had seen the home 15 years before and obviously it stuck in his mind. You know a magician understands just when to pull a rabbit out of a hat and that's what Ghesquière did as this was the perfect marriage of a setting with just the right collection. As we arrived, we all took in the views and walked up the driveway to see "desert aliens" staring down at us while we sipped cool drinks and waited for the show to start.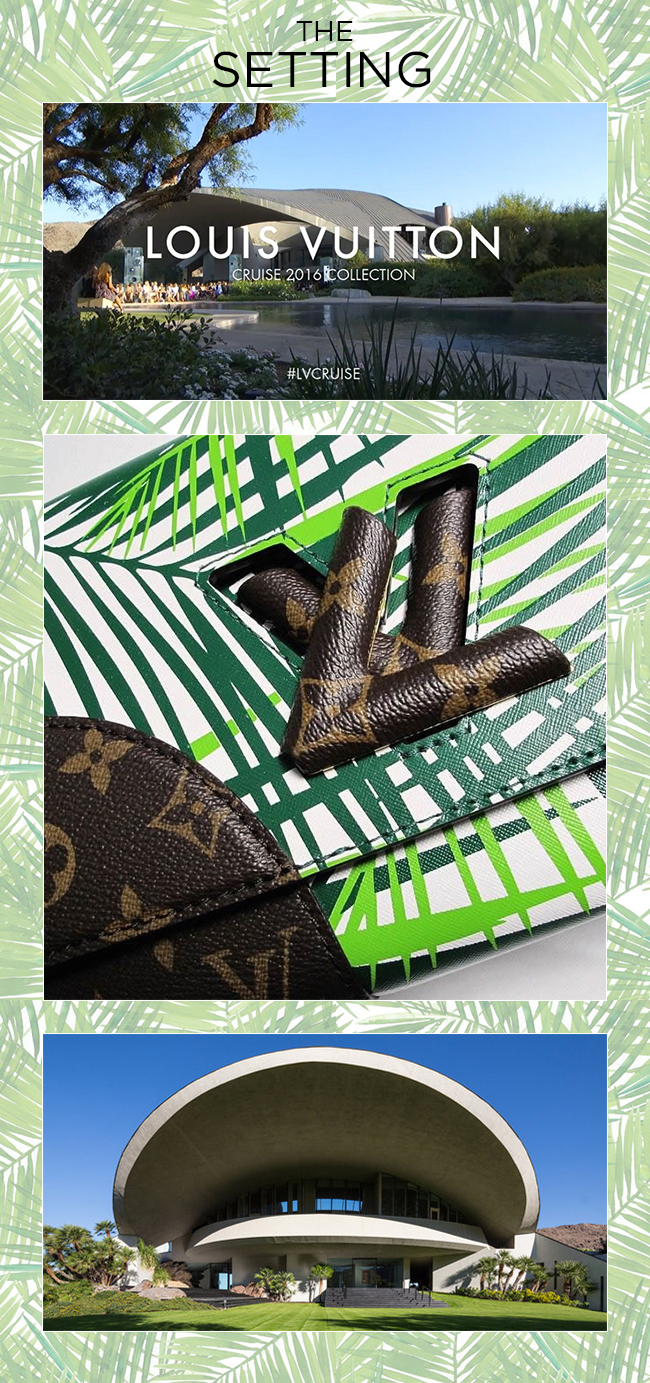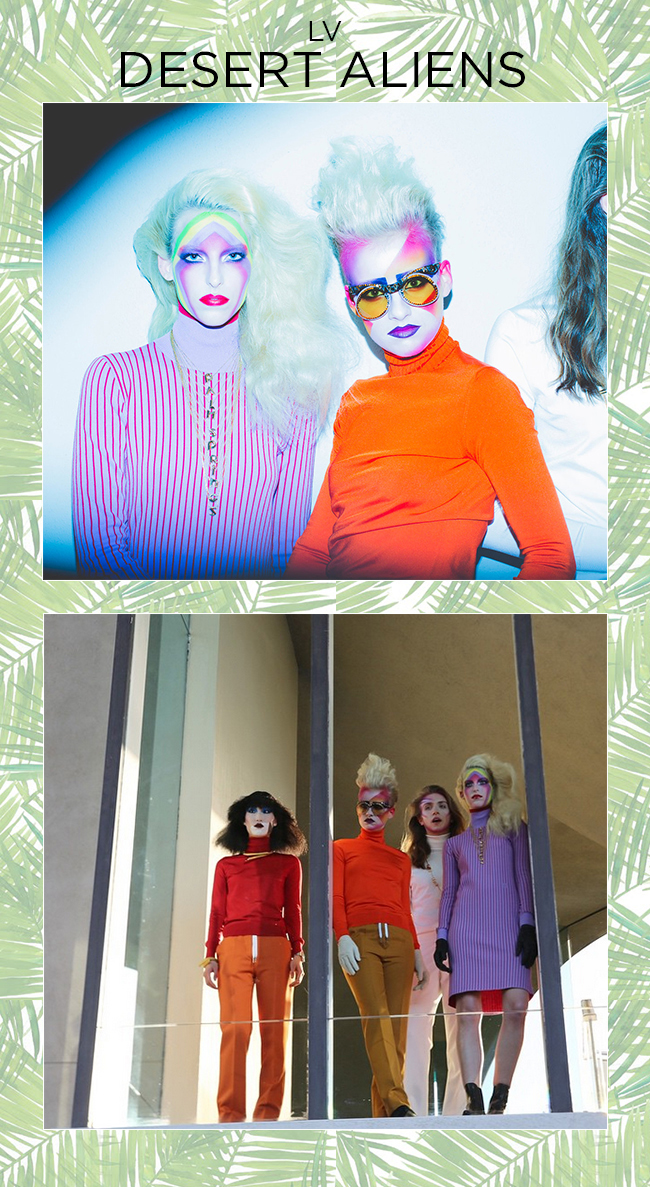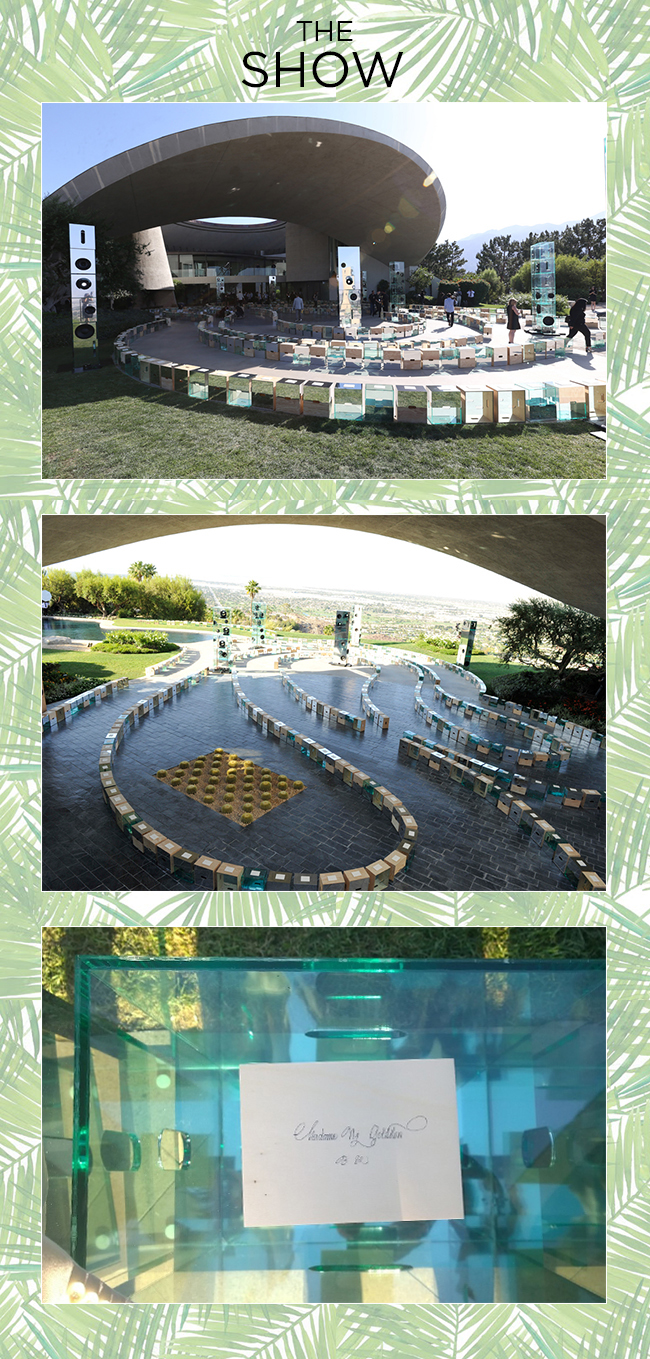 The runway was set in a circular pattern to match the home's swooping cooper roof and every seat was literally a front row seat. We were all on alternating plywood and plexiglas stools. A gong rang, and it was the same one as at the Fondation Louis Vuitton, gently nudging us that the show was about to start. It was a subliminal hint to the Paris to Palm Springs connection much like the recent Burberry London to LA connection.
The show started and we all gazed upward as the model's walked across the home's second floor slowly making their exits, and descending a two-story staircase visible through massive glass windows. This began 50 looks that covered everything from motorcross jackets, sequined pieces, hot pants, maxi's, leather belts that criss-crossed tops with triangle-shaped exposed midriffs, printed eyelet prairie dresses, trousers, supple leathers and suedes, high-top white trackers, leather flip flops, and an array of desert boots. It was an exciting mix that could be best characterized as biker babes, Mad Max, a bit of hippie grunge and bohemian mixed with a full arsenal of quintessentially luxe LV fabrications that make LV so LV. The consensus was clear. Ghesquière has hit his stride. It's only going to get better and better.
What can I say. The 70's are back. so why not go with hot pants? They looked great paired with desert boots and all the stunning bags and backpacks.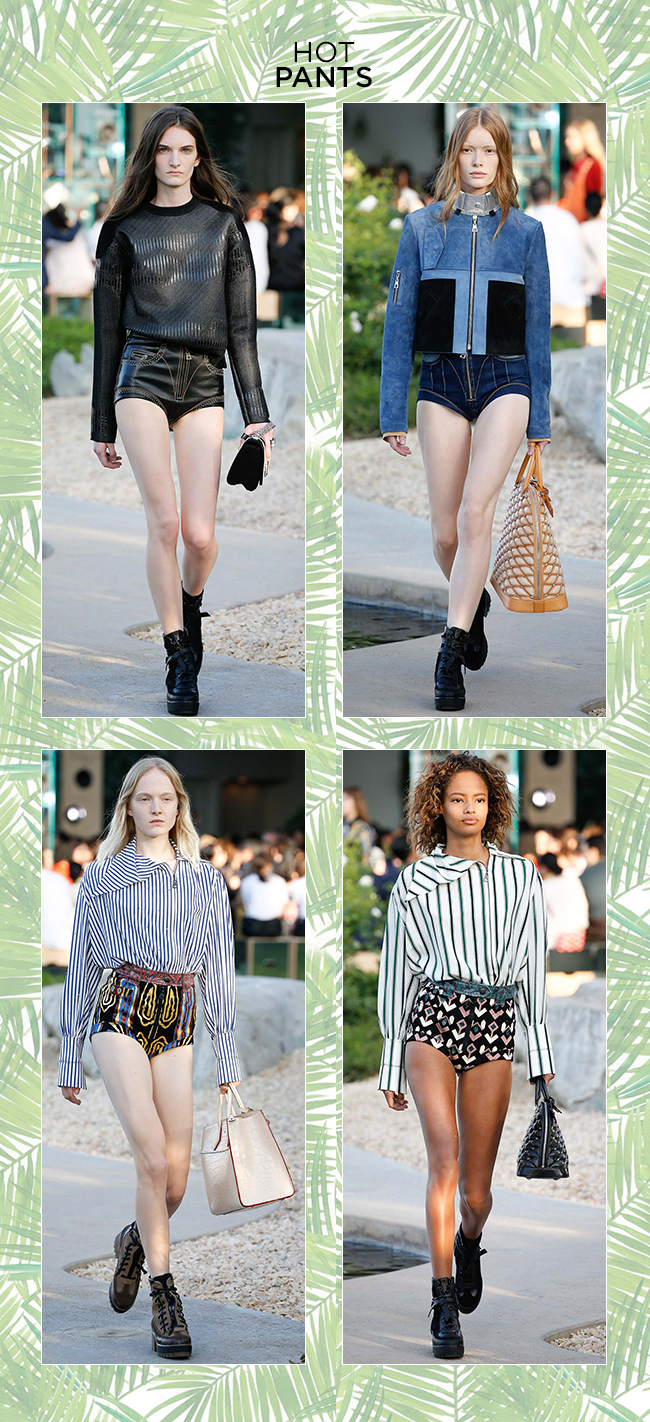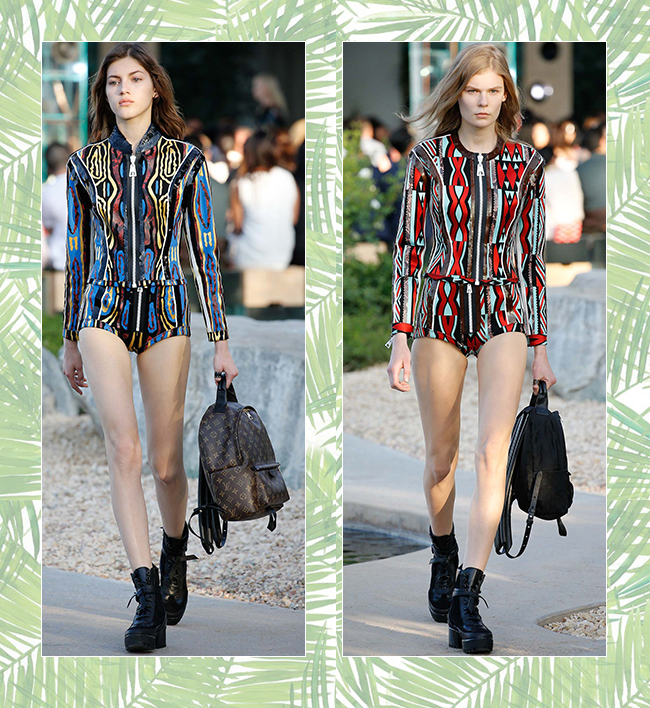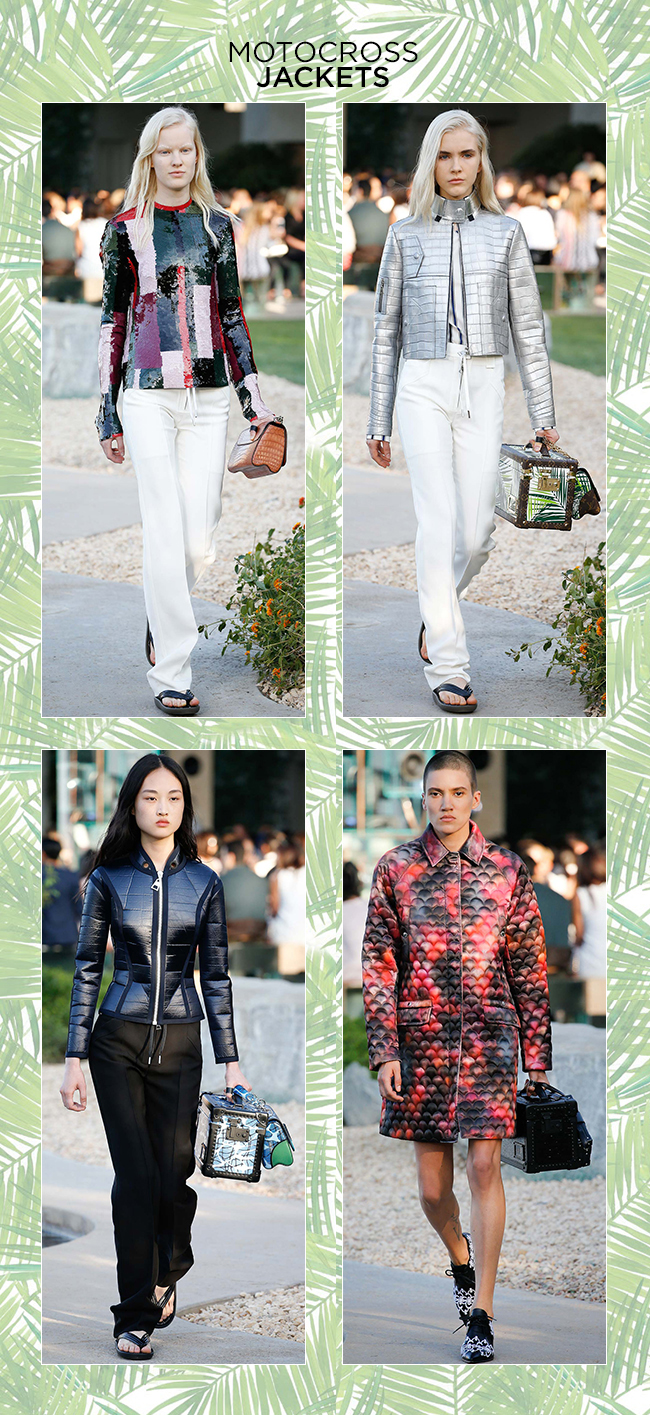 I made this up but it seemed to be a sweet mix of midi's. Guests were wowed and expect to see these looks on the streets of Paris, NYC, LA, Hong Kong, and more. Yes, attendees said they loved the look.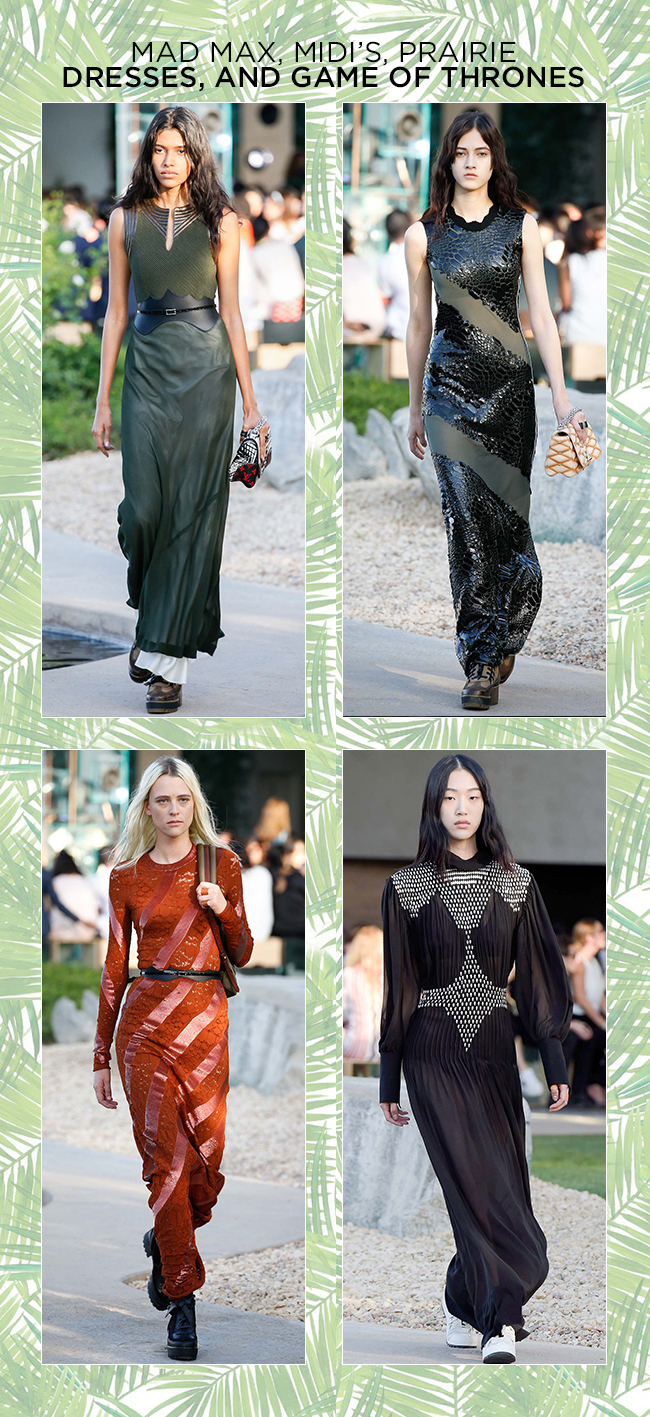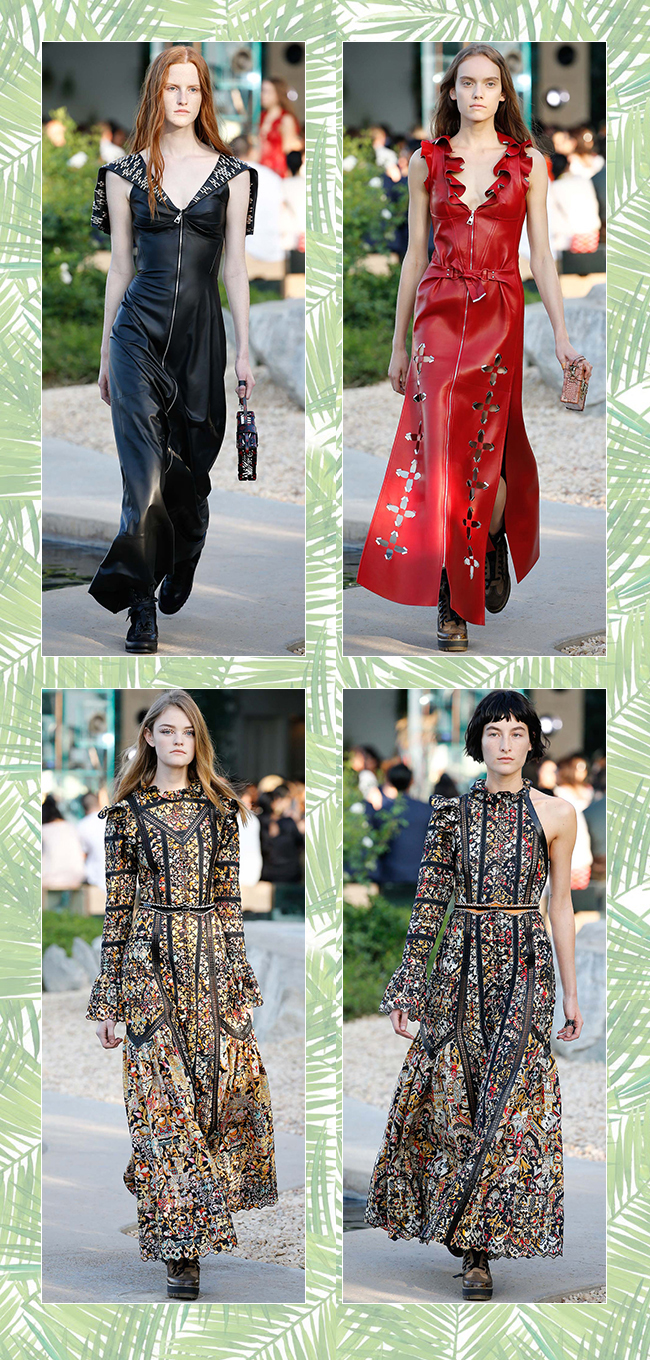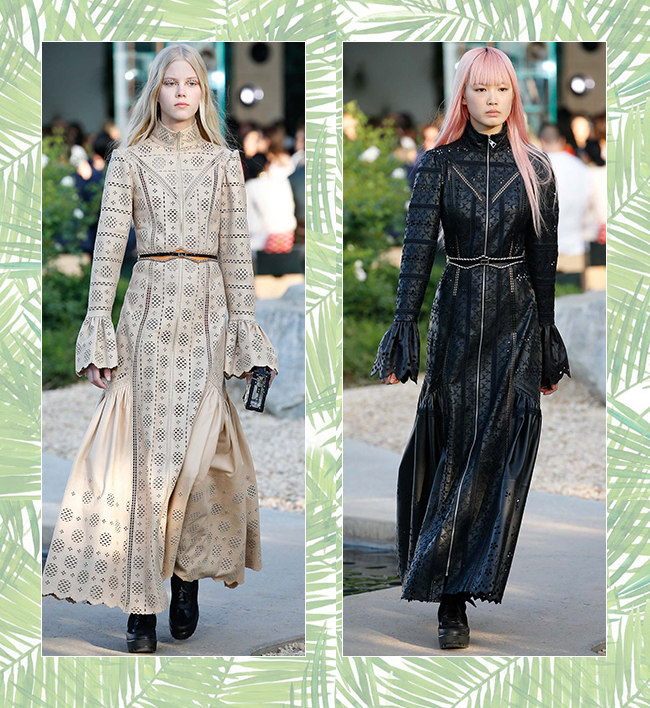 My favorite petite malle walked at least twice. It's crystal clear. They should have been taking orders at the show! After wild applause the crowd slowly departed for Dinner and an After Party at the Parker House which went on into the wee hours. The night was filled with drinks, dinner buffet-style, and then more photo ops in bumper cars, dancing, fire-pits under the stars, and arcade games which included big crowds hooting and cheering to win LV leather wallets and cosmetic cases.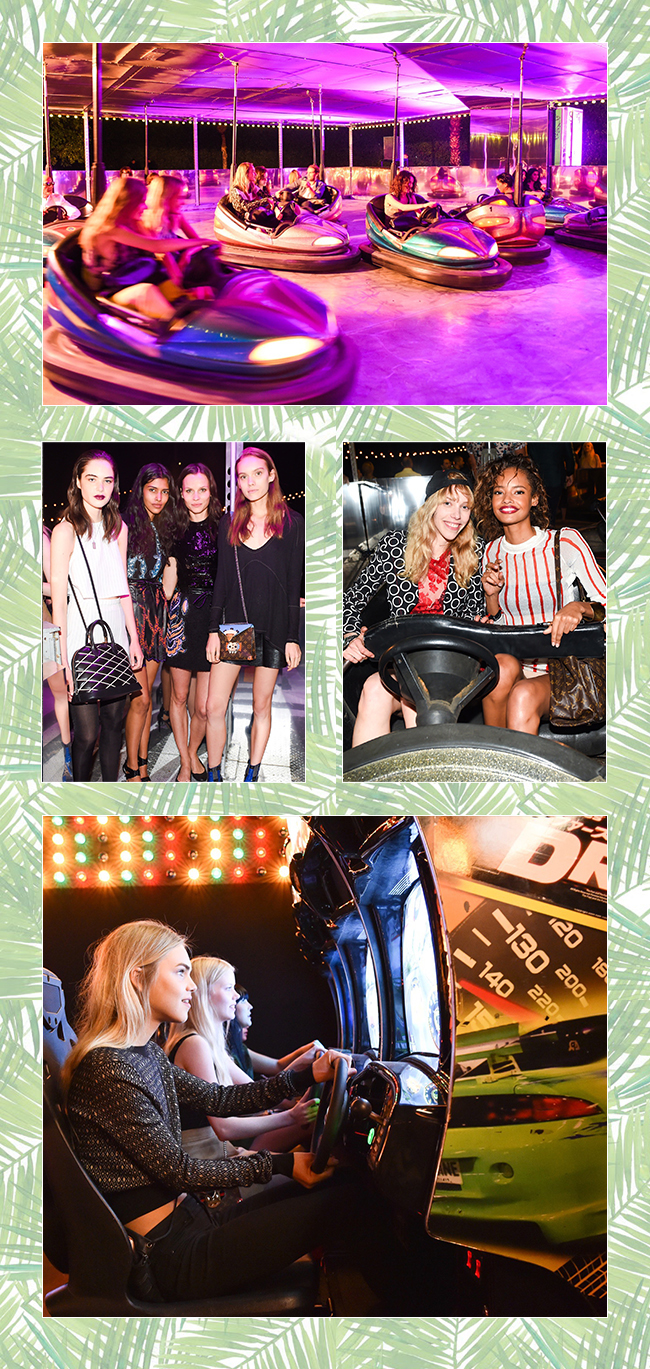 If you're in LA tomorrow, you can head to the Louis Vuitton Rodeo Drive store to see the collection for yourself and place orders. It's a short window but it's worth it. I'm dreaming of the desert boots, and, of course, anything that sparkles. Who knows, I might even take the plunge and go for a maxi. The orders for the red dress are going to be insane. If you missed the show, click here to see it for yourself, After all, they had a drone capturing it all.
With Love From Palm Springs
NJ Goldston, The Brunette
photo credits: Billy Farrell/BFAnyc.com/ NJ Goldston /Cameron Silver / Christine Chiu /Louis Vuitton