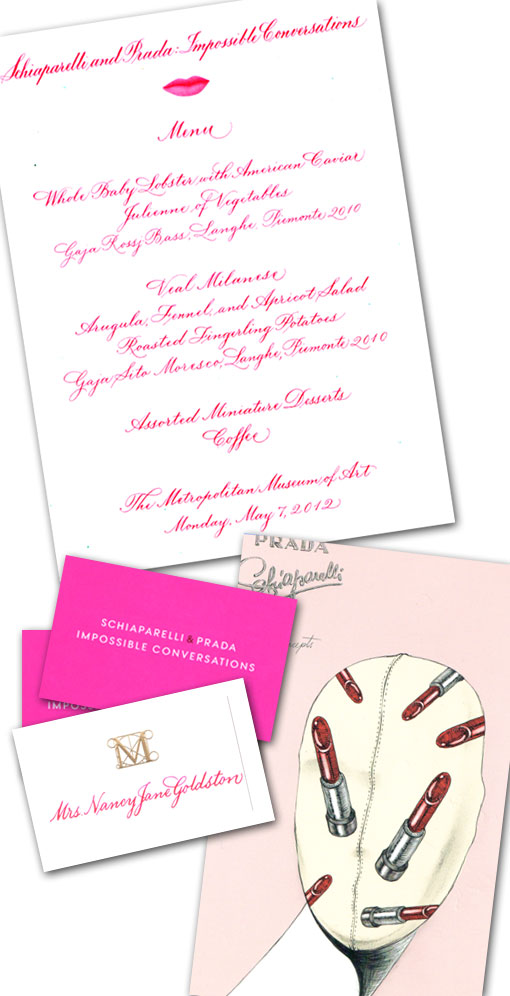 Key, themed goodies from The Met gala include the Impossible Conversations highly coveted, scannable "admission" ticket in fuchsia, place card, table number placards and the wonderful dinner menu. The lobster and American caviar was a superb choice for the appetizer followed by Veal Milanese.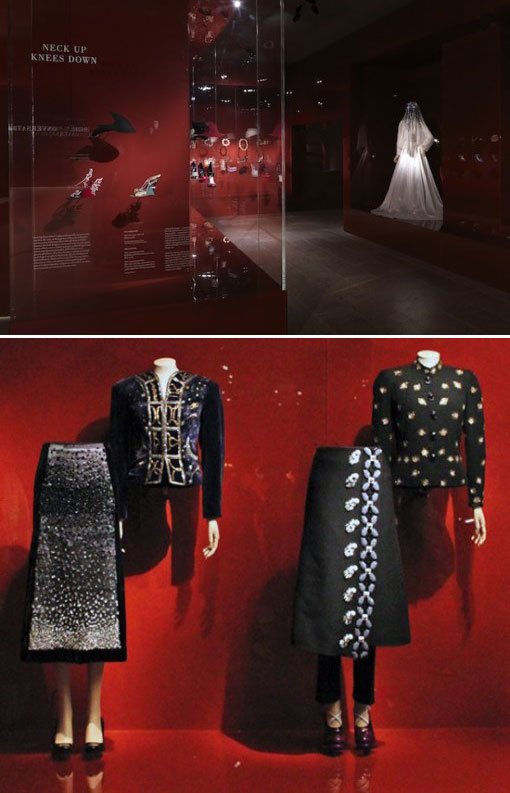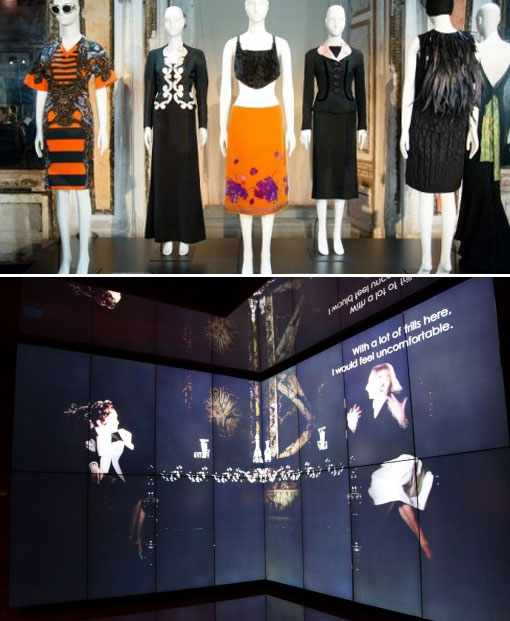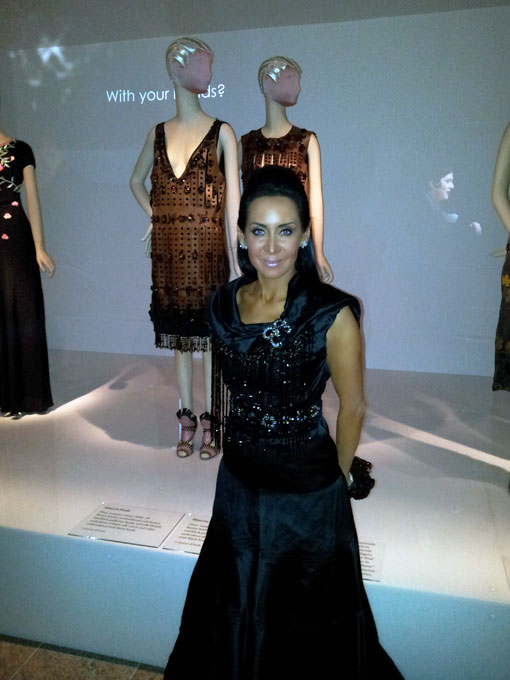 It was such an amazing night at the Met Gala and it seems very important to share just a few more tidbits about the entire evening. Arrivals were staged differently. Last year, for McQueen, it was an unimaginable, crowded gauntlet on the Red Carpet with celebrities and guests literally tripping over each other. Time for a change since this system didn't seem to be working. This year, Vogue cleverly staged arrivals in fifteen minute intervals requiring specially scanned tickets for admittance – no exceptions and no celebrity security details. That's my entrance ticket above in fuchsia. If you didn't have one, you couldn't even step on to the Red Carpet. No ticket, no entrance. It didn't matter who you were.
Once up the steps and inside , there was another check-in to receive your table number and then you were on your way to be greeted, see the exhibit, on to reception and the dinner was served, as always, in the Temple of Dendur. The menu, displayed above, was a clever accent on the theme, along with the place cards and table numbers. The entire Impossible Conversations theme was further amplified into the table settings from custom fabrics, often with the Man Ray lips, and red crystal glasses along with single anemones flowers in vases.
However, at the heart of the Gala is the exhibit and everyone is talking about it. As you enter it, a Baz Luhrmann film is playing in a darkened room with black lacquer benches for sitting. This is the soul of the " fashion conversation". Judy Davis, brilliantly plays, Elsa Schiaparelli engaged in an Impossible Converstai0n with Ms. Prada. Thus begins the exhibit and the impossible creative points-of-views and contrasts between Elsa and Muicca. Bottoms versus tops. Day wear versus evening wear. Shoes and hats. On and on. All accompanied by their comments on their particular creations. I don't want to spoil it for you, but this is a must see exhibit. It lifts you into the minds of two great fashion geniuses. The lines are already forming.
One last note. I posed in front of the famed gladiator dress, which I own, and wore at my initial meeting with Mrs. Prada several years ago. Mine is black (of course). Look closely. The creative inspiration for my gown is from this exact dress. Done during the same season, you can see the nuanced embroidery and beading of both pieces. My gown is just amplified even more for the evening with it's contrasting satin fabrics, waterfall of beading and over-sized broach. I added the belt.
If you are in New York City, the exhibit is from May 10 – August 19 at The Metropolitan Museum Costume Institute at 1000 Fifth Avenue, New York, New York. If you can't make it, the catalog is well worth the purchase or makes a great gift. $45.
xo
NJ Goldston, The Brunette