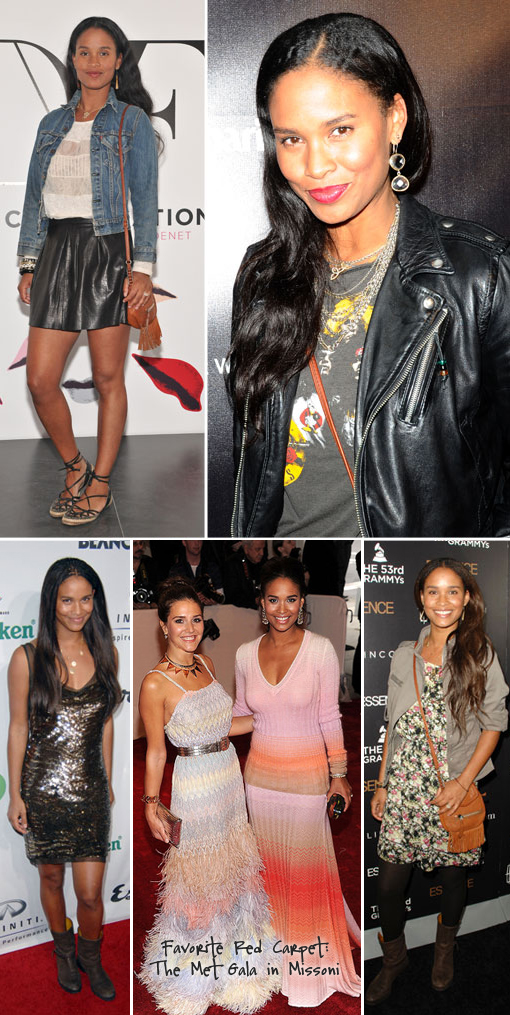 We all love the gorgeous, very intelligent and utterly engaging actress Joy Bryant! Well, expect to see more of her on the new Fall season of the NBC drama "Parenthood". The talented thespian plays the role of Jasmine Braverman, a single mother, who moves back home to pursue a professional dance career and introduces her young son, Jabbar, to the father he never knew. Joy's character is now newly married to Crosby Braverman, played by Dax Shepard, Jabbar's father, and things are going to get very interesting as they negotiate their new life together. With that on the horizon, Joy just got back on the "Parenthood" set to start filming Season 4 and The Blonde and The Brunette caught up with her at her home in LA, to talk about her career, turning points, and, of course, style.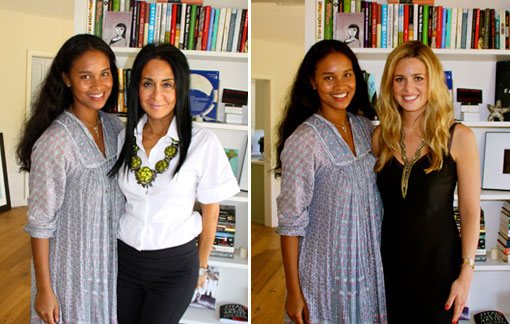 B&B: We know you have been a fashion model in Paris and subsequently signed an exclusive contract with Tommy Hilfiger. Tell us about how you got started and made the transition from modeling to acting ?

JB: I'm from the South Bronx's and was very blessed when I got a scholarship to Westminster (in Connecticut). As a matter of fact, I just went back for my reunion and I feel so connected to the school because it was an amazing life changing experience. From there I went to Yale but I dropped out after two years to take a risk. I did a lot of soul searching before I made the decision (and I'm not saying or recommending this for everyone but for me it was right) . My grandma raised me to always believe in myself and she said if I set my mind to something I can achieve anything.
B &B: Tell us a little bit more about this big decision and the factors you had to weigh.
JB: My grandmother was my role model growing up and she passed away my freshman year. And back at Yale, I wasn't happy there. I was in debt from work study loans and I didn't want to be there anymore. I met my agent from NEXT models my sophomore year and he said "You can do this, You can model". It was the right place at the right time. I had a plan and I wanted to give modeling a try for a year and take off a year from Yale. I knew I could go back after a year if it didn't work out and I had a plan. It was a risk and everyone said "You're crazy. You don't drop out of Yale!" I didn't want any regrets, so I did it anyway. I dropped out because I wasn't happy. I couldn't stay somewhere just because everyone says stay. It was the bravest moment of my life. But fortunately it worked out. I was making a living modeling. And then while I was modeling people said you should be acting. So I took an acting class and it felt amazing. It was my therapy. My teacher said acting is 'therapeutic'. Acting was exactly what I needed at the time. And then I landed the Hip Hopera musical Carmen for MTVand then the film Antoine Fisher. And that was the movie that put me on the map.
B&B: You were wonderful in that movie!
JB: Thank you. So you have to take risks and its OK to take risks. Successful people take risks. Sometimes you have to go against the grain, even when everyone is saying you're crazy. You have to believe in yourself. And that is what I live by. You have to find a way to follow your bliss the best you can in whatever context you live in. Whatever space you are in, you can find your core. Reach and dream for your personal best. You just have to always dig deeper within yourself and always bet on yourself. Because only you can bet on you. Because 9 times out of 10 no one else will bet on you. You have to bet on yourself! Only you know what is best for you.
B&B: You have a great inner confidence and all of us can learn something from inner strength, dare we say "compass' and what you are saying to so many women today.
JB: I wasn't born with a silver spoon in my mouth. I didn't have anything handed to me. SO when I speak to you and give advice to anyone, I'm not saying this because I'm the best, but I know what it is like. I'm telling this from experience. I am an OXFAM Sisters On The Planet Ambassador so I went to Cambodia with them. After seeing these women, it just reinforced my belief of how lucky we are in America. The majority of women in the world have a fraction of what American woman have access to in their lives. Most of the women in the world have so few options. At least in America, we have options. We have choices. It's such a gift.
B&B: Switching gears, congrats on the renewed season! We Love you as Jasmine Trussell in Parenthood on NBC (Jasmine Braverman, a dancer, Crosby's wife, and mother of Crosby's son Jabbar). Tell us about her character and what you identify or have learned from her?
JB: Jasmine and Crosby got married last season, so it will be interesting to see how it will be living in the same house, and having a child together! It is such an awesome environment with such talented people and great material. I get to be surrounded by truly extraordinary people. They give us the freedom to collaborate with ideas for the character with makes the show so natural and fun. You just get to play. And that's what it should be about. Acting is all about playing!
B&B: You're a busy lady. What is your next project?
JB: Dax Sheppard's new movie: Hit and Run, a crime, comedy coming out soon! I am also going to shoot Across the Board with Joy Bryant. It will be on YouTube's Conversations Channel. The premise is doing a board sport while interviewing a celebrity or personality. I love snow boarding! I go all the time. I would even love to design women's snowboard gear and clothes one day! I care more about what I wear on the slopes than anything! I need to be 'fresh" on the slopes. I'm all steeyzed out! I wanna make a t -shirt that says "All Style No Substance!" Although my substance is kinda catching up to my style.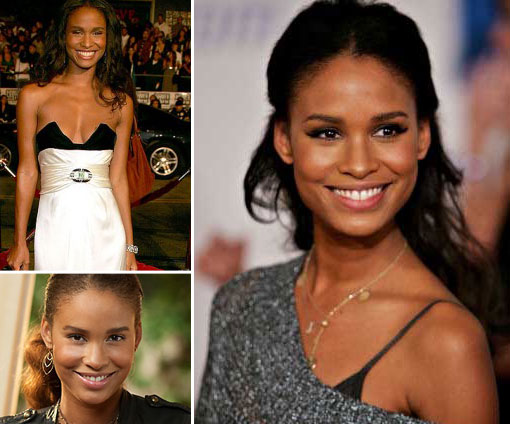 B&B: Now we just have to talk a bit about your style as you really are an influencer. What is your favorite Red Carpet Fashion Moment that you have had?
JB: The Met Ball! Climbing that staircase and walking a mile in heels really separates the women from the girls! I went with Margerhita Missoni (2 years ago) . Our feet were hurting before the event even started, in the car on the way there! You know that is not a good sign. The moment that Ill never forget is Paul McCartney coming up to me and saying that I was one of the best dressed of the night!" That compliment helped my walk back to the car when my feet were dying in pain. The Missonis did my wedding dress! They made it for me in three weeks! In Milan! I am forever grateful to the Missonis.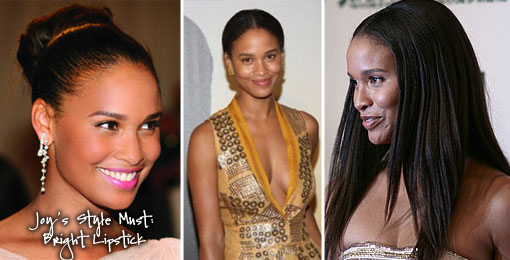 B&B: Tell us about your beauty/fashion team. What is your regimen when prepping for a big fashion event?
JB: Well I take a shower! I'm pretty low maintenance, I love getting dressed up and the whole glamour part, and I have been fortunate enough to work with the best stylists (Rachel Zoe) and other amazing make up artists. But as I get older I get less fussy! I love to rock a tinted moisturizer, bronzer, mascara and a strong lip. I'm getting back into red lipstick! I was recently in NY and I went to my 20th reunion dinner and I had to wear an outfit that I had been wearing all day, so I just put on a red lip and it totally elevated the outfit! There is nothing wrong with embellishing and accentuating! Whatever you have to do, play with your strengths and downplay the other parts!
B&B: What secrets have you learned from Rachel?
JB: Aside from being amazing at what she does, she loves and is obsessed with what she does. She has taught me the details of pulling together wardrobe pieces. She tells me to put something on and I don't want to and I end up loving it and it knocks it out of the park! And she is a really great person and I am honored to have been dressed by one of the best!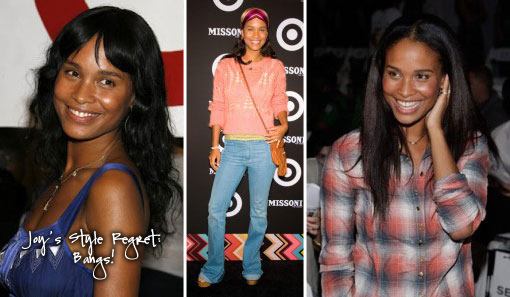 B&B: What is your go-to/ everyday outfit?
JB: I love a boho loose easy dress; and, I love a tight short dress and flats right now too. If I love and become obsessed with a piece of clothing, I will wear it everyday! Literally! I love camouflage. I can't even define what my style is, it is all over the place, just whatever feels good and comfortable.
B&B: Prized piece of bling…?
JB: Manon Von Gerkan did my wedding ring. She has been my friend for years and she makes incredible pieces! I'm obsessed with my ring. I am not very blingy! Also Rachel Zoe gave me this necklace (from Caviar and Kind, now Roseark) gold chain with charms on it, and I wear it everyday! I never take it off. I love it!
B&B: What is your guilty pleasure?
JB: My reality shows — Wild Man on Animal Planet is amazing. I don't feel guilty about this but, there is this Gelato called Telenti and the Sea Salt Caramel is the best!! This will change your life! It tastes like the melted caramel made frosty! It has little pieces of caramel in it andnd then put the coffee bean, chocolate and sugar Grinder from Trader Joes on it! We call it crack salt! If you had a rough day, just go home and eat this! It is the best, and it makes me so happy.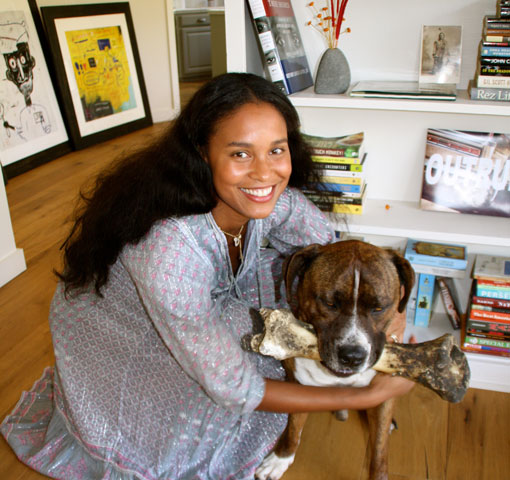 B&B: What or who inspires you?
JB: I have a lot of amazing friends that inspire me all the time. Whether one inspires me fashion wise or a friend that makes me go deeper. My grandmother, passed, she still inspires me to have the courage to do what I love. Everyone has the capacity to be a great teacher and I am fortunate to surround myself with inspiring people.
B&B: Did you have a fashion blunder?
JB: Anything pre-Hollywood! One time I had bangs; that was disasterous. I looked like Rick James. I would take that back!
B&B: And last but not least our signature questions…
Who is your favorite Blonde?
JB: Beyonce! I told her "I love that you're rocking Blonde". She said, "It is a commitment, but once you do it you will never go back. Being a blonde is so fun."
Who is your favorite Brunette?
JB: Angelina Jolie.
What are your favorite books?
JB: Woman Who Run With Wolves. My friend who is a psychologist told me about this book. This book helps overcome obstacles of being a woman with short stories from all over the world. This is a soothing, comforting and empowering book. This is one book that I would tell The B &B readers to read for sure.
B&B: We can't wait to get it!
JB: Another favorite is "The Year of Magical Thinking" by Joan Didion. This book helped me through the loss of my mother. I also have two more treasured reads. "The Peoples History of the US", and I always used this in school to supplement my American History class. The nerds out there will love this. "The Power of Myth". This book really started my love for mythology. A friend turned me on to this book.
B &B: Joy, thank you for a great afternoon. I think we could just talk to you for hours. We're absolutely memorized with your insights, talents, and natural beauty. We know our readers will be too!

To be continued….as Joy occasionally joins us as a Guest Contributor.
NJ Goldston, The Brunette & Kathryn Lebowitz, The Blonde