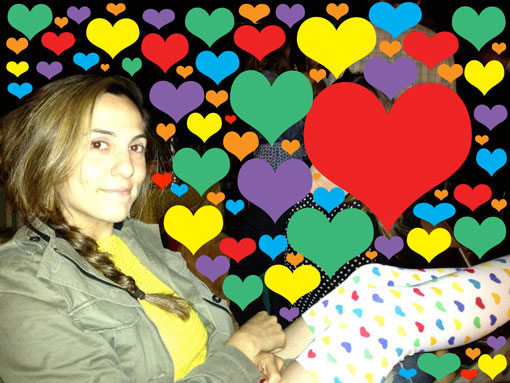 Inspired by fashion that she encountered as a child growing up in the South of France and Los Angeles, Roxi Beatrice was born with an innate talent for style. Roxi refined her technical and creative skills during her time interning in Los Angeles with Who What Wear and in New York City with Rachel Zoe. Roxi took her discerning eye for fashion to the next level when she decided to move back to LA to start Love, Beatrice – a collection of legwear that combines the streets of the East & West Coast for a cutesy sass of femininity.
B&B: What inspired you to create Love, Beatrice?
Roxi Beatrice: I wanted to create accessories that I personally wanted to wear but couldn't find. I have always been drawn to socks and tights, and everything in between. I could never find exactly what I had envisioned in my imagination. After years of working in different aspects of the industry, I decided to do it myself!
B&B: Who would be your dream model to work with?
RB: Frankie Rayder.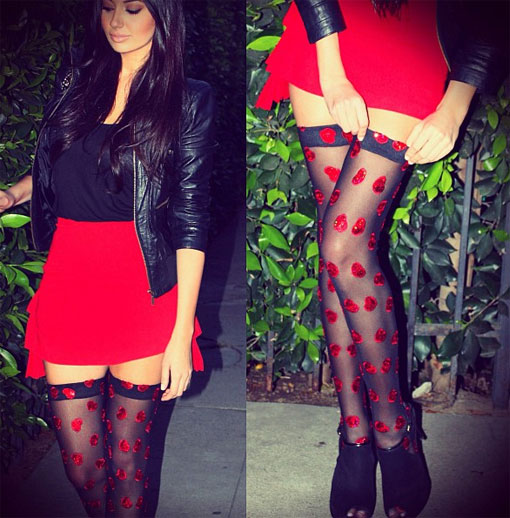 B&B: What are some of your proudest accomplishments as a designer?
RB: I'm proud of sequin heart thigh highs! Just being able to make them. They are so unique and special.
B&B: Where can readers buy your clothes?
RB: www.LoveBeatrice.com and all store locations in New York and Los Angeles are listed on the website! It's also coming to London very soon.
B&B: How long have you been designing?
RB: Love Beatrice launched February 2012. I came up with the idea maybe the year before. I've been designing, creating, and sewing on and off in other aspects of the fashion industry for about seven years.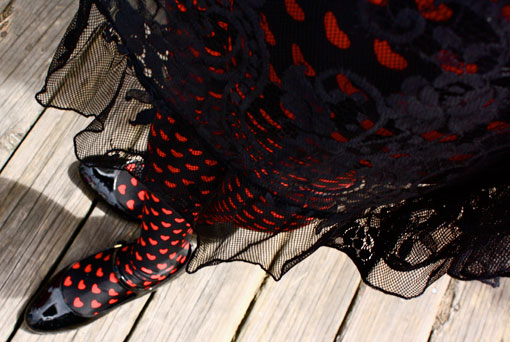 B&B: What do you believe makes a quality article of clothing?
RB: Quality fabric, quality thread, clean cut sewing.
B&B: What's your favorite part about conceptualizing a design?
RB: Coming up with the different and fun prints.
B&B: What advice do you have for aspiring young designers?
RB: Intern and work in the industry as much as you can first. Ideally work for people that you admire in terms of their work ethic and accomplishments. Learn from people you respect in fashion and in business. Make a serious business plan, be nice, spell check, ask questions, read books, have faith in the universe, and do what you love and do everything out of passion.
B&B: What do you like best about designing clothes?
RB: I love being able to make what I personally want for myself. There is nothing like prancing around in legwear that I created from scratch, from my own blood, sweat and tears! When strangers come up to me and ask me where I got my tights from?! I want to squeeze them and pick them up and swing them around in a circle and throw them in the air from excitement.
B&B: What do you dislike about designing clothes?
RB: Production gets a little crazy because everything for me right now is like rush rush rush, wait wait wait, then rush rush rush.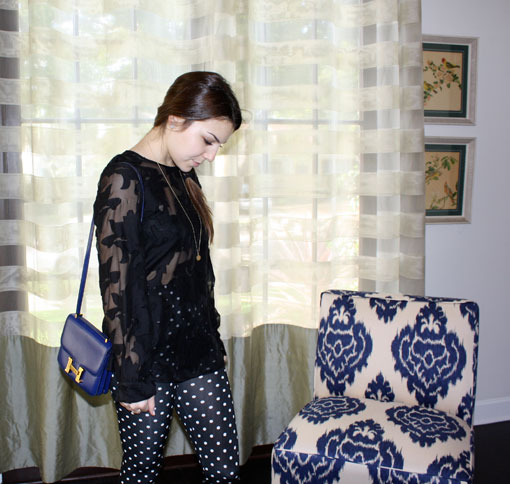 B&B: How would you define your personal style?
RB: During the day I like to wear a lot of poppy colors. At night, I usually wear all black unless I don't make it home for an outfit change then I'll continue from my day attire looking like a Takashi Murakami painting.
B&B: How would you define the style your line exemplifies?
RB: Any female that loves to feel special, dance passionately by herself, laugh with her best friends over a charming dinner. A girl that gets excited to add a little something extra to her outfit. I imagine a woman leaping across the street in New York City to jump in a cab after a late night of eating cake on the couch at the Bowery Hotel with her lover. Or a bunch of fresh faced, beautiful girls running errands on their bicycles on a sunny summer day in Los Angeles. A Parisian girl strolling side by side the Seine in Paris after picking up a box of macaroons from Laduree. Love, Beatrice exemplifies having fun while feeling sexy and confident. Loving your outfit, and loving your life.
B&B: What are some of your favorite books and magazines?
RB: Gustave Eiffel La Tour De 300 Metres, Great Expectations by Charles Dickens, The Uses of Enchantment by Bruno Bettelheim, Alice's Adventures in Wonderland by Lewis Carroll. I love Japanese fashion Magazines. I just love Japan. Japanese fashion is so incredibly insane. When I walk into a Japanese store filled nick knick-knacks I get so excited I feel like I'm going to explode.
B&B: What other experience do you have in the fashion industry, where did you go to school / intern?
RB: I interned at Who What Wear, while attending FIDM in Los Angeles. I assisted the fashion director of Love Magazine for a couple shoots, assisted stylist Petra Flannery for a little before moving to New York City. I interned with Rachel Zoe's media team, The Zoe Report, while I was living in New York. I was always free lance styling and working on anything fashion related that I could get my hands on.
B&B: What are your favorite colors / fabrics & patterns to work with and why?
RB: Really soft, really stretchy, lots of hearts and polka dots! I like the fabric to be feminine and fun and to feel yummy against the skin.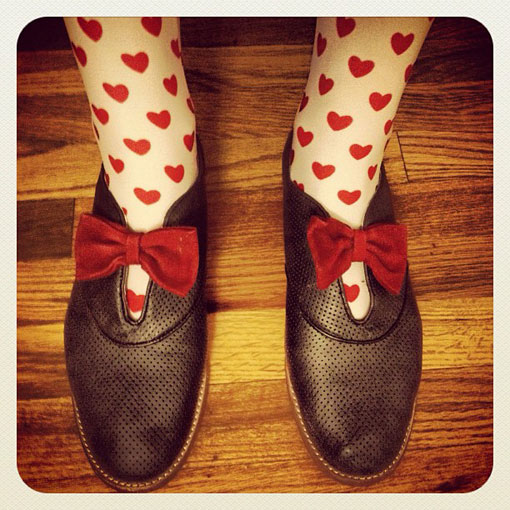 B&B: Where do you see yourself in 5 years? Do you see yourself designing anything other than thigh highs and tights?
RB: Yes, I want to keep expanding. Too early to tell now. You shall seee!
B&B: A bit more personal questions just for fun…If you could raid anyone's closet living or dead, who's would it be?
RB: Andre 3000. I just want to be his friend. Maybe I could raid his closet and then show up at his door a week later and be like, "Hey Andre, I found all of your clothes" and then he would invite me in.. and we'd slowly build a solid friendship.
B&B: Favorite Los Angeles hang out?
RB: Magic Castle.
B&B: If you could see one fashion trend come back, which one would it be?
RB: I remember when I was a little, I used to have 2 or 3 watches that were neon rubber colors straps, and face of the clock was a 3D plastic bubble and filled with water. It had had a little toy floating around in the water.
B&B: What is your idea of the perfect weekend?
RB: Get on my Love, Beatrice private jet, fly to Paris. Take a horse and carriage from Charles De Gaulle to Versaille, be escorted through the Palace, sleep in Marie Antoinette's bed, run around in Love, Beatrice tights in the gardens at night with sparklers in one hand and in the other feeding myself eclairs and ice cream and macaroons, and crepes until my tummy pops! Or you know, just keep it casual, sushi and dancing with friends.
This is one of our favorite interviews thus far! I mean, talks of hearts, polka dots, dancing, sequins, and yummy dessert until our stomachs pop!? What is not to love! If you adore Miss Roxi as much as we do, please visit her website and show your legs some love! Being a BIG fan of thigh-high tights, I must say, my red and white Love, Beatrice tights are hands down my absolute favorite!
Xx. Jadan Huter