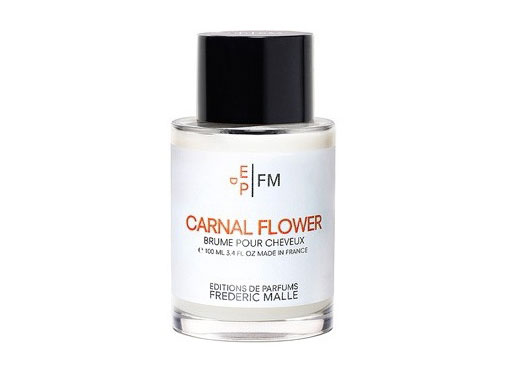 For all those Blonde, Brunettes and Redheads out there you must know about the Carnal Flower Hair Mist $160. It's been making major waves in the beauty industry! Frederic Malle's, Carnal Flower has become one of Editions de Parfums "Classics" since its launch in 2005 and now the scent is available in a hair mist. The scent smells of natural tuberose, coconut and traces of musk. It's so special it took 18 months to formulate this perfectly balanced scent!
Much lighter than perfume, this "brume", which is the poetic term meaning "mist, fog, or vapor", is the perfect way to use this absolutely extraordinary scent. It is particularly fitting for summer use when it's just bad form be over doing it (as in a "sillage" which is the correct name for that awful, overpowering trail of fragrance some woman mistakenly believe is desirable).
True to Frederic Malle's idea of a luxurious perfumery without compromise, and because he wanted this sensuous breeze to last an entire summer evening, this hair mist contains a slighltly heavier amount of perfume than any products of its category without being overpowering.. My boyfriend even noticed my amazingly freshly scented hair! This is available only in the U.S. Now you can smell as light as a summer breeze.
-Kathryn, The Blonde and NJ, the Brunette