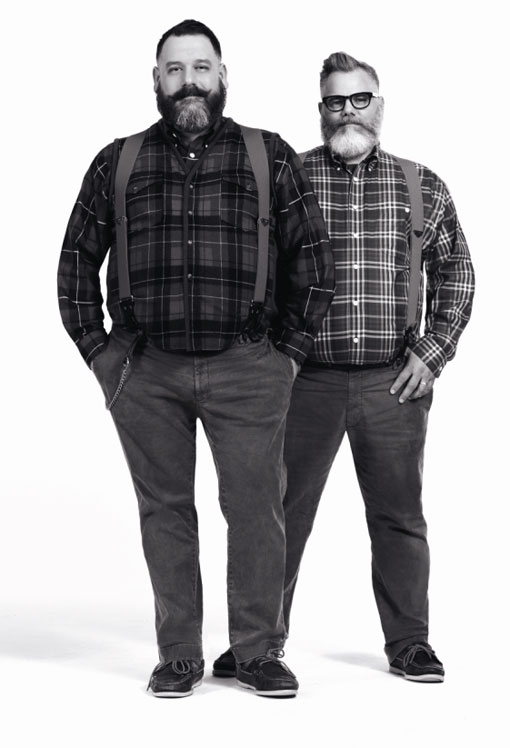 Last week, The Blonde & The Brunette sat down in LA with renowned fashion designers Jeffrey Costello and Robert Tagliapietra, who have launched a new capsule collection called C&T Costello Tagliapietra at Barneys nationwide. Jeffrey and Robert have had a signature collection for 10 years, but this new capsule collection of 15 dresses are priced at a relatively much more affordable $298.
The juxtaposition of their personalities (they are two of the sweetest giant lumberjacks you'll ever want to meet) and the collection (feminine draping and vivid colors and floral prints) is quite intriguing and refreshing. Back at the office, we were all buzzing and texting about it non-stop because you gotta love the irony. We do!
This new line shares the same quality attributes Jeffrey Costello and Robert Tagliapietra's namesake brand are known for: vivid colors and exquisite draping that flatters every figure. The collection offers a wide range of silhouettes, from asymmetrical, long sleeves, deep-V necks, low scoop backs and feminine waist ties with wrapped bodices and keyhole cut-outs. Skirt lengths range from knee to ankle-length, The C&T Costello Tagliapietra capsule dress collection features fluid draping styles and a rich color palette of forest greens, grays, oranges and browns which are all perfect for summer or well into Fall. Everyone also asked us about their backgrounds, Both Jeffrey and Robert were taught at an early age by their grandmothers the finer points of tailoring, couture pattern-making and construction and wouldn't you know it, have designed and dressed many celebrities and notables including Catherine Zeta-Jones, Madonna, Nicole Kidman, Rose Byrne, Kerry Washington, Angelina Jolie,and Oprah Winfrey.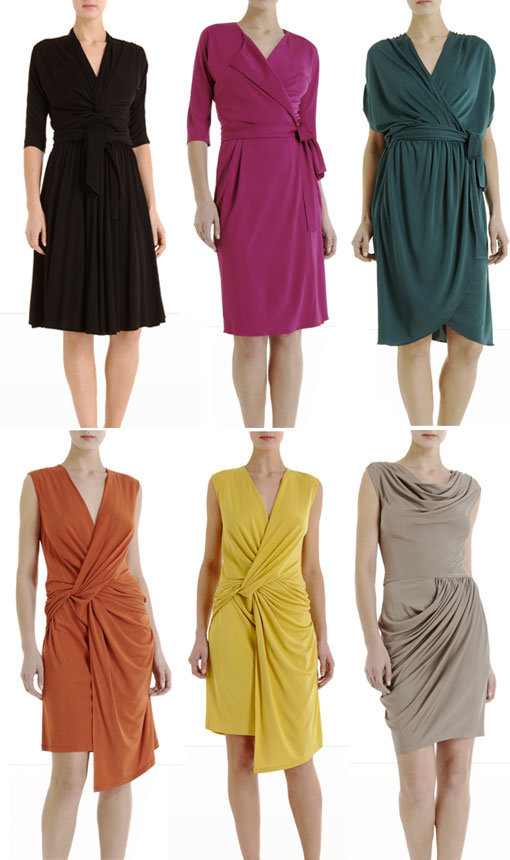 Flavia Dress in Black
Andover Dress in Fuchsia
Iris Dress in Yellow
B&B: Tell our readers about the brand C&T and how it has evolved.
C&T: The brand launching C&T came out of the desire for designing something more attainable. We have had years of working with girls that were so disappointed that they couldn't afford our collections, so to be able to do something that is not going to be a 'rent' payment is a reward for us; to make people happy and have the ability to buy our brand.
B&B: Tell me about the first collection for C&T. I especially love the color palette you have chosen for the debut.
C&T: The First collection for C&T is based on creating a garden. The next delivery which is this month has prints in the collection. We see each dress individually; we call them 'Our Ladies'. They are like little flowers that make up our garden.
B&B: Ooh! Will we be seeing floral prints!? Everyone is loving adding florals to their wardrobes right now. So , refreshing.

C&T: Yes, manipulated florals that we hand painted, so there is a beautiful textural quality to them.
B&B: Tell us more about the color palette.
C&T: There are colors that have a lot of depth to them because we mixed these colors. It is interesting to hear different interpretations of the colors; people see the colors in different ways. For example a sales lady called this dress brown, when we saw it as a deep grey.
B&B: Tell us why you have chosen a dress as a debut, is there a significance to a dress?
C&T: Well our families were dress makers and we are painters so our background has dictated our path. Modern piece of wardrobe, you can't get much easier that a dress. It's really easy to see a dress as a canvas for us, which goes back to our background as painters. Some dresses even look like a two piece outfit. Each dress has its own moment and body type that is addresses. They are open to your interpretation!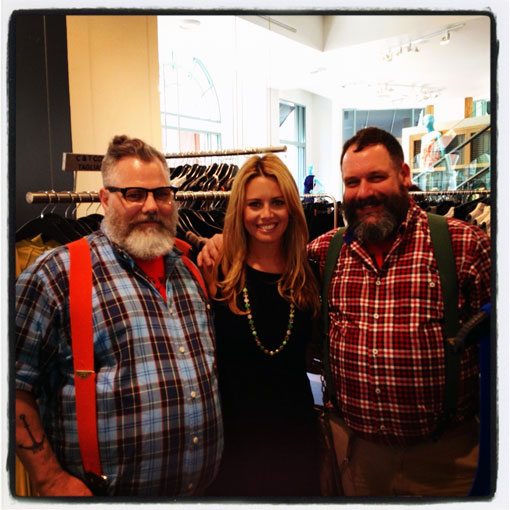 Available exclusively as Barney's Co-op nationwide and Barney's online, we noticed they were already starting to sell out. They're the perfect combination for on-the-go women or anyone who wants something a bit more forgiving to flatter their figure. C &T. Tough not to love!
xo
-Kathryn, The Blonde