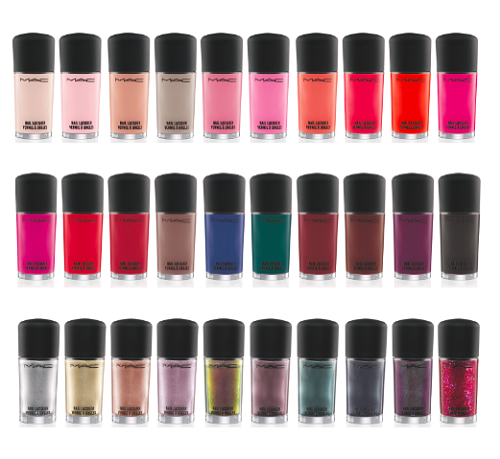 At last! M.A.C. is expanding its permanent nail polish collection from 8 to 30 shades. The new colors just launched this month and include something for everyone, nudes, pinks, bright orange, bright red, even glitters, golds, and a 3D gunmetal. What makes the collection extra special is the revolutionary new high gloss formula along with three long-wearing finishes – Cream, Sheer, and Frosted- that are literally visibly different. Each lacquer is a no-streak/no-chip finish. There are also 35 seasonal colors coming soon☺.

We also compiled the list of the colors in the new permanent M.A.C. Nail Polish Collection so you can have any easy reference guide:
Overlacquer Clear topcoat
Faint of Heart. (Palest milky nude)
Delicate Pale. (Sheer ballet pink)
Skin. (Light peach beige)
Quiet Time. (Beige nude)
Snob. (Light neutral pink)
Saint Germain. (Light cool pink)
Fiestaware. (Mid-tone orange coral)
Impassioned. (Bright warm pink)
Morange. (Bright cream orange)
Steamy. (Bright mid-tone blue pink)
Girl About Town. (Bright blue fuchsia)
Shirelle. (Classic bright red)
Flaming Rose. (True red)
Coffee Break. (Mid-tone cool taupe)
Spirit of Truth. (Navy blue)
Deep Sea. (Deep teal)
Rougemarie. (Dark blue red)
Vintage Vamp. (Rich deep wine)
Dark Angel. (Dark grape)
Nocturnelle. (Rich true black)
Discothéque. (Super glitter silver)
Screaming Bright. (Super glitter gold)
Soirée. (Sparkly light bronze gold)
Girl Trouble. (Super glitter pink)
Mean & Green. (Purple with teal multi changing pearl)
Anti-Fashion. (Mid-tone dirty purple with pearl)
Formidable! (Teal green with pink multi changing pearl)
Midnight Tryst. (Dark cool grey steel with pearl)
Nightfall. (Blackened frosty gunmetal)
Sparks On Screen (Online Only). (Super glitter red)
They are each $16. Available in North America at Nordstrom and all M·A·C Stores and Online and Internationally starting September 2012 at all M·A·C locations.
– Astrid Bryan