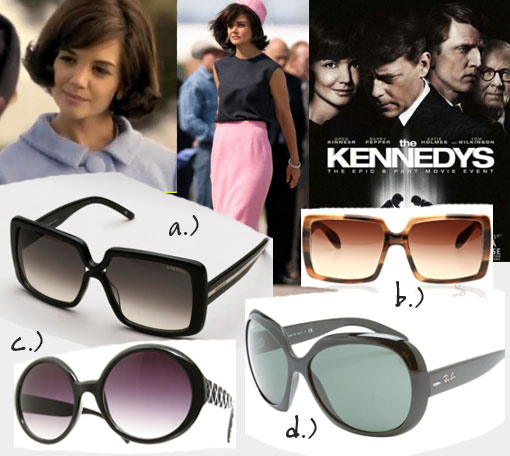 As I'm sure you have heard, Katie Holmes plays Jackie Kennedy Onassis in the upcoming eight-part miniseries 'The Kennedys".
You know what this means…go grab yourself a pair of Jackie O sunglasses before they're all sold out!
We've done our research at The Blonde and The Brunette to bring you our favorite "Jackie O's.
Can't get enough of the Nina Ricci pair…LOVE. LOVE. LOVE!
a.) Nina Ricci Jackie O Limited Edition $239, available at EyeGoodies
b.) Oliver Peoples Rees Sunglasses $280, available at Contacts&Specs
c.) Round Jackie O Sunglasses $9.99, available at HouseofSunglasses
d.) Ray Ban Jackie O Inspired $138, available at BackCountry
To all of our surprise, The History Channel, who was set to air the upcoming eight-part miniseries has declined. In recent news, there has been talk of the show heading over to the Showtime network.
Read more on the topic and watch the Trailer here at Screen Rant.com
Xx. Jadan