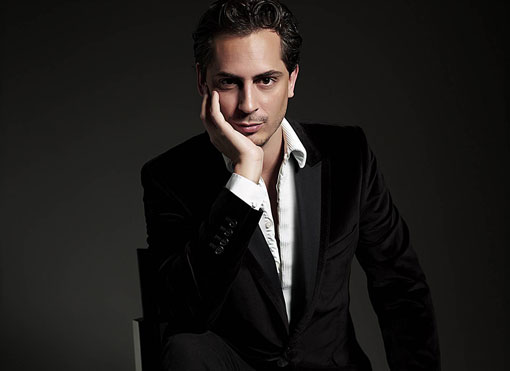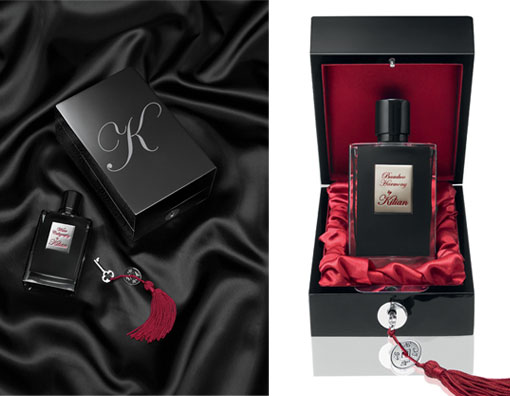 OH boy! Did I mess up. We've been meaning to tell you about this devastatingly sexy, new fragrance Asian Tales. Hmm…. kind of like KILIAN HENNESSY, the fragrance's designer. He just made a personal appearance at Saks Fifth Avenue Beverly Hills to introduce his latest fragrance collection for men and women followed by an intimate lunch hosted by C Magazine at Mr Chow's.
Inspired by traditional Asian Tales, KILIAN's new fragrance collection takes us on another one of his exciting journeys into a fascinating and extraordinary culture. Launching with two scents, it will eventually expand into a collection of five. The first two are WATER CALLIGRAPHY, which was created to pay "homage" to the art of calligraphy, and BAMBOO HARMONY inspired from the tale of the bamboo cutter. His next three perfumes take inspiration from from the Asian Tales: The Peony Pavilion, The Peach Flowers Water Source and The Lotus Flower & The Dragon King.
ASIAN TALES was first conceived as an olfactive voyage, yet Kilian soon transformed it into a spiritual journey, as meanings behind symbols and words became increasingly significant and relevant to him. As the line took shape, every detail was carefully crafted with special attention to everything from The Opera Red, as red is a lucky color in China often worn by Emperors and by the Nobility during official ceremonies, and also well-known for symbolizing courage, righteousness and loyalty in the Chinese culture, to the "opera red" of the satin and the black lacquer of the wood coffret. All of intended to create a harmony of opposites and represent the feeling of a "precious jewel" that Kilian had in mind when he envisioned this collection.
Of course there are other symbolic details that make this collection quite exquisite starting with The Amulet or coin, which in China is regarded as a a gauge of prosperity. It is said that the coin must be attached to a red string to activate its success. In this collection, the coin is attached to the key through a red tassel and a red string to bring success to the wearer of the fragrance. Who doesn't want a little success? Made in shiny silver it also brings a touch of modernity. The Lucky #8 (which is honestly my lucky number!) which in the Chinese culture is believed to bring prosperity and happiness, is also a perfectly symmetrical shape to represent perfect balance. The final touch is The Asian Tail coin engraved with 8 letter "K" in the logotype of the KILIAN brand.
Finally, a few special notes (get the pun) on the fragrances. WATER CALLIGRAPHY pays homage to water, the essential element of calligraphy, with a scent built with ll the simplicity and spirituality of the art form. BAMBOO HARMONY opens with luminous notes of Bergamot, Bigarade and Neroli. The perfume then evolves through a comforting combination of white tea leaves and Mimosa, highlighted with a touch of spices. The unique character of the trail, or seage, is a rare Maté Essence, interlaced with sensual fig leaves and oak moss
These are very special gifts to yourself or for that man in your life. Chose either Water Calligraphy or Bamboo Harmony. You know what we are talking about! Go for it! It might be the perfect memorable fragrance for you or your fifty especially for Father's Day. Available exclusively, in very limited quantities, at Saks Fifth Avenue.
xo
NJ, The Brunette