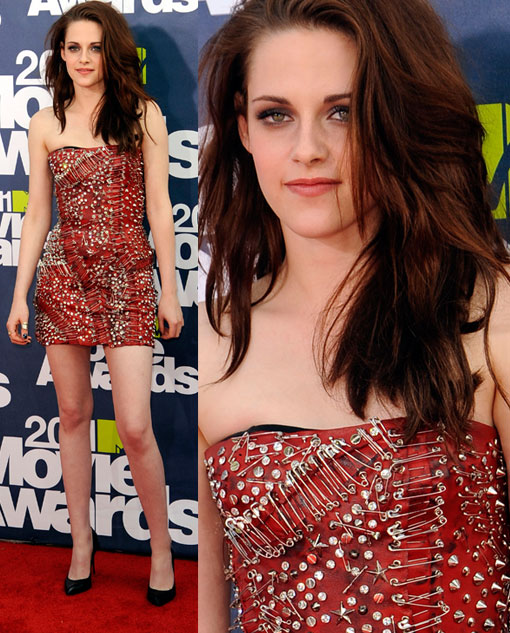 One last comment about the MTV VMovie Awards fashion parade on Sunday night. The Blonde and The Brunette thought Kristen Stewart was the perfect "pin-up" girl for Balmain when she walked the Red Carpet. Most likely, this is a one-of-kind dress (inspired from the bustier from the SS 2011 collection). We adore it's edgy safety-pins, studs and rhinestones. This perfect come hither vibe looks great combined with the soft hair, dramatic eyes, soft lip color and classic black pumps.
Of course, we wondered, what does Christophe Decarnin's (who no longer is the genius behind the line) "chosen tool, the safety pin, mean?" So we went to the source for the rationale, and this is the inspiration. "Separated from its ordinary use as temporary fastener (for seamstresses and punk-rockers alike) and elevated as a gleaming couture embellishment, for Balmain the safety pin highlights the beauty—and value—of imperfection, inverting the inherent "safety" for an alluring sense of danger." Well, she rocked it and so can you.
Most of the collection is sold out. Some items are still available if you search Polyvore. This may be a true collector's collection.
NJ, The Brunette