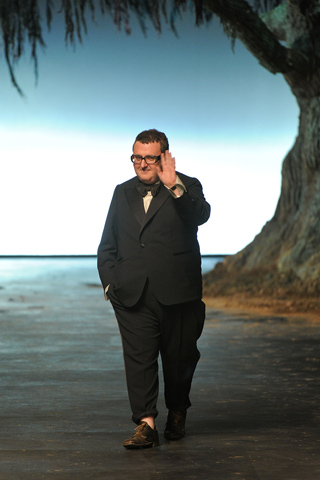 There have been many rumors and increased speculation about the "crying" or a teary-eyed Lanvin staff. Here's what really happened: total appreciation. Alber Ebez spoke about his devotion to Lanvin and views the entire extended team as a "family"; and he addressed the rumors about going to Chanel or Dior. He cleverly placed a magnificent tree at the end of the runway symbolizing his "roots" and steadfast loyalty to the Lanvin brand.
This is how it evolved: he spoke about the darker opening to the show (Remember B&B's reference to the wicked witch hat? We were spot-on in our interpretation.) and his vision to demonstrate the repercussions of 24/7 gossip circulating in the fashion world. He then ended the fashion show with the parade of brights to symbolize happiness.
His final, definitive statement was a song from "Queen" essentially about 'Not Stopping". And, if you forgot to count, it is also Lanvin's 10th anniversary. The collection is so meaningful to the team that the waterworks started. The emotion of a job well done. Appreciation. The ability to be involved and do great work with a caring visionary. This is the bright side of fashion. What a relief! Let's spread a happy rumor because it's all true.
– NJ, The Brunette