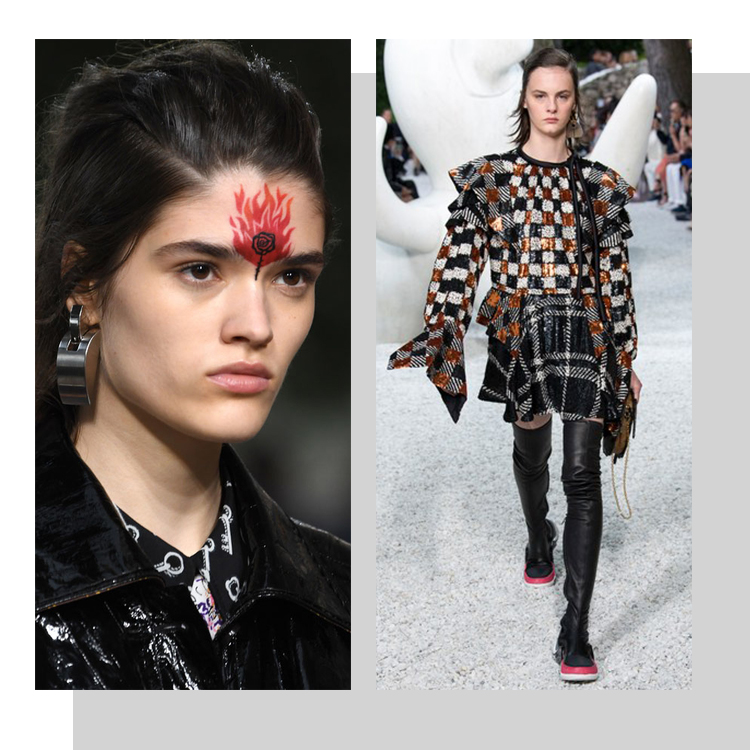 Always held at one of the most beautiful, often remote and logistically challenging museum locations in the world, the Louis Vuitton Cruise shows are epic on so many levels. With his contract renewed and announced last week with the hashtag #notgoinganywhere (and he is one of the few designers to be tenured these days), Nicolas Ghesquière unveiled his fifth cruise collection. The show started almost precisely on time as there was literally a break in a foreboding, seasonally uncharacteristic storm. Smart move including the site being blessed the day before to hopefully prevent a drenching similar to the Dior show earlier in the week. It worked.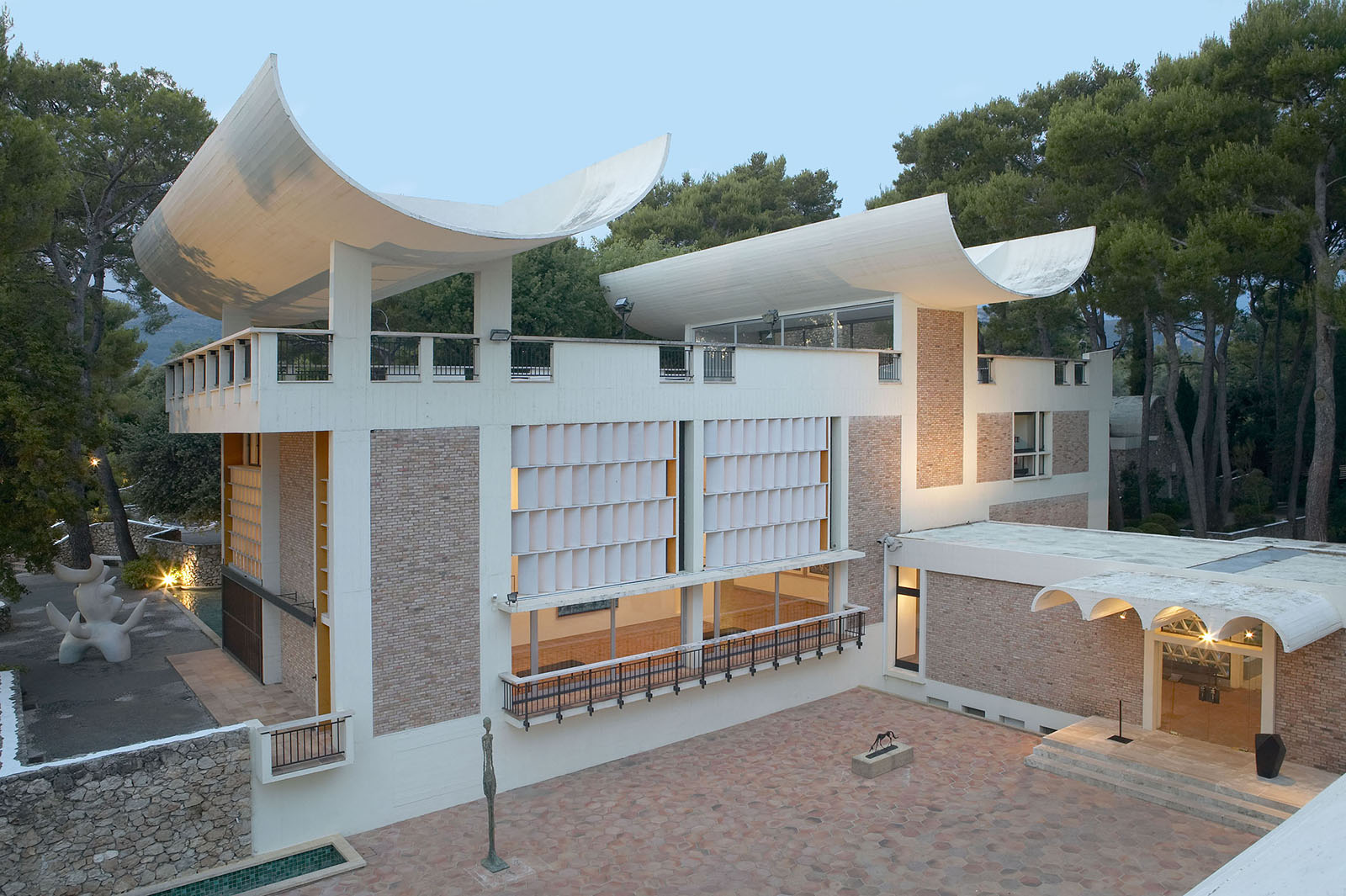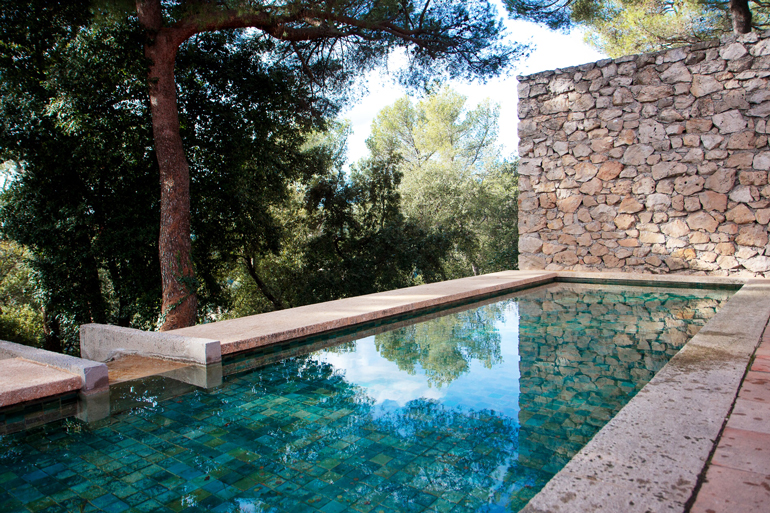 This year the French Rivera beckoned as inspo with the show held at the Foundation Maeght in Croisière Saint Paul-de-Vence. Channeling the locale, hints were dropped early in the week in guest goodie bags. Each one was filled and customized depending on the guest with Grace Coddington's hand drawn sticker sketches of her beloved cats and Ghesquière's dog to guest room keys in black and orange monogrammed room keyholders, LV sunglasses in just the right shade, mini petite malles to tee shirts emblazoned with bold blues, purples, oranges and neutrals foreshadowing the color palette.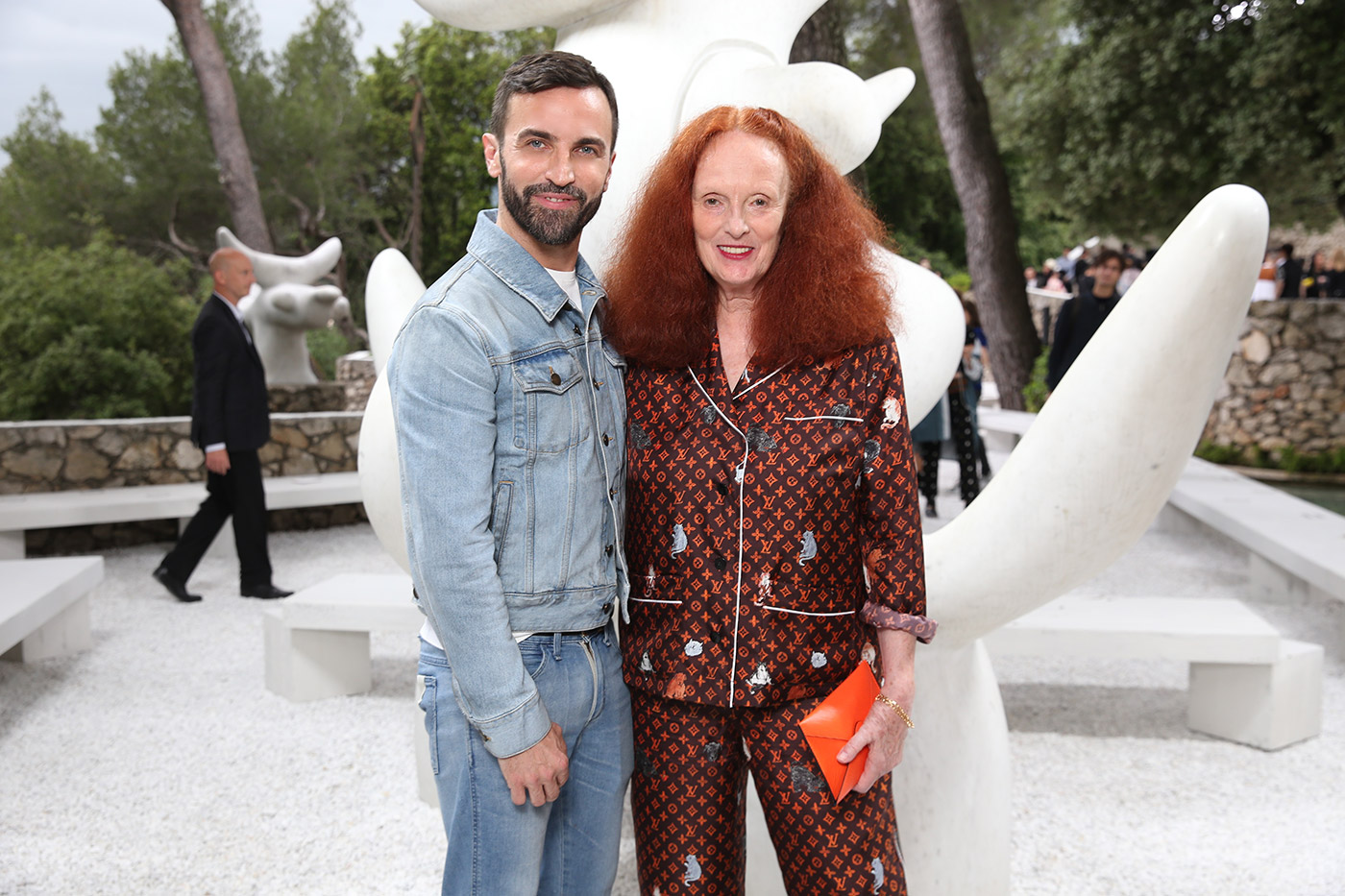 Louis Vuitton Creative Director Nicolas Ghesquière and Grace Coddington
With over 600 guests in attendance (moi included) and over half clients (and everyone transported 45 minutes to get to the show) and a logistical triumph, it was a stunning backdrop. The 80's made a bold comeback with some help from a highly inspired collab with good friend and former Vogue Editor Grace Coddington (who wore a silk LV pajama suit with her bespoke cat print). It was all about originality and paying homage to eccentricity. This was as apparent on and off the runway as the Ghesquière lexicon is all about taking his collections and translating looks and pieces into your own individual voice. That's what clients, celebs from Emma Stone, Laura Harrier, and Ruth Negga, editors and stylists all have in common. Originality. Translate the look to fit your style and make it your own.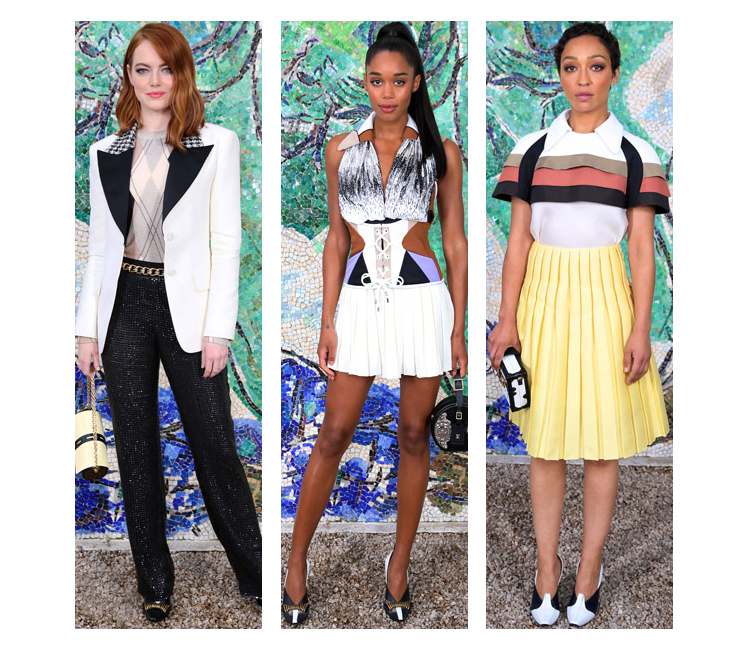 This time round Ghesquière tapped into the new trend for "bossing up" and power dressing. It was everything from the reinvention of 80's suiting and wide-shouldered jackets to spectacular lingerie and sequin looks to hand-painted acid-washed denim fabrications (a well-deserved and obvious nod to the Maeght's modern art collection) to a soon to-be sold-out over-the-knee boot/sneaker hybrid that marched down the white pebble catwalk with not a stumble in sight. After all, if you're a girl on the move you need stylish footwear that is going to get you there in a hurry. Not to be overlooked was the not so subtle tribute to Grace Coddington as redhead models in her image moved down the runway and were every bit as eccentric as Grace. This army is on the move so let's sort out all the ways you can put your personal uniform together. It's all up to you.
Bossing Up & Boss Boots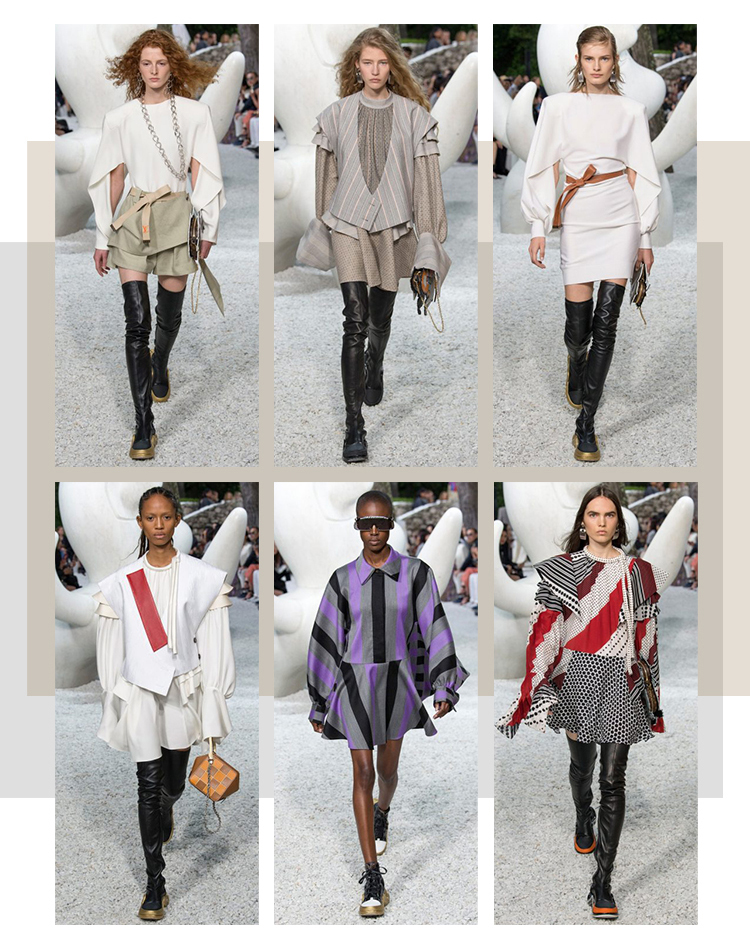 The return to suiting and "bossing up" but this time comfort and statement dressing equal your workplace armour.
The 80's Redux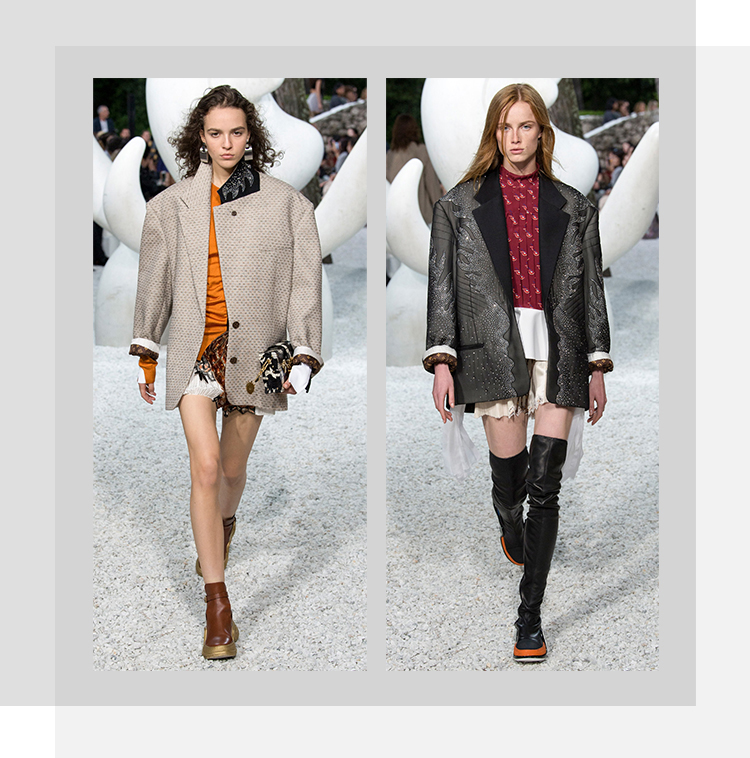 No one ever thought 80's wide-shouldered jackets would reappear on the scene. Here they are with embellishment and texture that a whole new generation can embrace.
Arm Yourself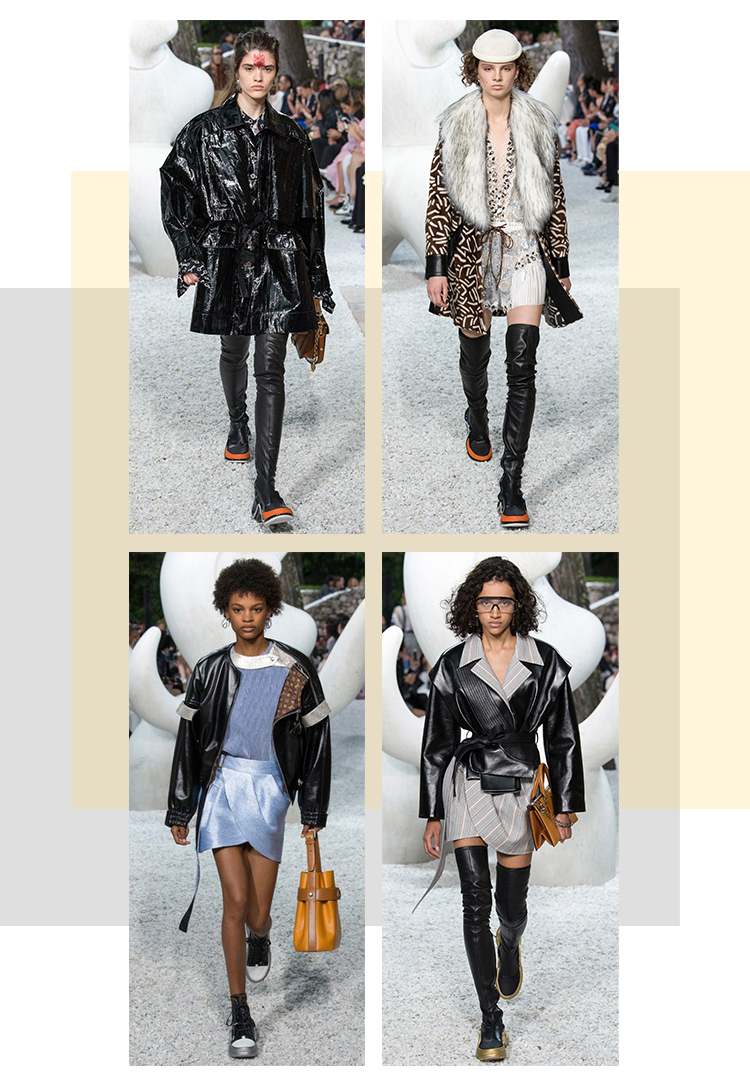 A great coat and jacket is all a girl needs. OK. Maybe with a twist.
Lingerie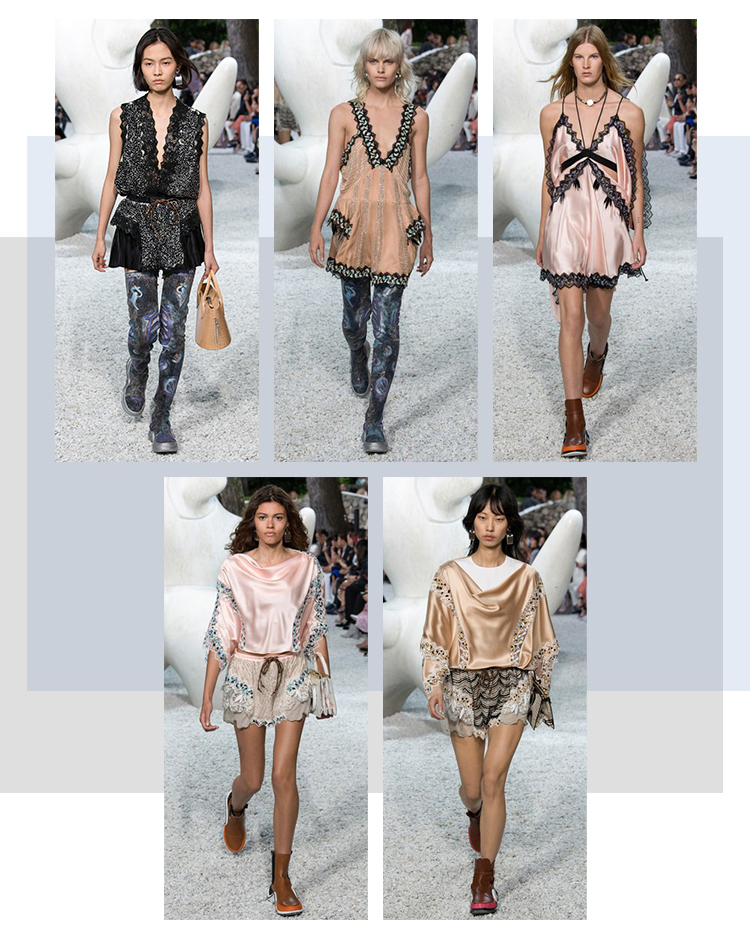 Lingerie dressing just got infinitely better.
Self Expression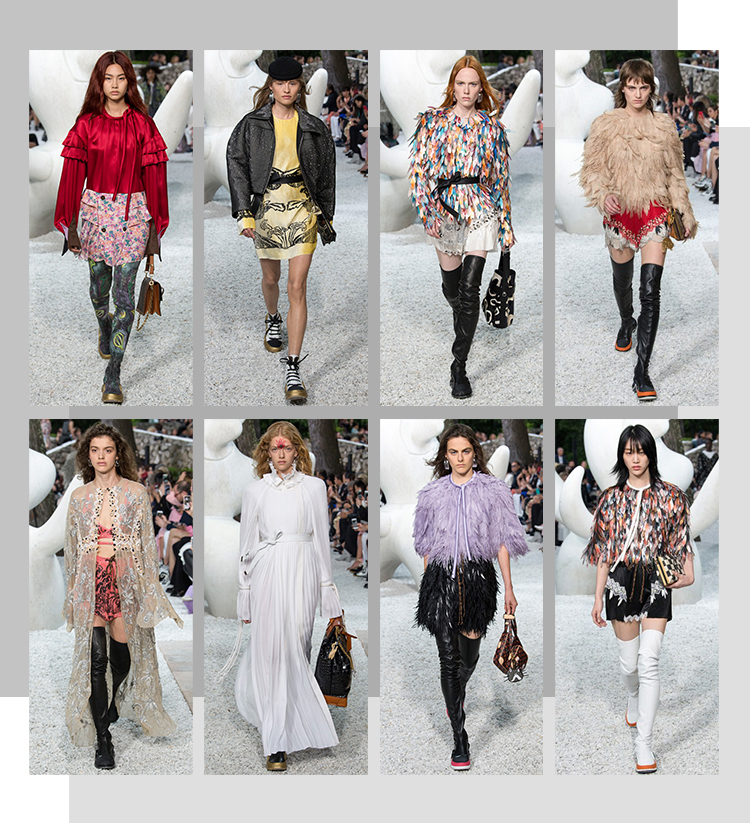 Create your own visual language and don't forget to hang a dog or cat from your bag.
Night Moves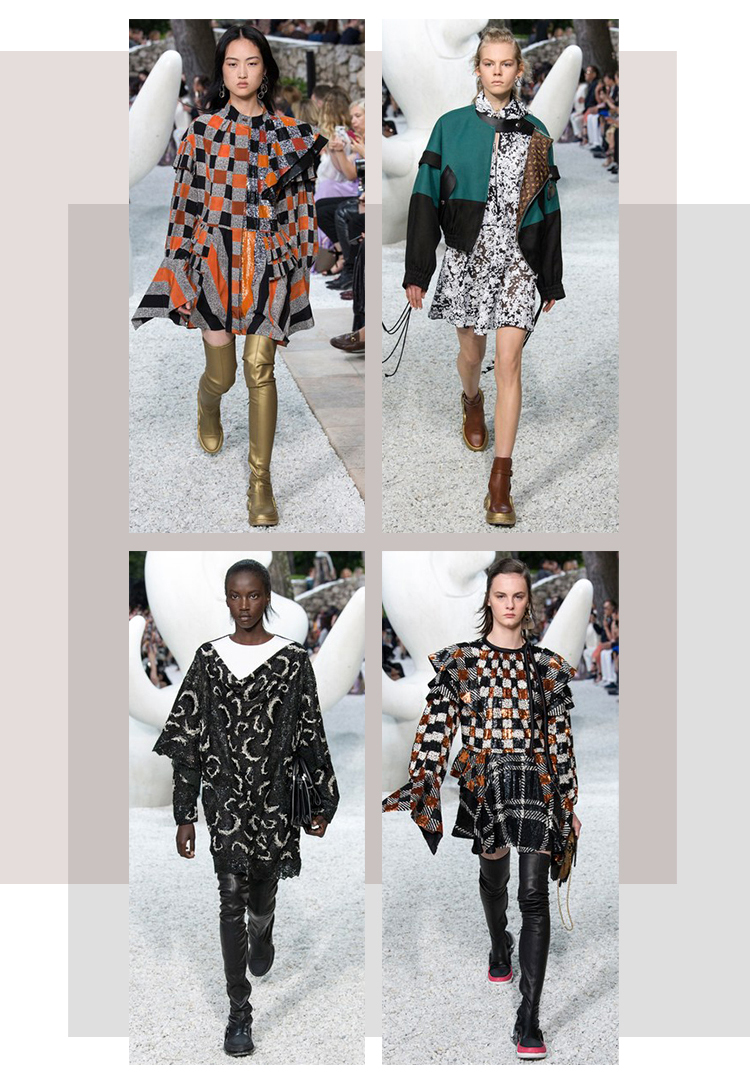 Party looks that stand out in crowded rooms. Obsessed.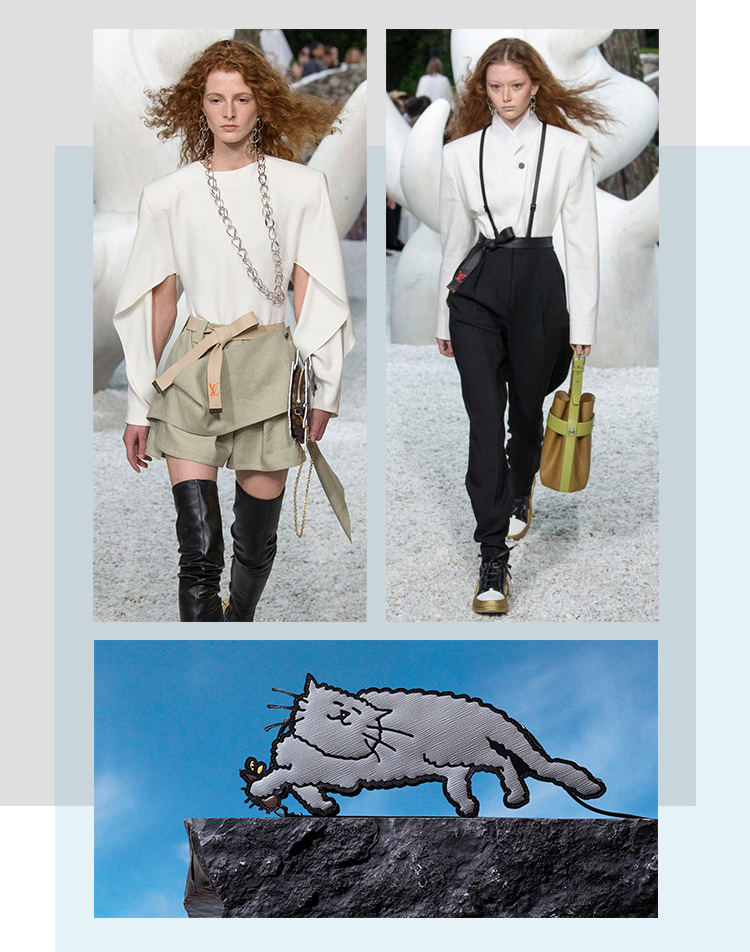 It's a bold new world and Nicholas Ghesquière channeled it with an 80's nod to Coddington via models channeling her vibe as she's one cool cat. Almost an about face from the ladylike Fall 19 show, self expression is the mantra that women are reciting everywhere. Grace has been dancing to that beat and never apologized. Follow her lead. Be original. The runway just gave you the permission you may or may not have needed.
With Love From The Louis Vuitton Cruise Show Front Row
NJ Goldston