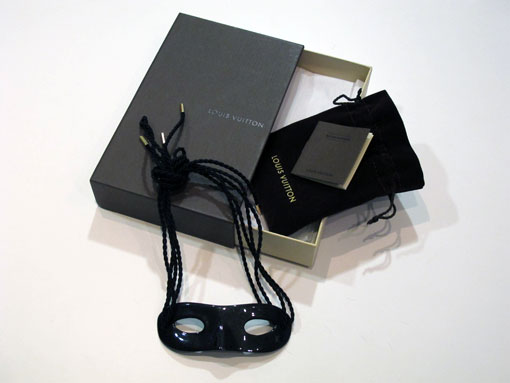 Frankly, it's hard for The Blonde & The Brunette to even top ourselves but this might be the one thing that makes the holiday even more festive. We have one Louis Vuitton fetish mask hairpiece (that can also be worn as a belt) to give away. Yes, you read that correctly! It's in black and is perfect for a blonde, brunette or redhead. Sold at retail for $775 in the U.S., we have our friends at Louis Vuitton to thank for securing this for us. Let's make this simple,
Tweet the following: "My personal fetish is @bnbstyle for my daily dose of style and beauty", and
Leave us a comment that includes your Twitter handle (so we know who you are).
Entries will be accepted until December 21st at 5pm PST. (One entry per person, please.) We'll randomly select the winner and announce the results on December 22nd. Ready, set, go.
Happy Holidays!
– NJ, the Brunette and The Entire Team From The Blonde & The Brunette