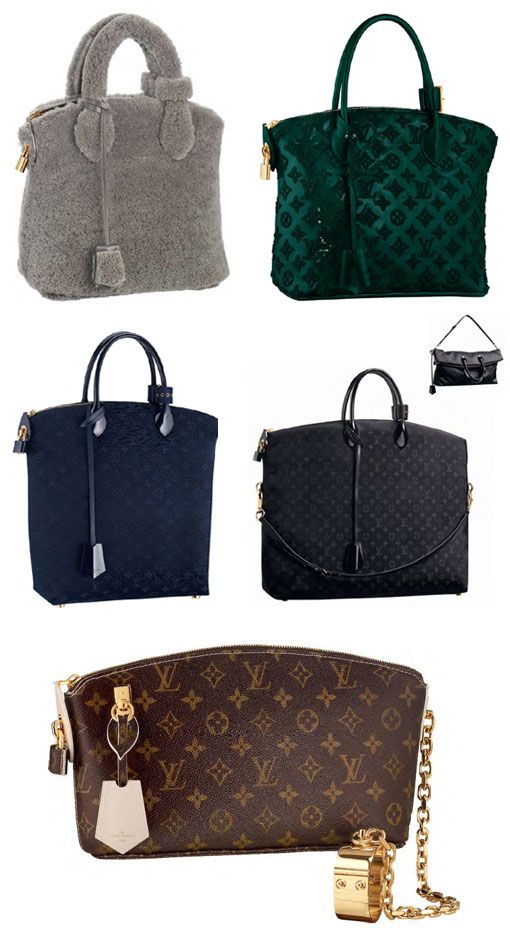 " You can talk about sexual fetish, but you can also talk about the fetish of dying to have a bag." – Marc Jacobs
At the heart of the Louis Vuitton Fall/Winter Momento Collection is the concept of "Fetish & Fashion". Originally created in 1958, this is a new twist on the classic using a "magical object: the Lockit handbag" and on some a "'cuff" that is locked to your wrist. Focused on either a single material or matte and shiny combined, these bags are all special order or reserve . If you are even interested, march yourself to an LV store right now to get on the list. Photos courtesy of Louis Vuitton.
From left to right: Pulsion Lockit (available in Gris/Grey, Marine/Navy, Caramel), Monogram Fascination Lockit (available in Perrier/Green, Gris/Grey, Moutarde/Mustard), Monogram Desire Lockit Vertical MM (available in Bleu, Noir), Monogram Desire Lockit Vertical GM (available in Bleu, Noir), Monogram Shine Lockit Clutch.
– NJ, The Brunette