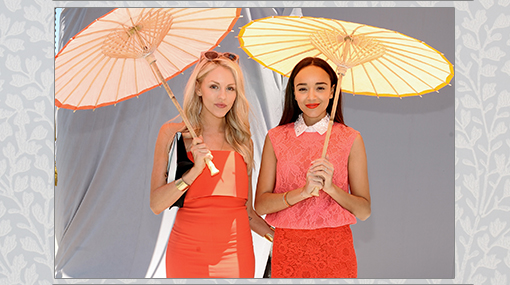 When my invitation arrived, I couldn't have been more thrilled to be included for the intimate luncheon famed fashion and bridal designer Monique Lhuillier was hosting at her ever so exclusive Melrose Place store. Held just over a week ago, Lhuillier was celebrating the arrival of her Pre-Fall 2014 collection.
It was a beautifully orchestrated event accompanied by perfect LA weather. Guests from Ashley Madekwe, Maria Bell, Vogue's Lisa Love, Ahna O'Reilly, Crystal Lourd, Alexandra Von Furstenberg, my buddies, Sally Perrin, Mary Alice Haney, Sutton Stacke, Christine Chui, Kimberly Brooks, and Julia Sorkin, gathered outside on the sidewalk. Why? Using the theme from her colorful Spring/Summer 2014 collection, on Monique's cue, everyone simultaneously opened pink and orange parasols to reveal the new pre-fall windows. As Kelly Katz said, "It was magical moment." That's girl-talk for we all bonded. Then, it was on to an equally perfect lunch.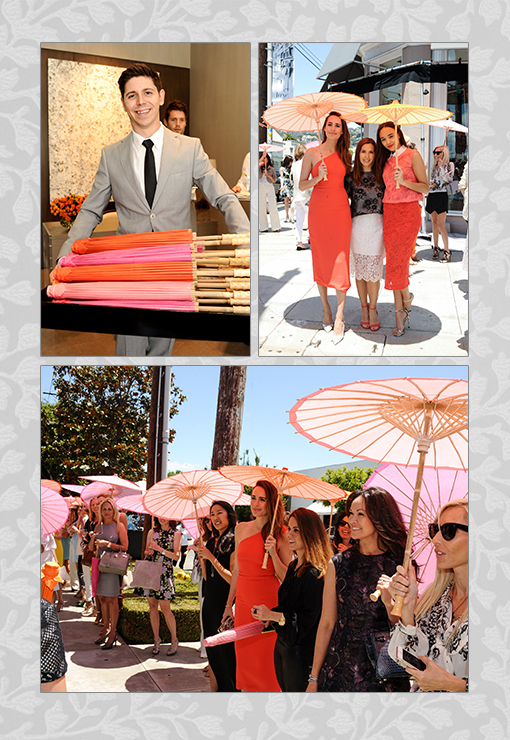 As we gleefully filed into the store, Lhuillier's colorful gowns served as the backdrop for two beautifully decorated long tables stylishly done with her Waterford dinner plates, elegant silver flatware, Waterford crystal vases, and her favorite pink peonies.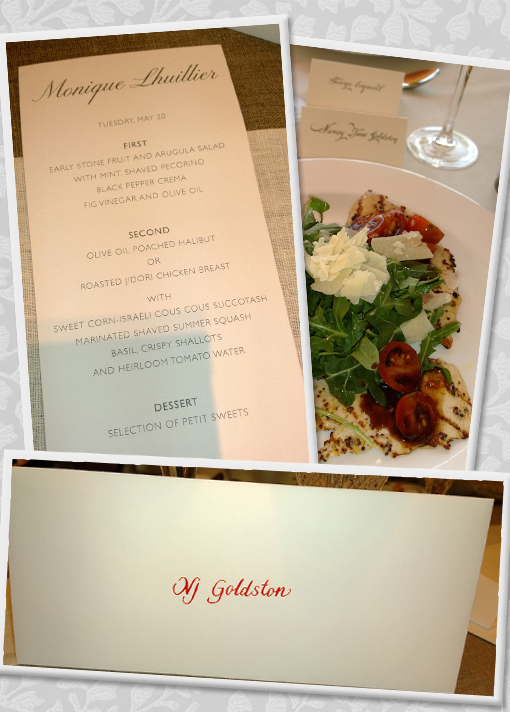 It set the stage for all of us to chat about summer travel plans and the upcoming shows in Paris until stylist Jane Ross spontaneously raised a glass to get our attention. Toasting Monique and saying, "You make the most beautiful things. You have the most beautiful family, and you are so beautiful. We're all honored to be here." We all nodded in agreement. Suddenly everyone wanted to let Monique know how much we adore her.
Bui Simon, a former Miss Universe, and Monique' s good friend since her college days, chimed in: "We are all in awe of you. You have the biggest vision and you know how to execute it." Once again, we all nodded in agreement and raised our glasses.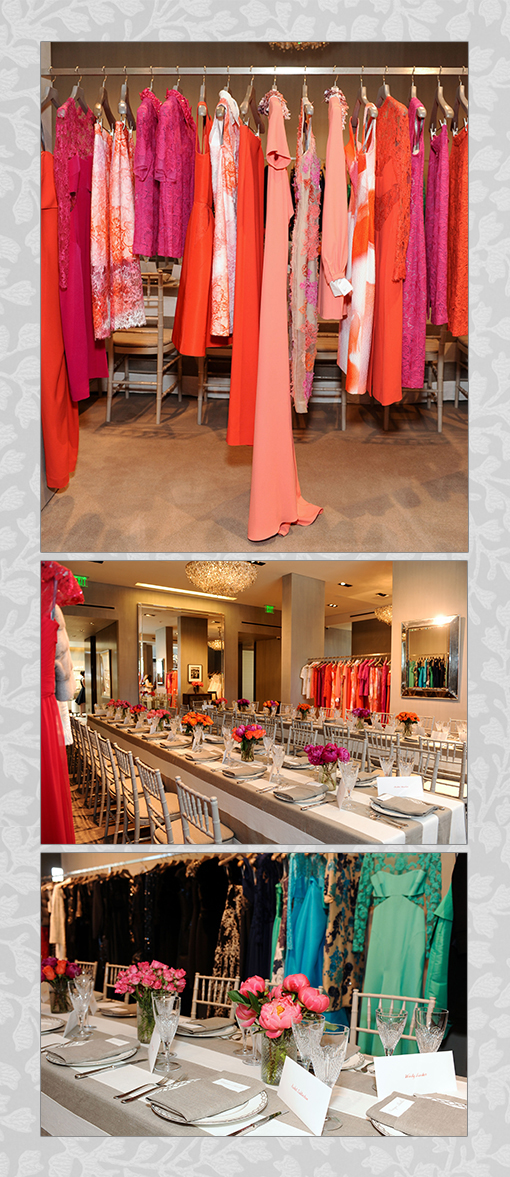 There were more toasts and I'm not sure if someone said speech but Monique got up to talk about how she realized she "hadn't done an event at my store since we opened 7 years ago." We all laughed as many of us had been there then and honestly hadn't realized how much time had pasted (although it seemed like just yesterday). Since then Monique has grown to be a household name, a celebrity favorite seen on everyone from Brittany Spears, Drew Barrymore, Kristen Stewart, and Julianne Hough. But honestly, Monique is still as kind, charming and talented as when she hit the scene in 1996.
I think Monique was even a little teary-eyed, because she could feel all the love in the room, but then she suddenly encouraged us all to "Go on, go shop!" That' all we needed to get up and find our favorite piece from the latest collections, including the crowd favorite pink-and-orange-lace polo shirts with beaded collars and lace pencil skirts (which I spotted on guests later the following week at other Hollywood events).
Above Left to Right: NJ Goldston, Christine Chiu and Sutton Stracke.
Left to Right Below: Lisa Love, Ashley Madekwe , Monique Lhuillier and Ahna O'Reilly, and NJ Goldston ( Event photo credit: Stefanie Keenan/Getty Images). (Select images/ NJ Goldston)
More beautiful details from the flowers to gorgeous bridal gowns.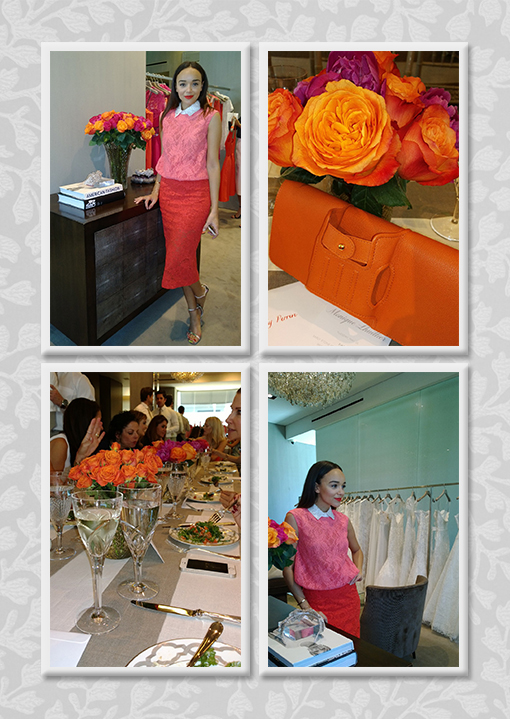 Below: My Favorite Looks From the Monique Lhuillier SS 2014
Great looks from the "more streamlined and urban" Pre-Fall 2014 Collection including pants, lace and long sleeveless sheaths because as Monique says, "More than ever, women are conscious of being comfortable.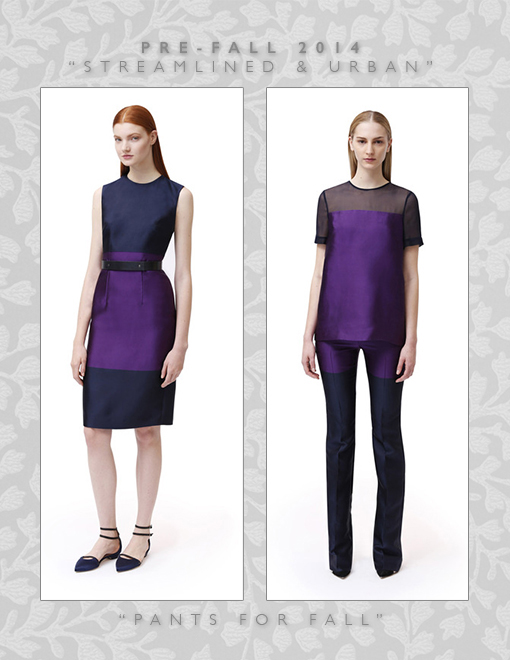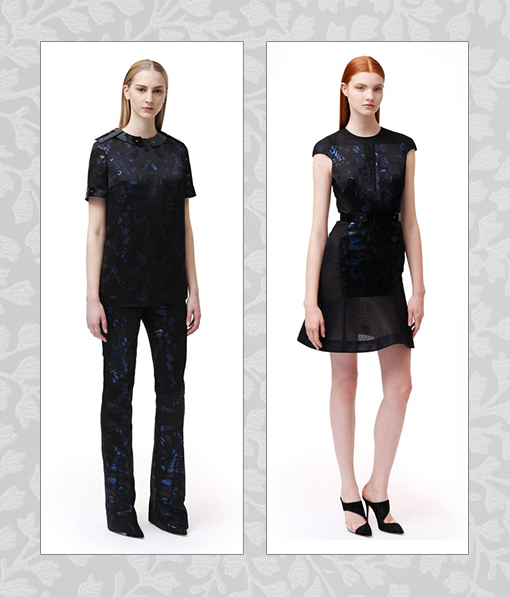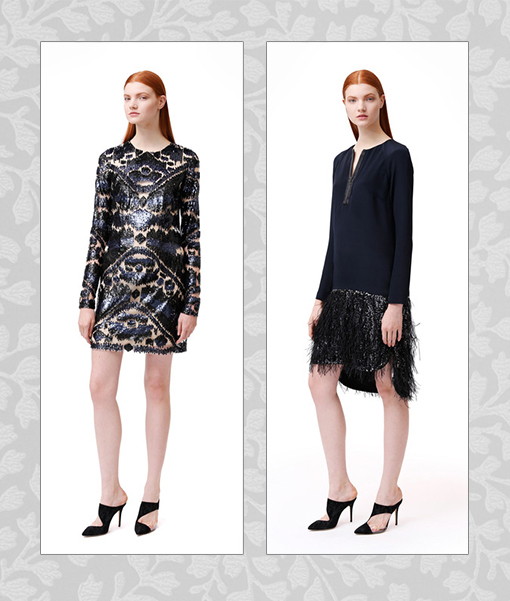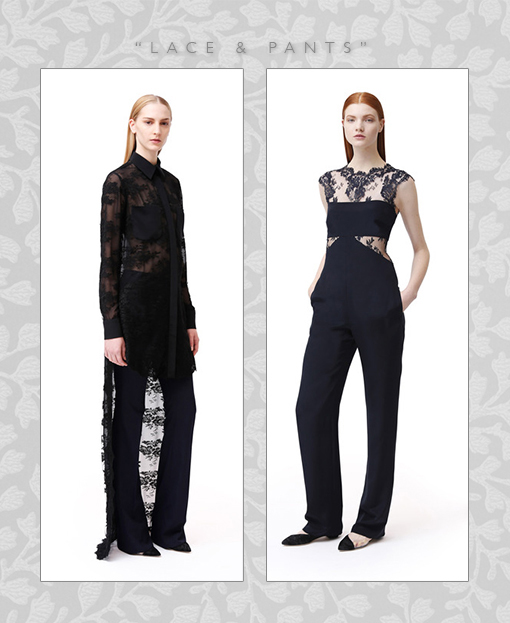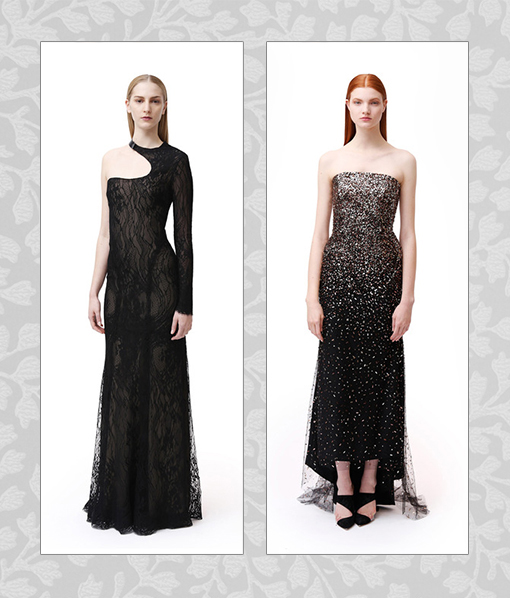 By the way, Monique has also introduced her shoe line and it's getting rave reviews. Shop the collection online at Nordstrom , on the Monique Lhuillier site or at her Melrose Place Boutique located at 8485 Melrose Place, LA/323-655-1088.
With Love From Hollywood,
NJ Goldston The Brunette