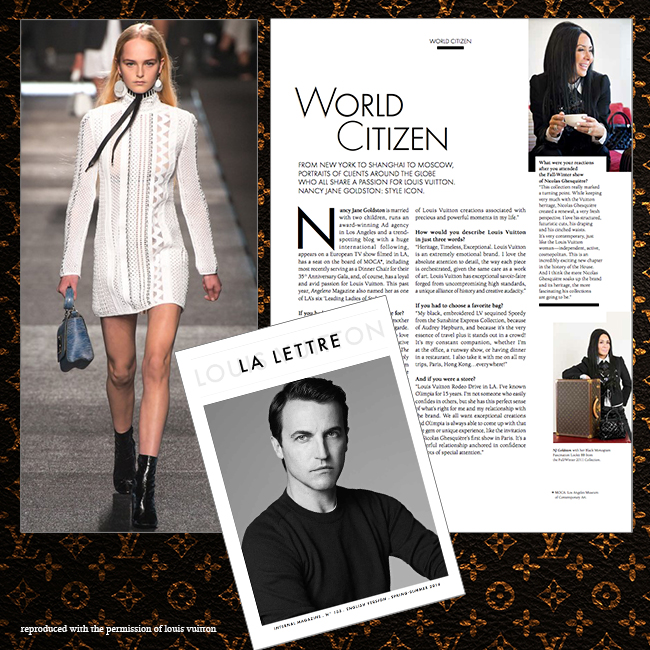 As the latest Paris Fashion Week draws to a close the team at The Blonde and The Brunette couldn't help but share the news that our very own NJ Goldston, The Brunette, was recently named a "Style Icon" in the Louis Vuitton SS 14 Edition of LA LETTRE Magazine. This all transpired as NJ was chosen during last February's Paris Fashion Week to attend and then opine on Louis Vuitton's widely hailed inaugural collection by new Creative Director Nicolas Ghesquiere (pictured above on the cover of LA LETTRE).
NJ had the trip of a lifetime as she enjoyed Paris as the guest of Louis Vuitton doing everything from special dinners, a front row seat at the show with friend and famed blogger, Aimee Song as her guest, and a visit to the LV atelier and headquarters. She was whisked there right after the show for the interview and photo shoot! This even included LV's special honey, produced on their rooftop, fetched for tea.
The back story is NJ had lost her voice just as the trip and interview got underway. She had been using hand signals to communicate! As usual, LV to the rescue! Read on for the exclusive interview and to see NJ's picks from yesterday's LV SS15 Paris runway show. It's another do not miss. When the article was finally unveiled, NJ was feeling like one lucky ducky as it all feels like a fashion dream come true. And it is.
xo
The B & B Team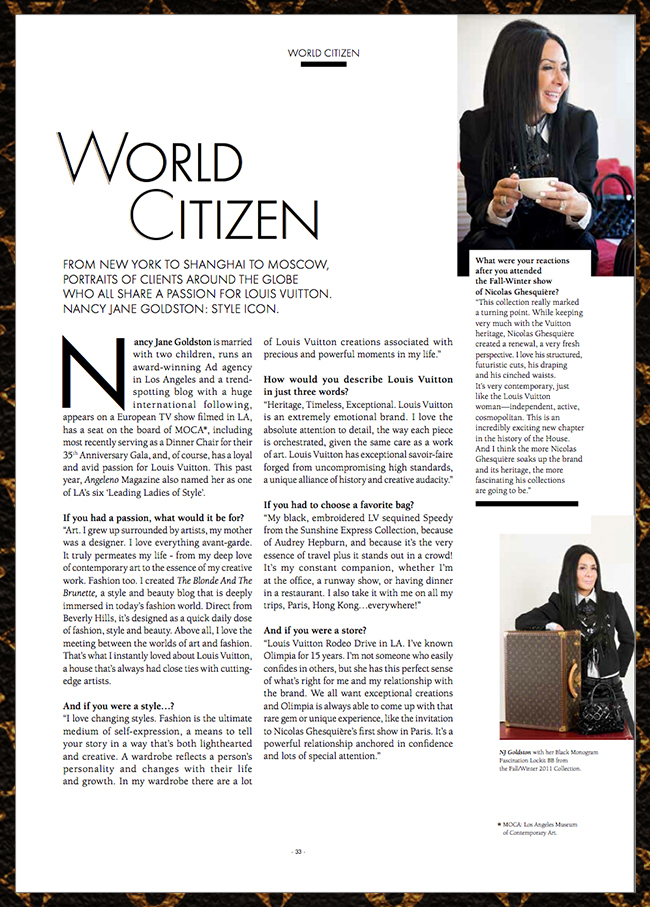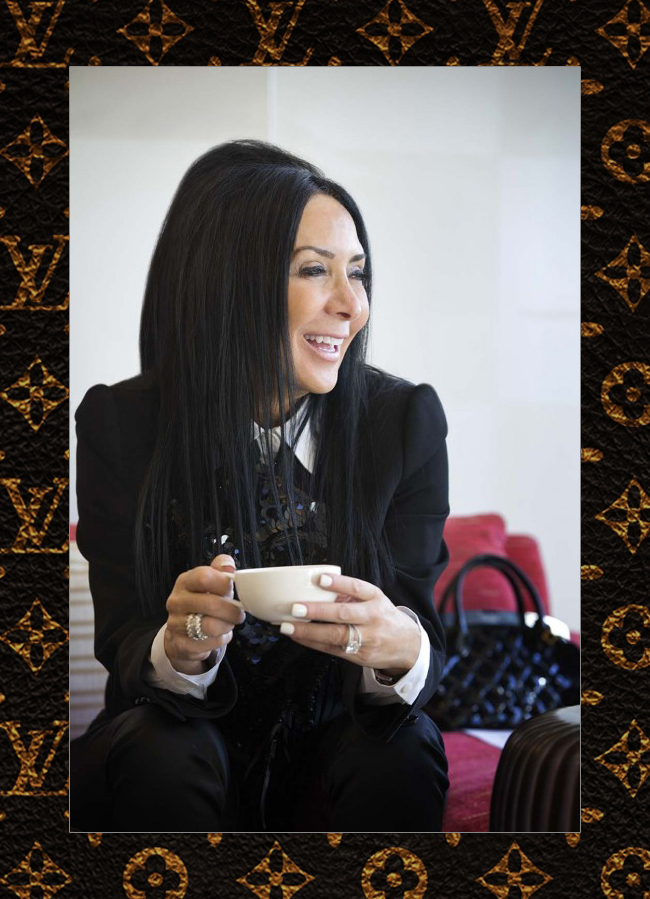 Photographs and Interview Courtesy of Louis Vuitton.
Direct from Paris, here are NJ's favorite picks from this week's Louis Vuitton SS15 Runway Show.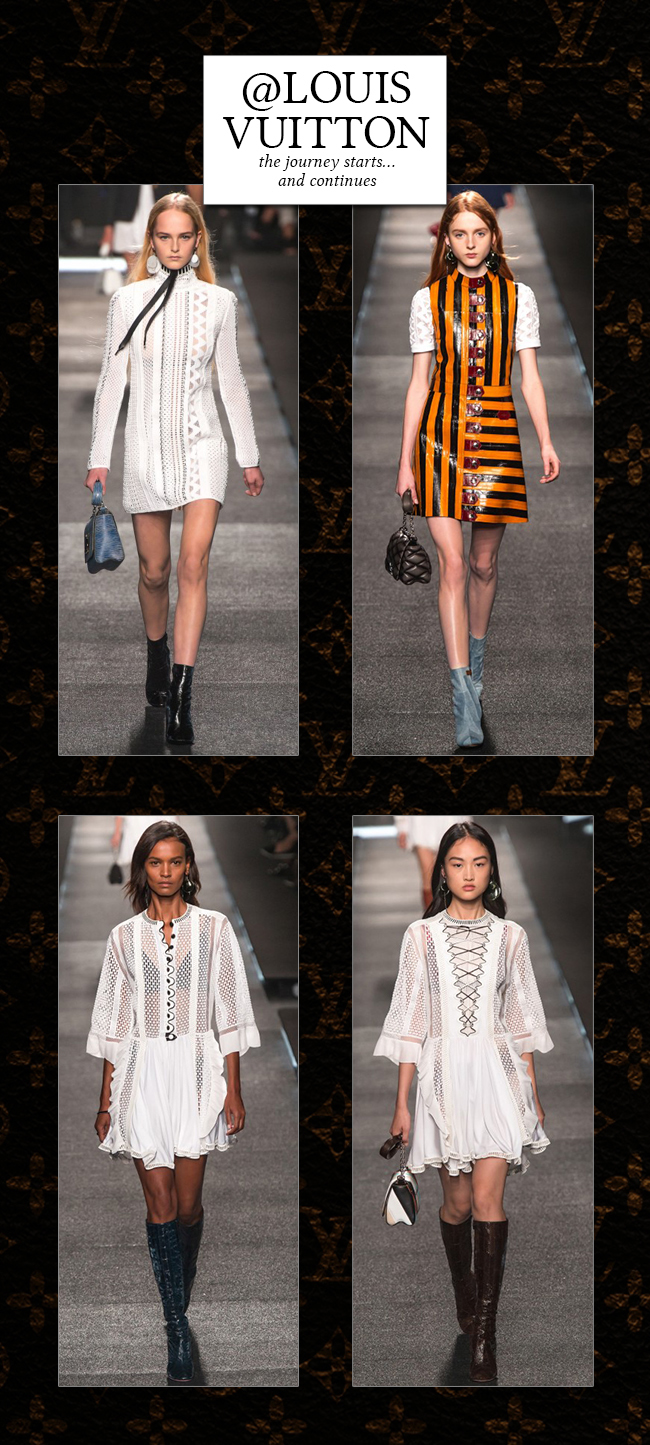 As predicted, last season's Louis Vuitton and resort collections were the foundation for a brilliant new era. Yesterday at the Foundation Louis Vuitton, the journey that started continued in brilliant fashion with a lineup that is a dream wardrobe. It's architectural, wearable and filled with showstopper details. My favorite are the the sequined zip-front mini-dresses, the totally amusing print of makeup, household appliances, and muscle cars used in different ways. The latest versions of the petite malle bags introduced last season are even more desirable.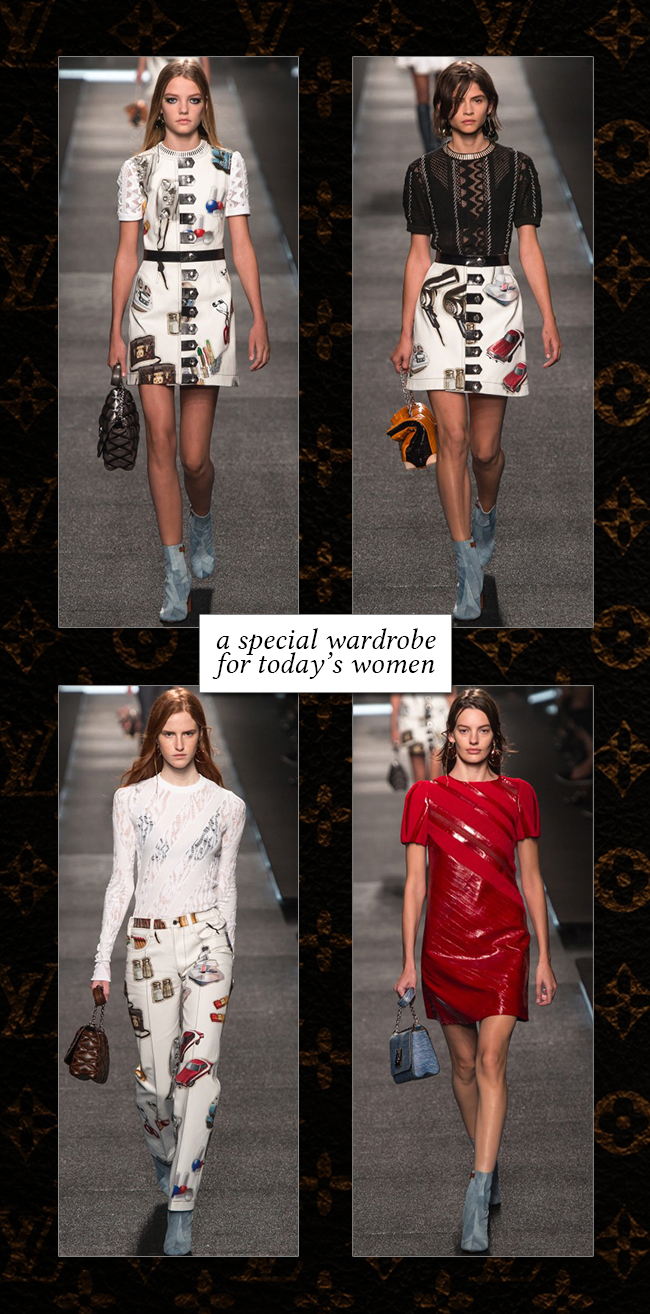 The mix of silhouettes from mini-dresses to flattering pants combined with unique prints and textures make this collection very special.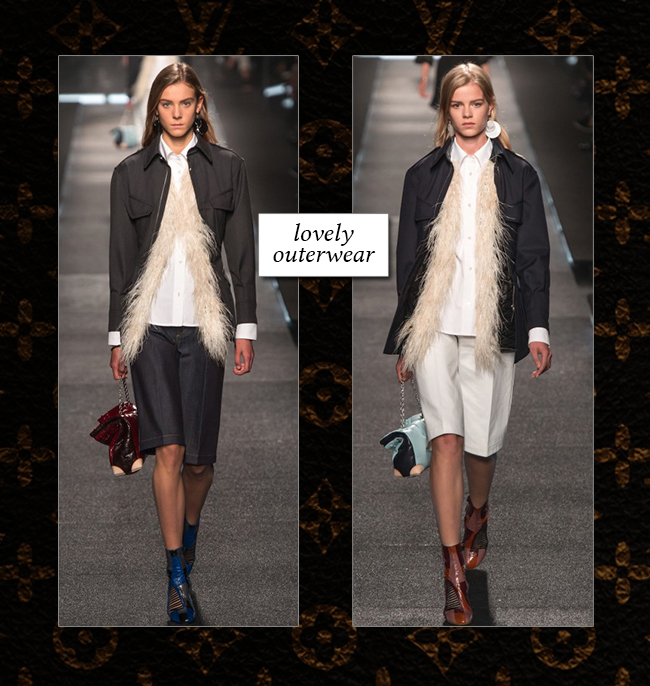 Love this denim look combined wiht shorts for Springs. Shorts paired with booties are going to be everywhere.
Love the combo of doing textured tights with a sequined mini-dress. I LOVE these dresses.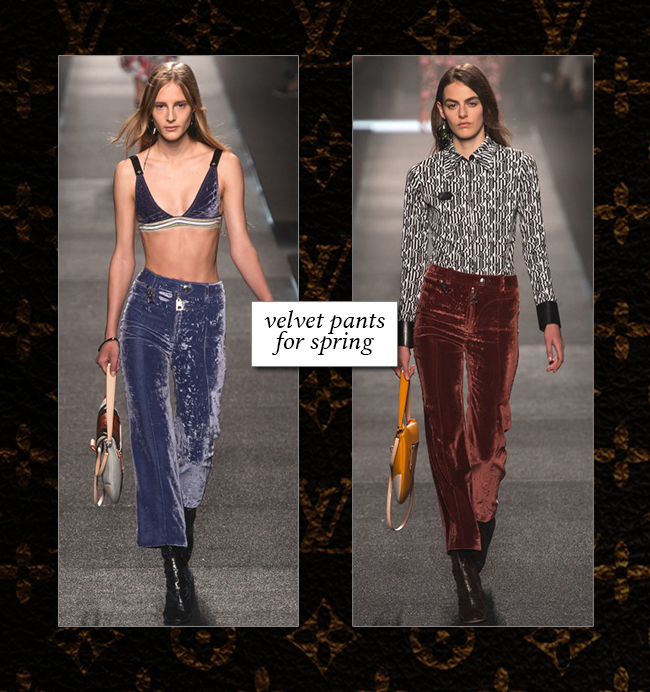 Another unique twist. Once a no-no. Velvet works for spring in a relaxed pant. So transitional.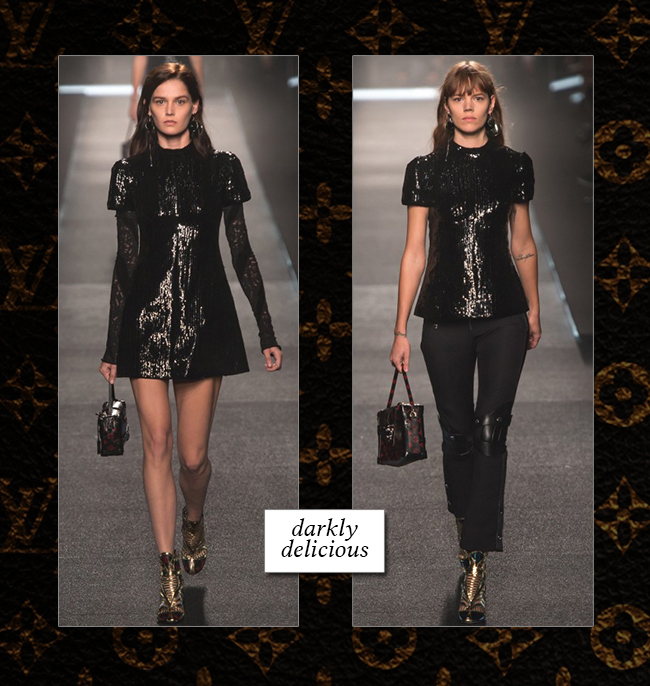 Anything black always works for me. Clever fellow. He paired it with signature LV gold accessories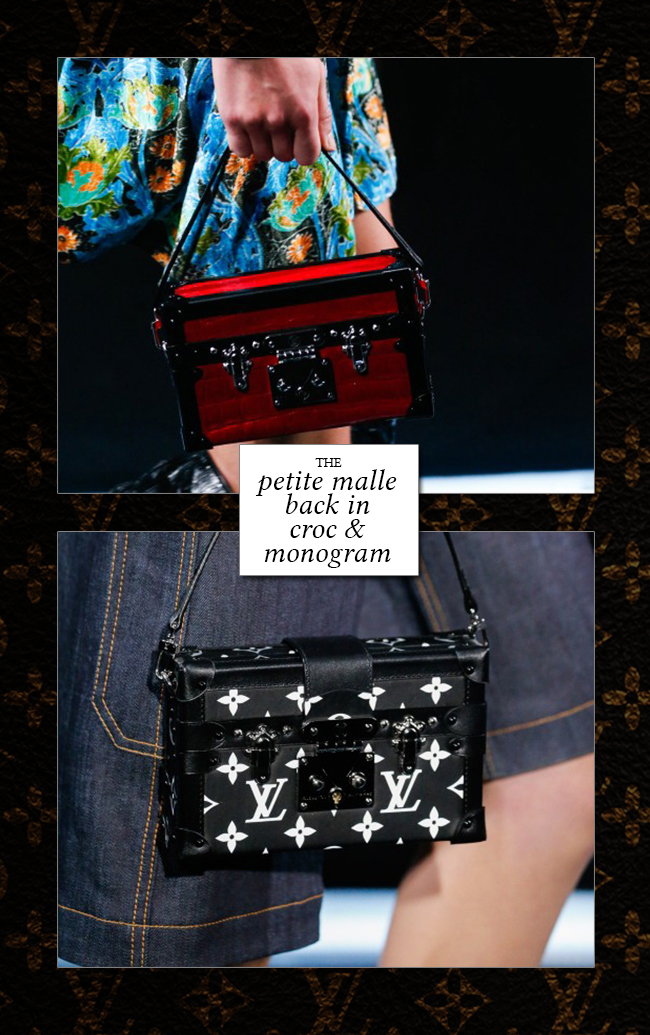 I just love these two. I am going to absolutely obsess over the white LV monogrammed petite malle.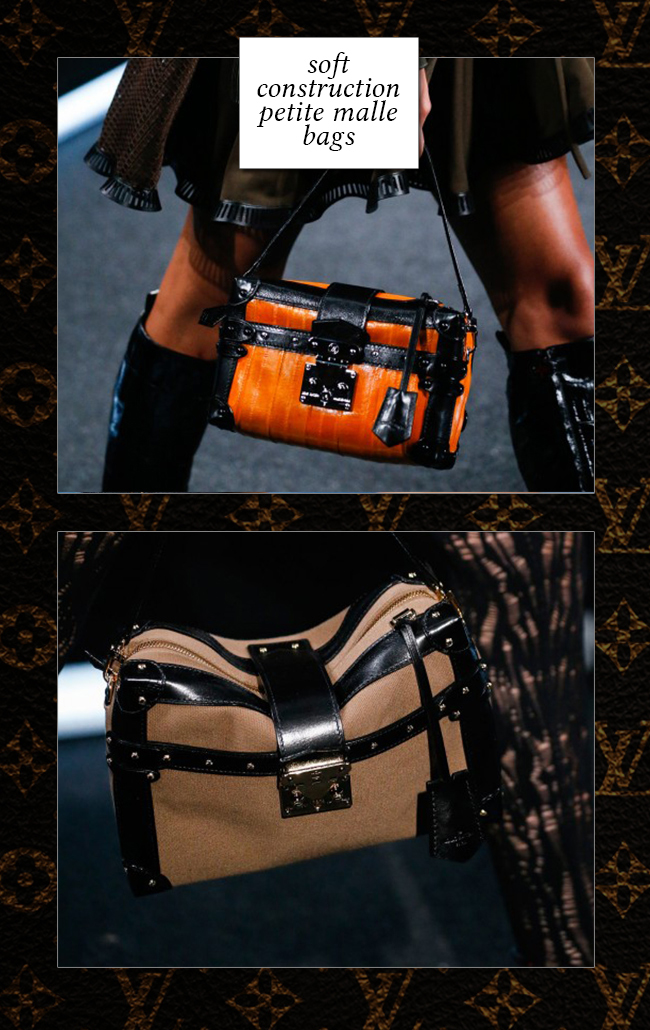 OH so sweet.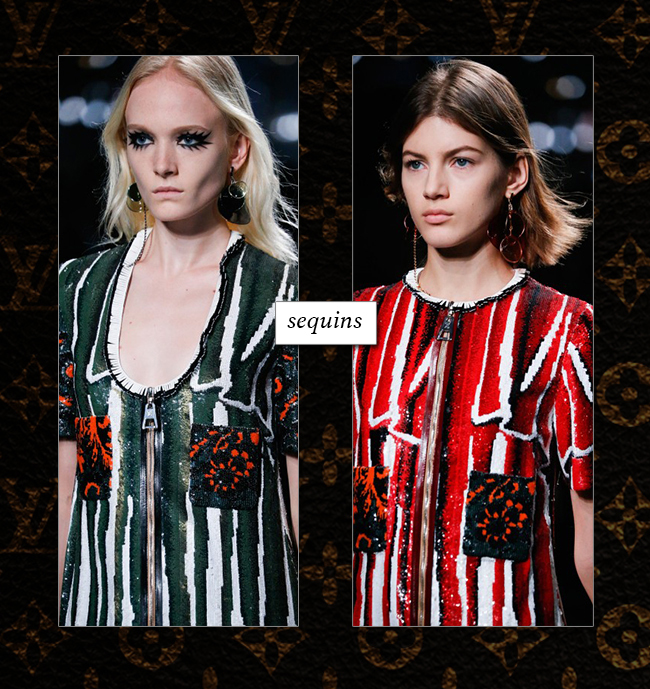 Expect to see these two looks in every magazine editorial and on the Red Carpet. Which lucky actress will get to wear it/them first?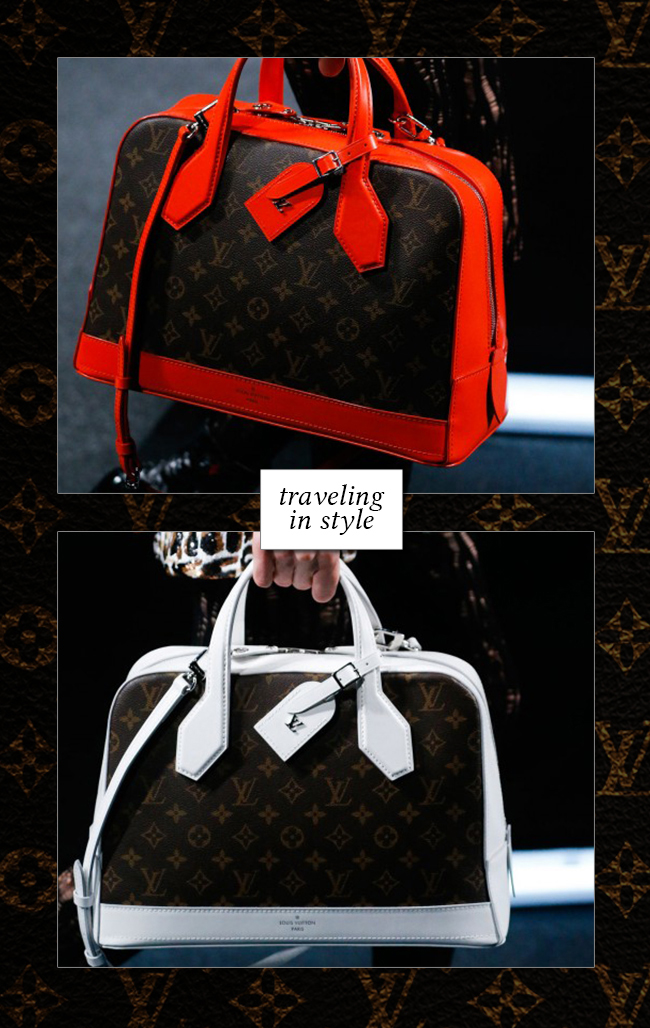 Another obsessive combo. Red or white? What would you pick?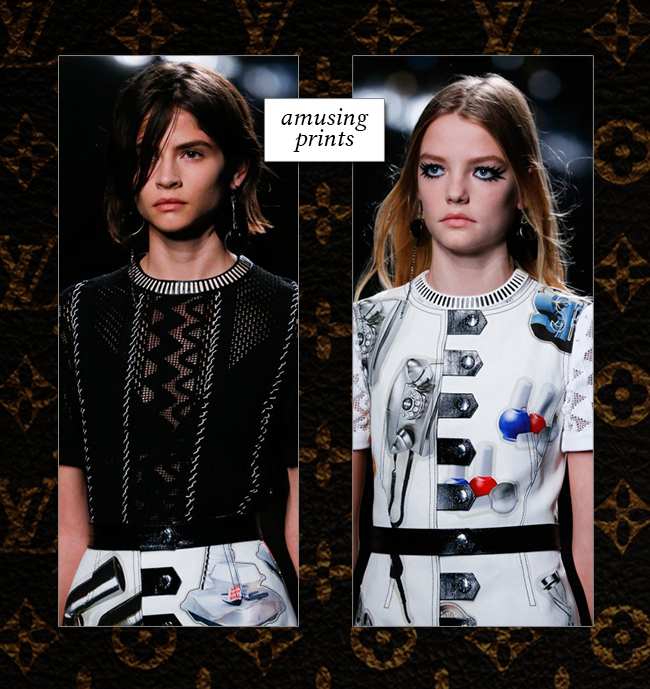 We think they'll be a mad dash for this fanciful print. It's going to be popping up in street style photos everywhere.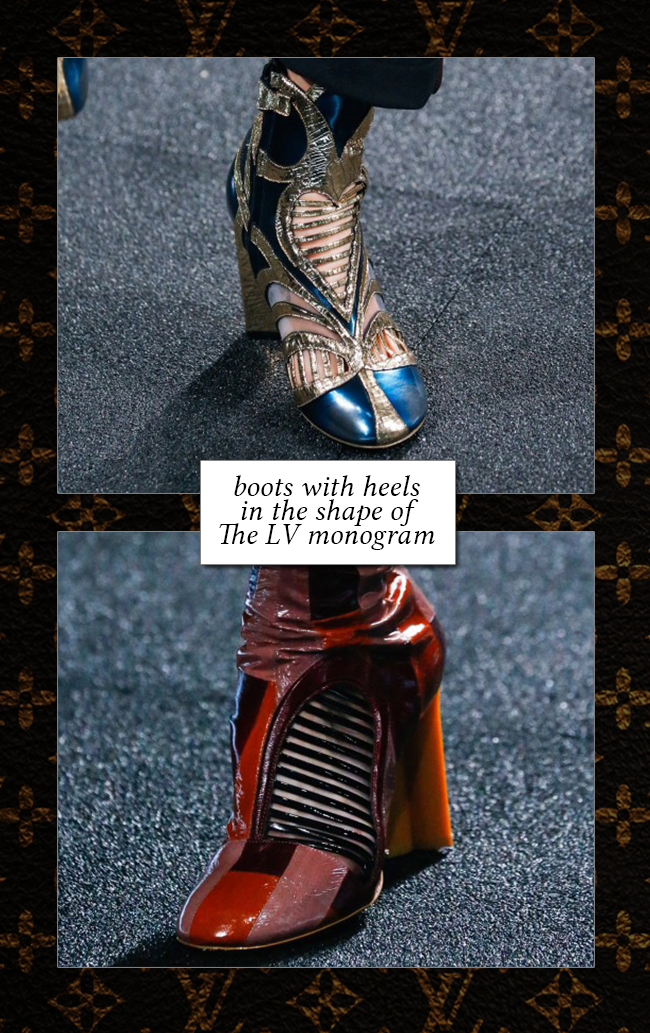 Another supremely clever touch. It's all in the details. Boots with an LV monogrammed-shaped heel. It's confirmed. Louis Vuitton is in very steady hands. The house's fashion future looks bright. Very bright. Click here to see the show.
xo
The Blonde & The Brunette Team