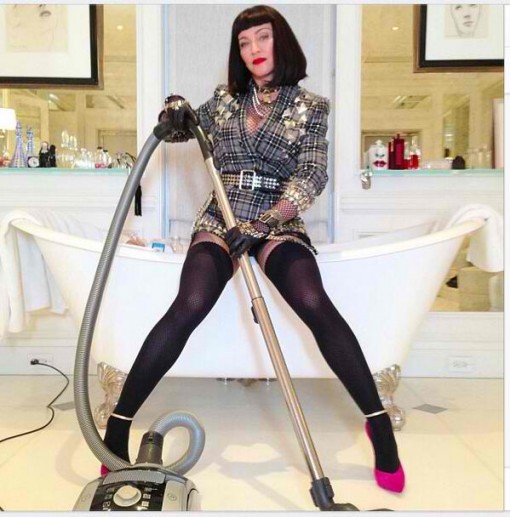 Photo Courtesy: Gina Brooks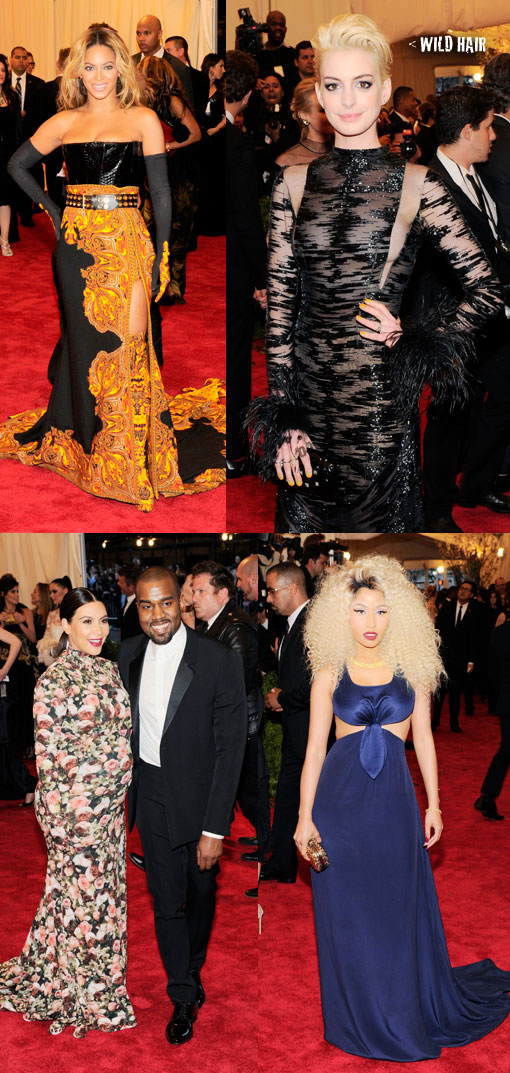 Beyonce | Anne Hathaway | Kim Kardashian & Kanye West | Nicki Minaj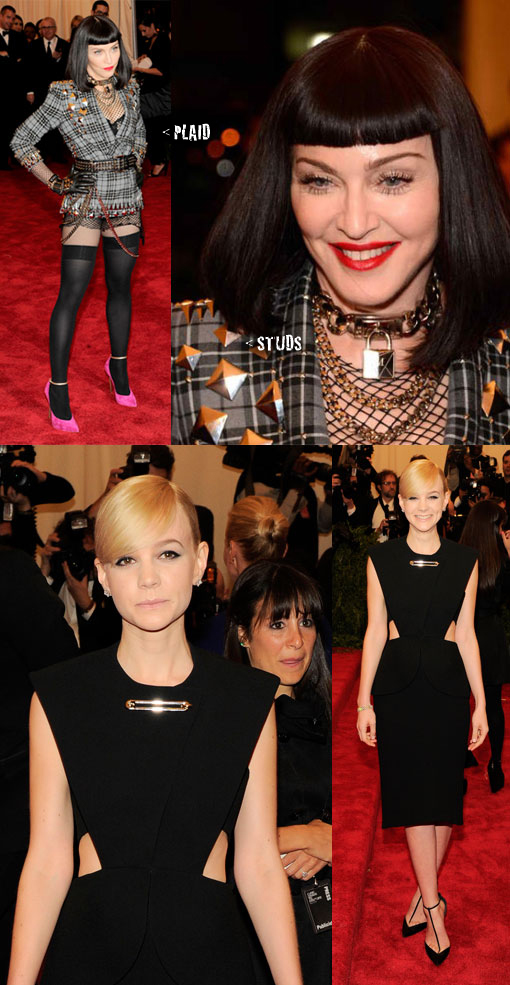 Madonna | Carey Mulligan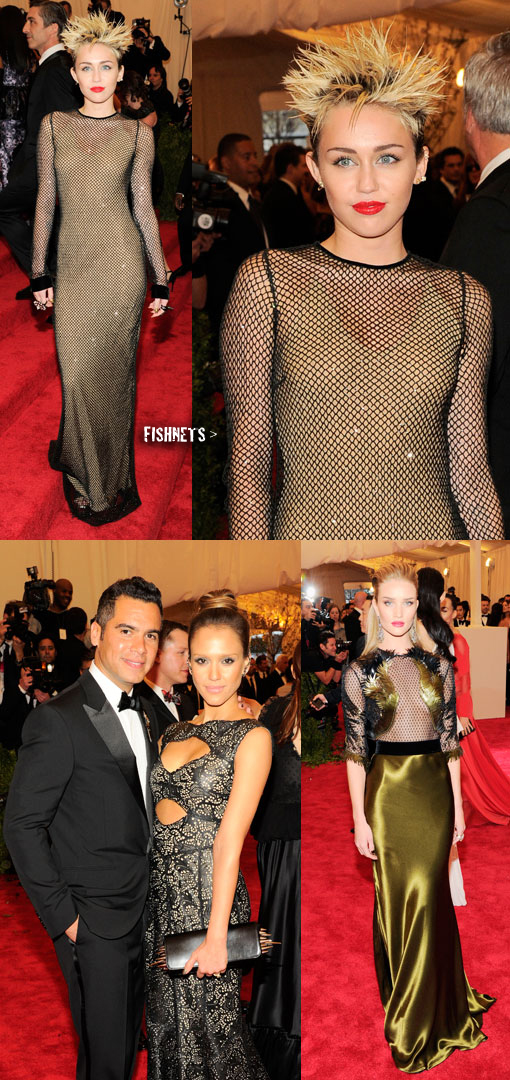 Miley Cyrus | Cash Warren & Jessica Alba | Rosie Huntington-Whitely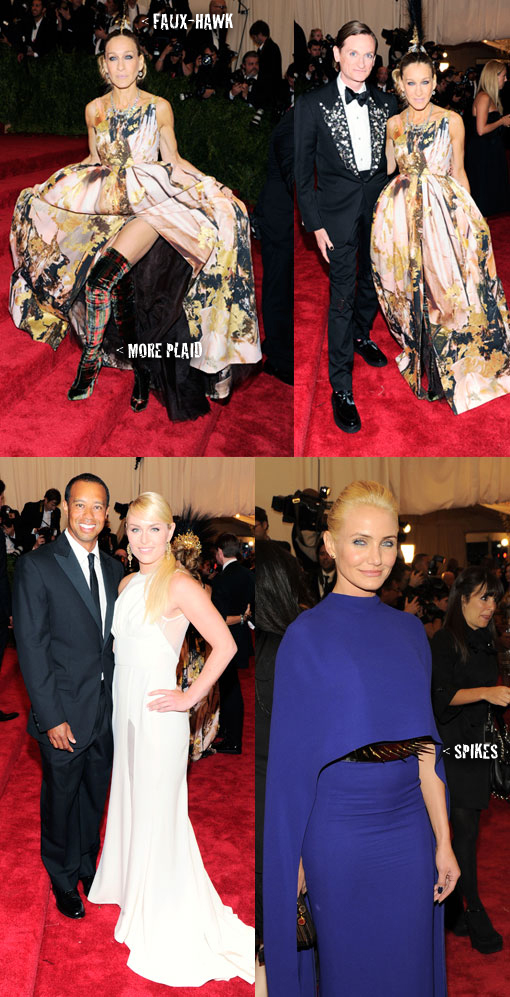 Sarah Jessica Parker & Hamish Bowles | Tiger Woods & Lindsay Vonn | Cameron Diaz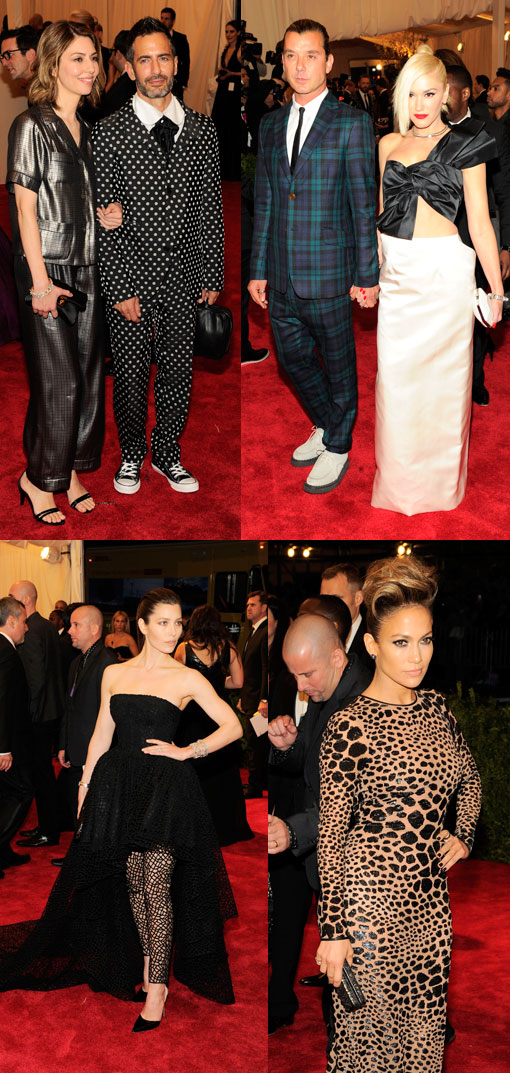 Sofia Coppola & Marc Jacobs | Gavin Rossdale & Gwen Stefani | Jessica Biele | Jennifer Lopez
Gwyneth Paltrow | Anna Wintour | Kate Upton | Katy Perry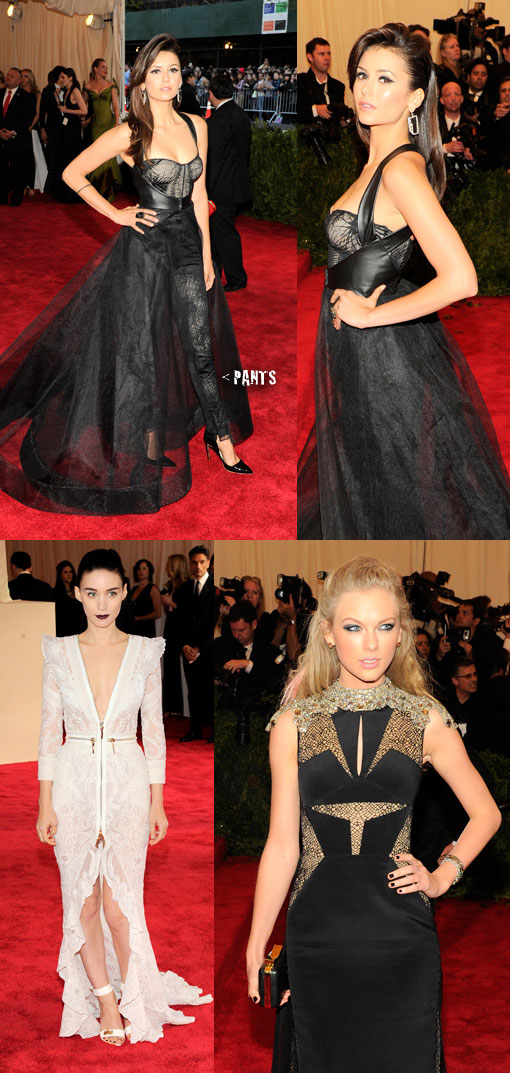 Nina Dobrev | Rooney Mara | Taylor Swift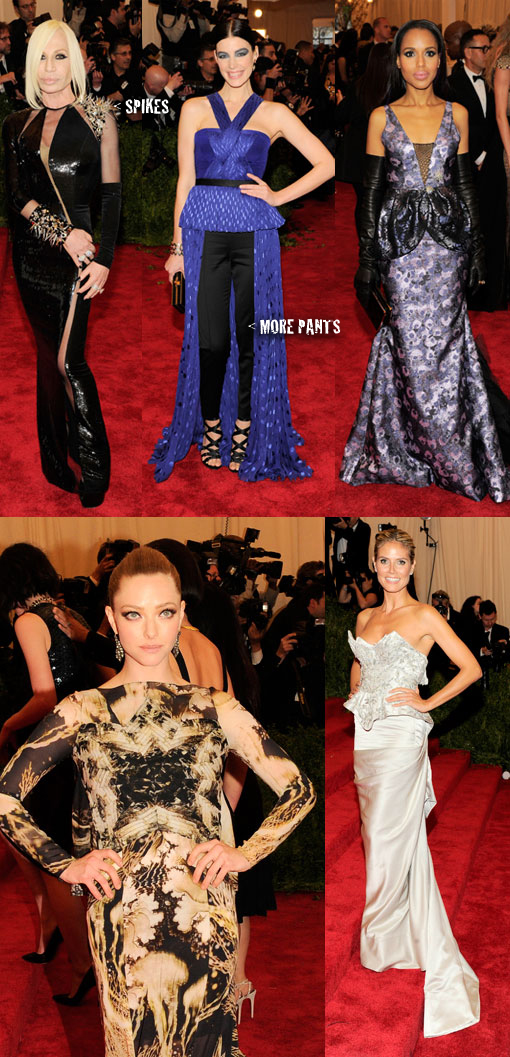 Donatella Versace | Jessica Paré | Kerry Washington | Amanda Seyfried | Heidi Klum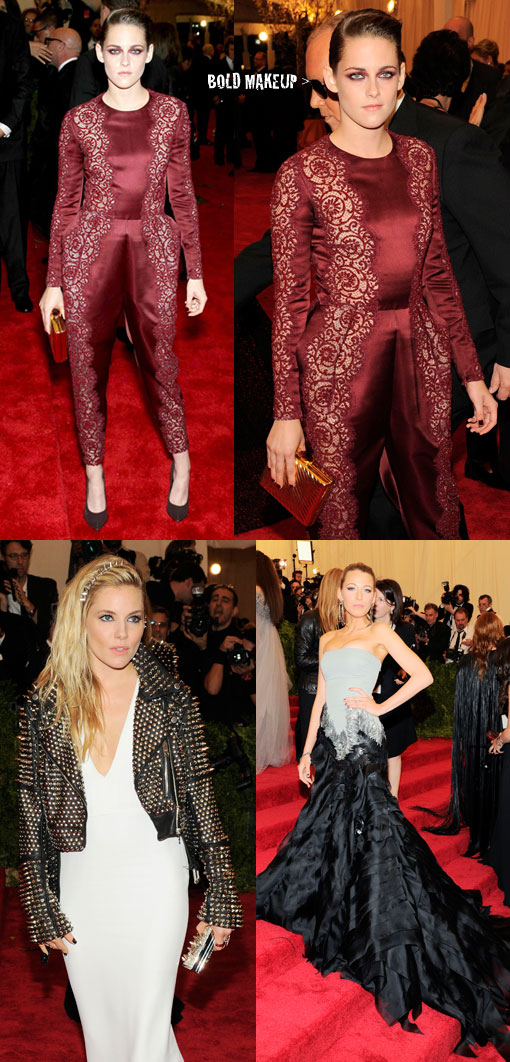 Kristen Stewart | Sienna Miller | Blake Lively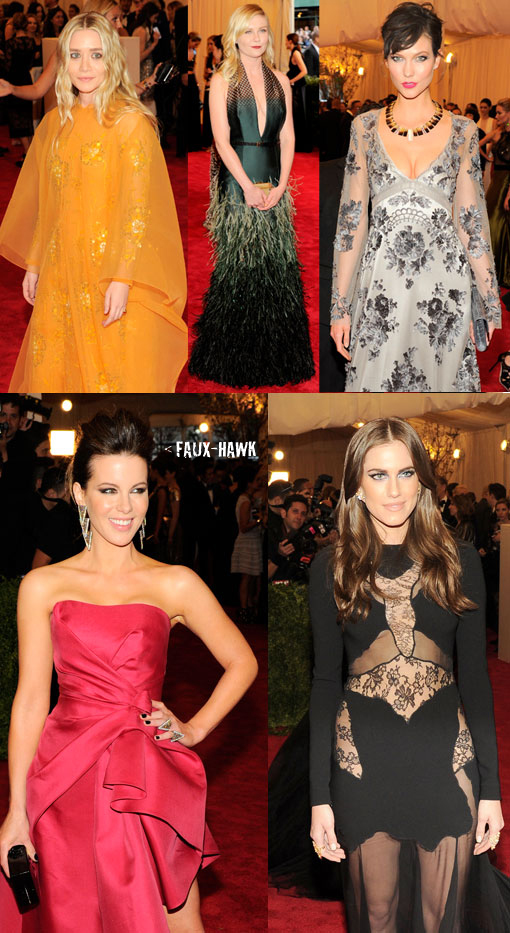 Ashley Olsen | Kirsten Dunst | Karlie Kloss | Kate Beckinsale | Allison Williams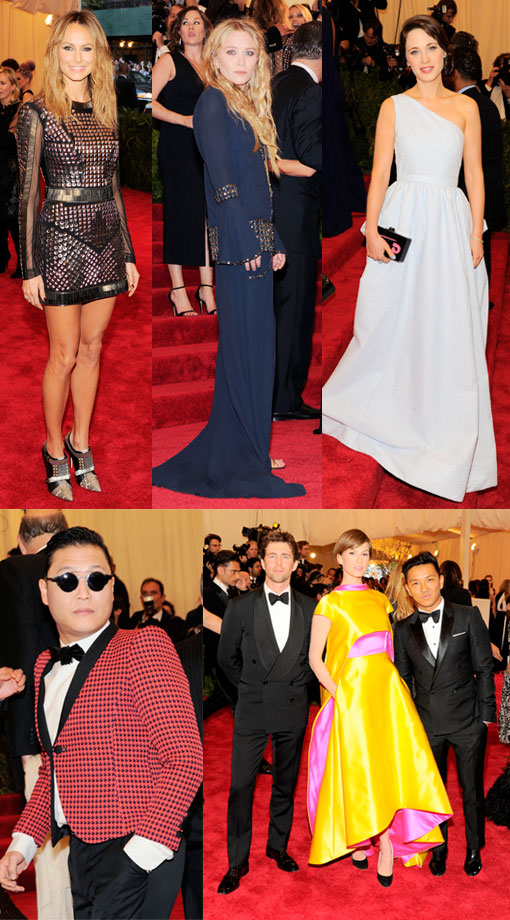 Stacy Keibler | Mary-Kate Olsen | Zooey Deschanel | Psy | James Marshall, Elettra Wiedemann & Prabal Gurung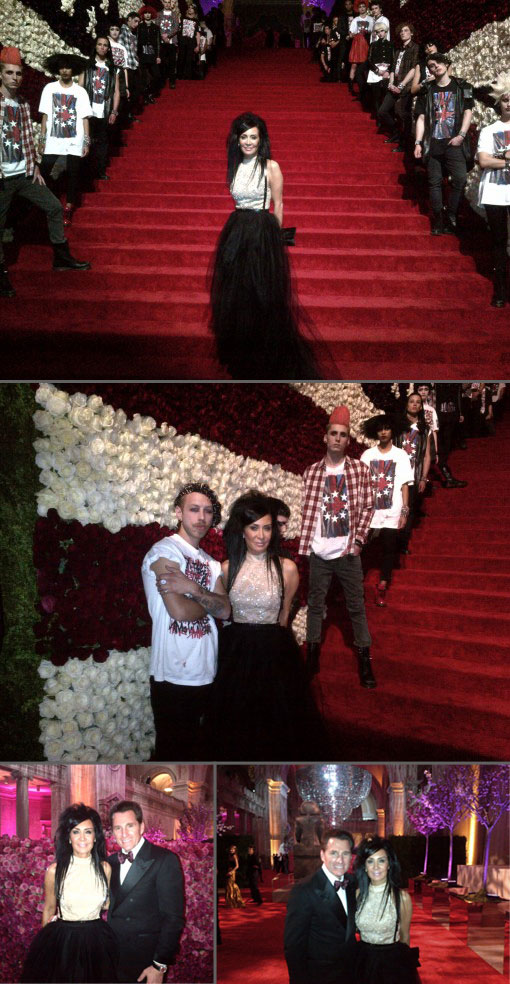 NJ Goldston | NJ & Mark Goldston
There were plenty of safety pins and studs but pants, radical hair from faux hawks to super spikes and crowns might just have been the key to rocking the Met Gala Red Carpet, along with a baby bump or two. It was a night of fascinating fashion and not necessarily a "who is best dressed" list but who just had some fashion fun.
Start to finish the night felt like a relaxed, out-there party. Still many a celeb was on edge hoping for a break-through fashion moment; but playing it safe was NOT the way to go. Kate Upton and Heidi Klum were easily upstaged. This was the one red carpet with a get out of fashion jail and "pass go" by channeling the theme moment. Black in any form worked especially if it was around your eyes. Anna approved.
Notables included, of course, Madonna in a photo flashed around the world. I am calling this an "I double dare you" moment. Honorary Chair Beyoncé was in Givenchy, for the second year in a row; Kim Khardashian, in a heavily altered floral Givenchy, with custom gloves, made the guest list (after being vetted at a Sunday night dinner at Anna Wintour's house). I suspect this was all well planned for maximum, mutually beneficial publicity.

But the night belonged to a group of super-edgy stunners including Anne Hathaway as a blond, Miley Cyrus in a Marc Jacobs fishnet gown, Katy Perry and Sarah Jessica Parker, both in Dolce & Gabanna, and Christina Ricci (not shown) in a blue plaid Vivienne Westwood. Wild hair from color changes, super spikes, and big looks made for lots of excitement. Honestly, I didn't recognize many of the most recognizable faces around. This is where I joined the hair club and did massively teased out hair. Why not?

Back-pedaling, I ran into Julianne Hough outside our hotel and on the way to the gala, and just this once thought Gwyneth Paltrow probably played it a bit too safe while the lovely Kate Beckinsale, in Alberta Ferretti, went with her most radical look to date. It worked in spades.

Sienna Miller was also wonderful with her headband of studs, Kerry Washington in Vera Wang, also fell into the stunning category, but Allison Williams in a sexy lace and black gown made much more news.
Evening pants were a big trend (which we predicted along with a big showing of Versace). I loved this look. As you know, I've been covering it since the runway shows for Fall 2013. If you were a celebrity mannequin for the night, it was a fashion moment. My two favorites. Nina Dobrev in Monique Lhuillier (and she couldn't be nicer or more beautiful) and Jessica Pare (who also couldn't be nicer or more beautiful) in Jason Wu. This look also worked on Kristen Stewart who wore Stella McCartney.
Time to exhale. After the red carpet, it was inside, pass the massive razor blade chandelier, up the 76 steps lined with specially made-up punked-out models, to the famous receiving line with Anna Wintour. This year , we also met Mara Rooney and Riccardo Tesci.
Next, the short walk to the exhibit including a quick chat with the ever dapper Tom Ford. My husband and Tom were both in Tom Ford tuxes. Of course. However, my husband told Mr. Ford he bought his "at retail." Tom loved that!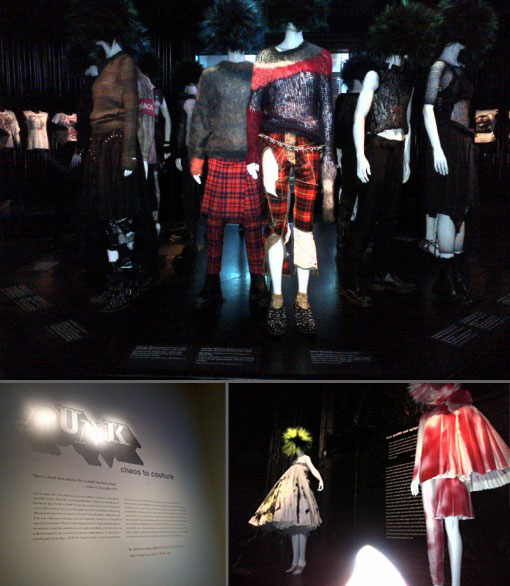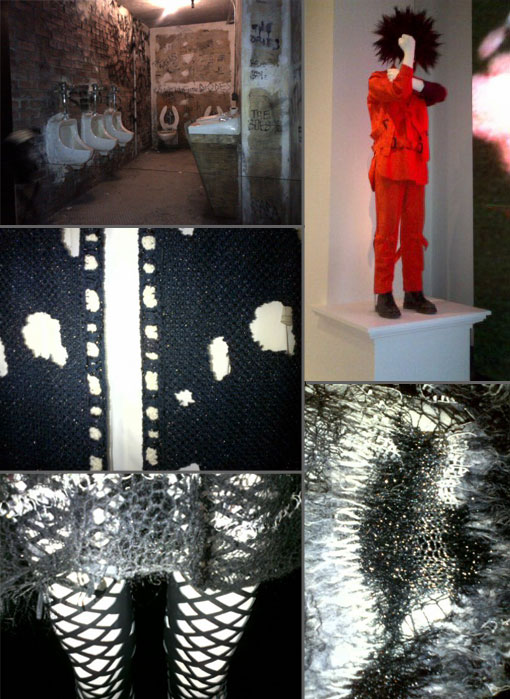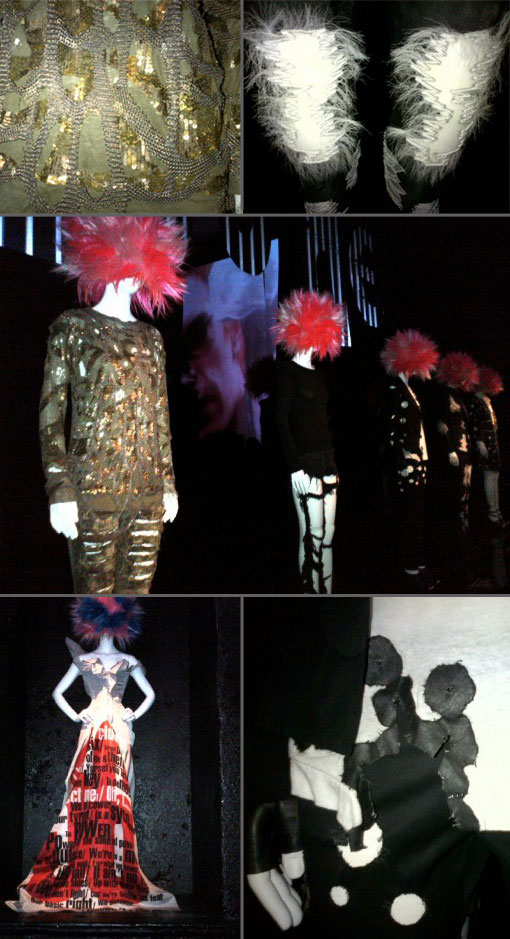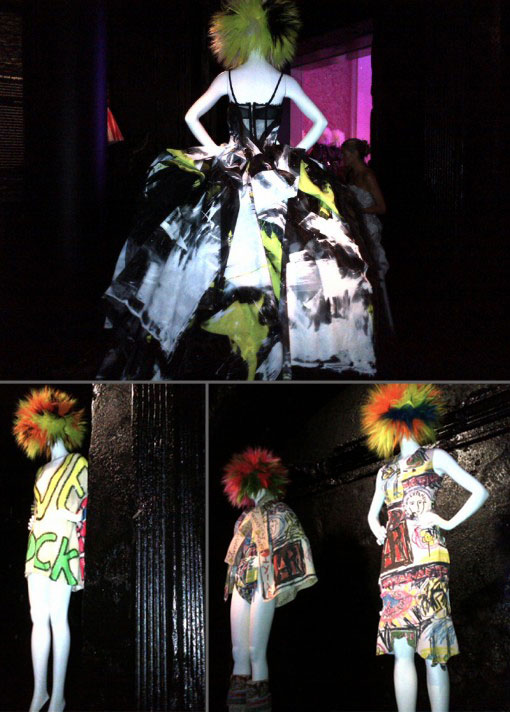 So, what about the exhibit? Reviews have been a bit cynical. I emphatically disagree. The crowds are already lining up, so critics be damned. This is not about PUNK, per se, but about the beautifully crafted work of great designers who have channeled the ethos of this movement. The public gets it even if the critics don't.
There is a reason this show is entitled PUNK:Chaos To Couture. Wake-up snobs! Andrew Bolton has created a remarkable study on how fashion, based on the radical, can be arranged into a beautiful riff on the unusual and often unthinkable. You try that on your day job.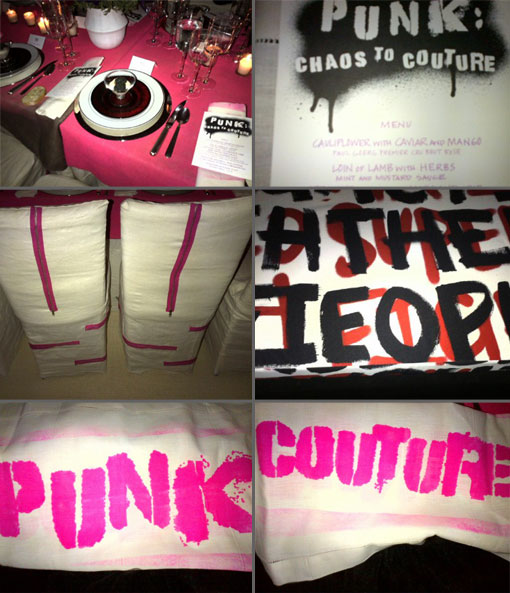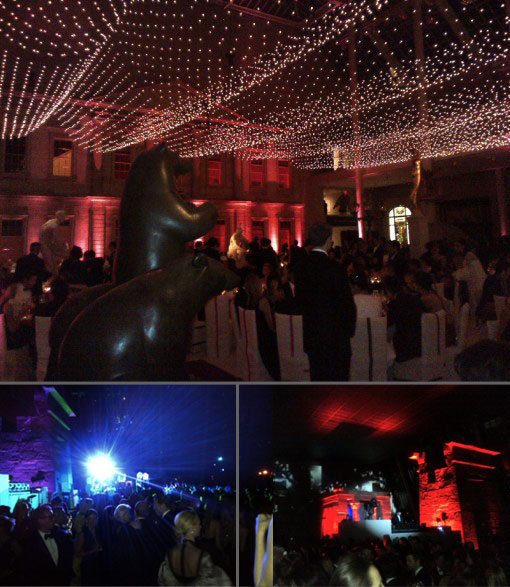 Photos: The Blonde and The Brunette and PatrickMcMullan.com
The night naturally progressed into a PUNK themed sit down dinner. Napkins screamed COUTURE and PUNK. Dinner chairs were covered in pink-zippered backs. Cauliflower with caviar was served as a very English appetizer along with lamp chops and vegetables as our entree. Get it.
Then off to the Temple of Dendur for what else but Debbie Harry and Blondie (the highlight) and the much anticipated Kanye West performance. It was a dark pounding radical rap including a song for Kim. I don't care what anyone else reports. The crowd drifted. Kanye was intense, incredibly fashionable, but maybe even too obtuse for this group. Jennifer Lopez left along with so many others before the set was done. We hung in there. We came for the ride.
It was finally time to exit after passed trays of cookie skulls and dark chocolate with silver globs on top. After parties awaited.
I think I'm finally all punked out but not without saying a special thank you to Jason Wu for my fabulous gown and all the many designers who have once again inspired me with their work.
I narrowly avoided get spiked or pinned during the night and yes, my train almost tore on numerous occasions but I've almost mastered the art of maneuvering in a large crowd.
Next time, as Blondie says, "Call me, call me in a sweet design. Anytime, anyplace, anywhere, any day-ay. Call me. "
xo
NJ Goldston, The Brunette