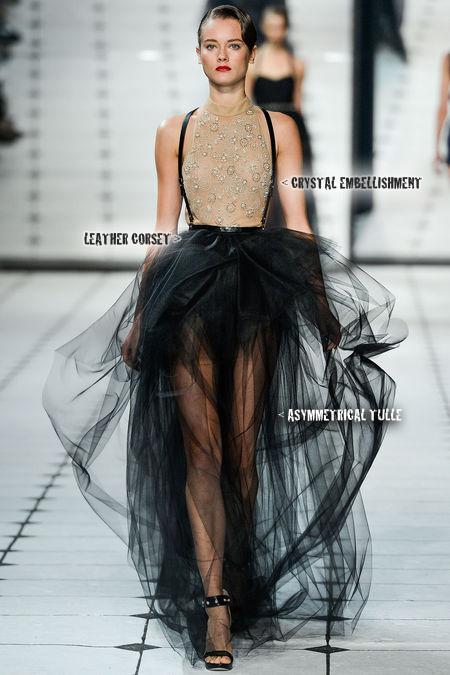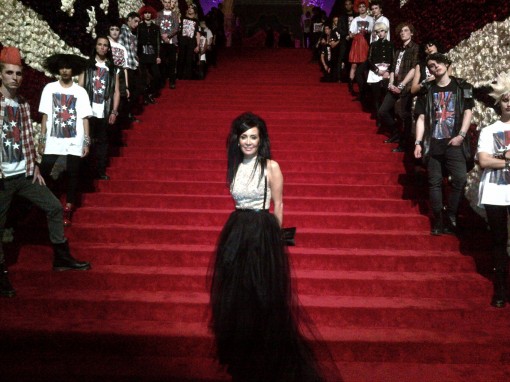 Puzzle solved. I stepped outside my fashion comfort zone and put my trust in Jason Wu. His S/S 2013 collection seemed to have just the right gown that was the perfect mix of PUNK: Chaos to Couture. Black Tie. Check. Train. Check. Leather. Check. Crystals instead of studs. Check. Not all black. Check. Elegant. Check. A daring semi-sheer asymmetrical tulle ballgown skirt. Check. Leather harness. Check. Stunning crystal embellished nude top. Check.
It all added up. Love at first sight. My typical, slightly edgy fashion statement that works with my almost black hair and accentuates my best feature, my waist. Add, diamond earrings, not too much jewelry, punk hair and even bolder make-up plus a simple black satin clutch. Ready to go.
Then it happened. As the evening wound down, and we were all making our exit down the grand staircase, I bumped into Jason Wu and his "date"or "mannequin" for the night, the very lovely Mad Men actress, Jessica Paré. Introductions and then Jason said, "I love that you are in my gown! Just perfect."
Lots more details later today from Blondie and Kayné preforming to our favorite Red Carpet picks, but for now, I'm floating on air. Thank you. Mr. Wu. You made my night.
xo
NJ Goldston, The Brunette