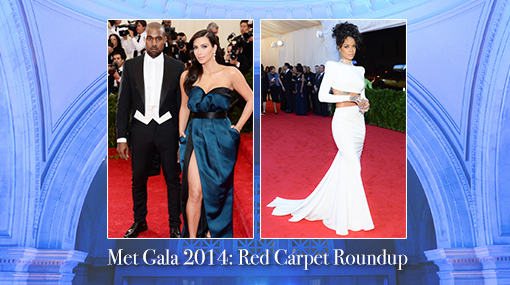 It was time for my annual trek to New York City for the wonderful Met Gala. This year, the theme was "White Tie and Decorations" in honor of the Charles James:Beyond Fashion exhibit in the new Costume Institute space. Celebs, top fashion designers and stylists went all out but didn't totally stick to the theme.
I'm going to opine as I always do. Just remember, the evening is the "Fashion Oscars" as well as often dubbed "The Party of the Year", but it's also about designers showcasing their work on their latest "It " girl muse.
The dresses are custom designed and made for the night and many of the actresses and models are paid hefty sums to make that walk or are currently the "face" of a particular fashion house. Major fashion houses have their Fall collections to push and there is no better forum than The Met.
With the dress code so formal, I honestly expected everyone to follow the rules. Wrong. Anna Wintour even passed on the Opera Gloves. Several stars wore tea length or short formal dresses (and honestly some appeared to feel a bit awkward doing it) and cropped midriffs even popped up on the Red Carpet.
My favorite looks were from Sarah Jessica Parker in a bespoke Oscar de La Renta because it was just outright fun and a bit irreverent, Hailee Steinfeld in Prabal Gurung, the many Zac Posens, the black & white ball gowns along with several of the metallic and goddess gowns.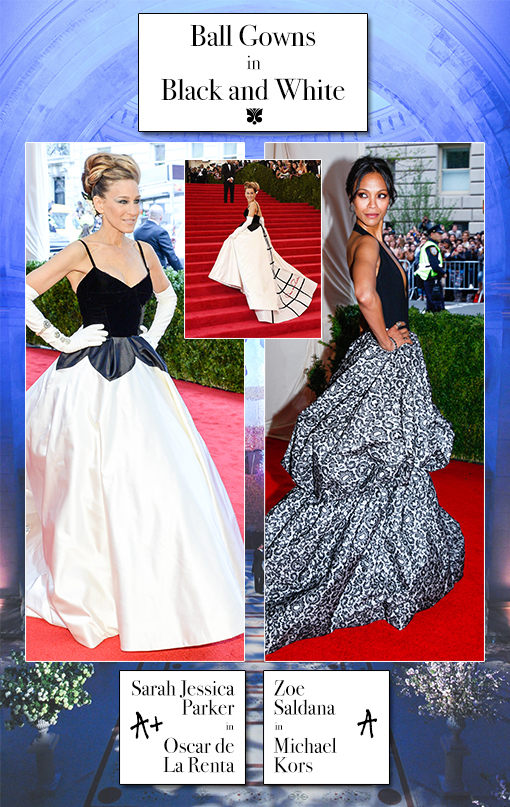 SJP and Zoe Saldana rocked the Charles James theme by paying homage to elements of the designers work . I also loved the hair on many of the stars. Elegant and sophisticated,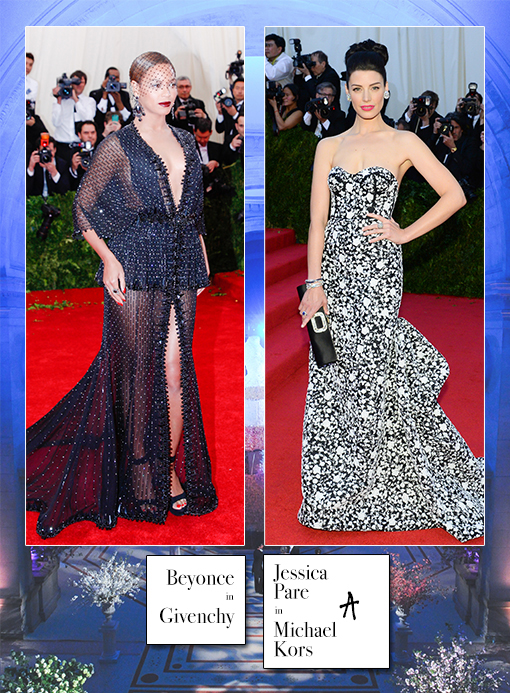 Hailee Steinfeld's Prabal Gurung gown is based on the famed James Four-Leaf clover dress and when I spoke to Prabal during the evening he said I was absolutely spot on in my interpretation. By the way, if you've got our own big night in the future, you can never go wrong with black and white. It's elegant but stands out in a crowd.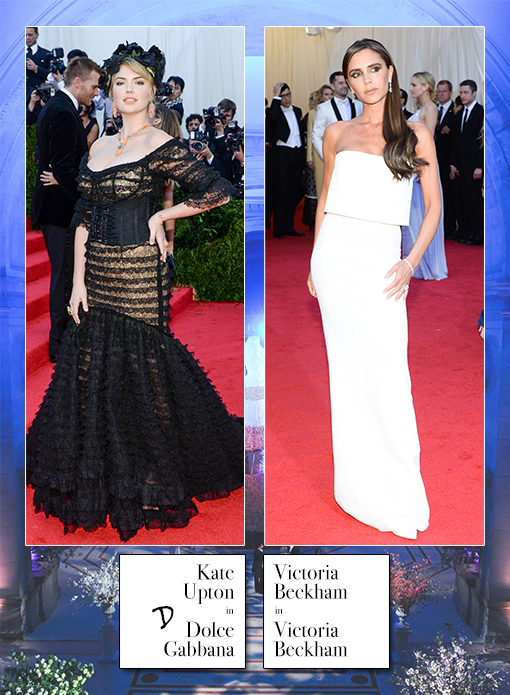 I don't know if all the votes are in but I thought Kate Upton's gown was a miss and I saw her struggling with it all night to the point of exhaustion. On the other hand Victoria Beckham looked lovely. David and her make such a striking couple. They are certainly well mannered! David Beckham even stopped to take a selfie with my hubby.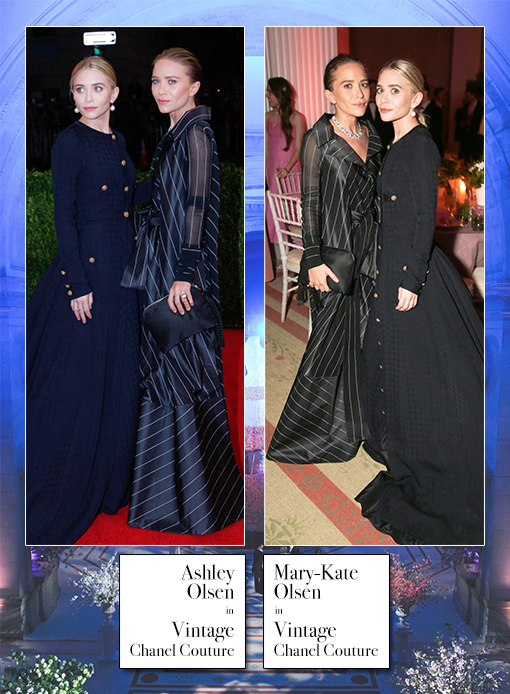 The Olsen twins and I greeted each other. Naturally I complimented them both on their stunning vintage Chanel Haute Couture from Lily et Cie in LA. I happen to go to the same amazing source for my Valentino gown. Ashley was also bedecked in a vintage diamond necklace that I had personally coveted. It certainly suits her and was a perfect choice for the evening.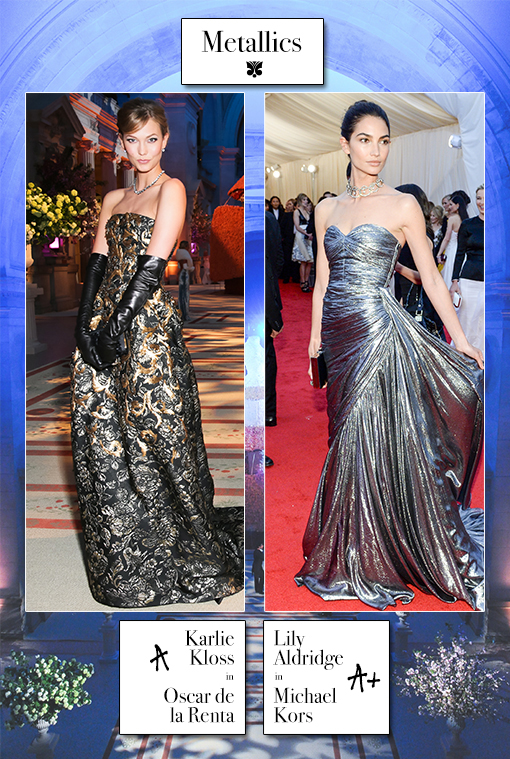 I was surprised how much I loved these two looks. Totally on the mark with a bit of drama. Of course, a big diamond necklace always helps.
I thought I would see color and Zac Posen delivered on models Liu Wen and Arizona Muse.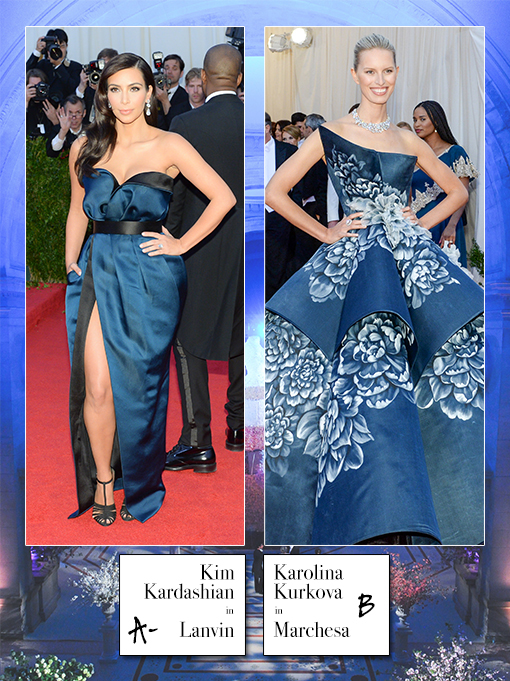 Kim Khardashian was dressed in a head-to-toe custom made LANVIN creation by Alber Elbaz — two-tone black and pétrol blue draped strapless dress in satin duchesse with black satin belt, and black grosgrain cage evening sandals. Lanvin is one of her go-to brands including lots of designer goodies for North.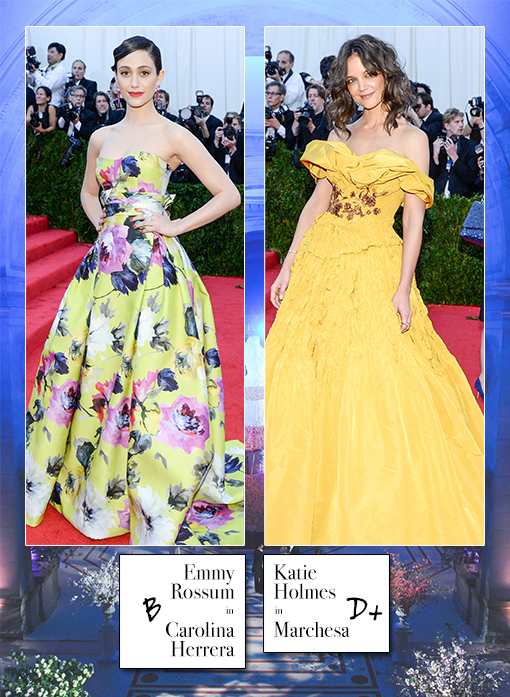 Yellow is always tricky and so are big flower prints. Emmy made it work and Katie, well, I think she might of been channeling Suri's favorite Disney princess.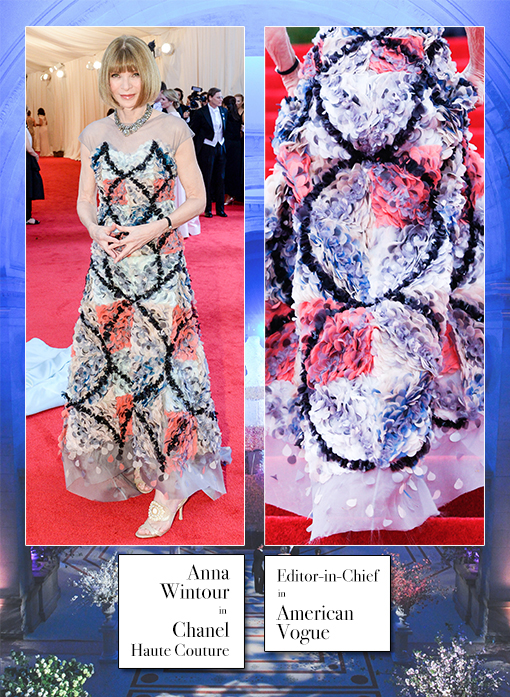 It was Anna Wintour's night and Chanel Haute Couture is usually her go-to along with colors and patterns. It was even lovelier in the receiving line.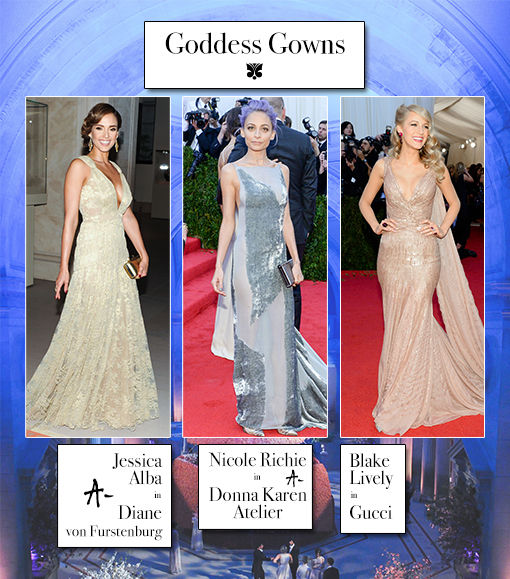 Certainly an elegant option, many thought these three ladies, were some of the best dressed of the night.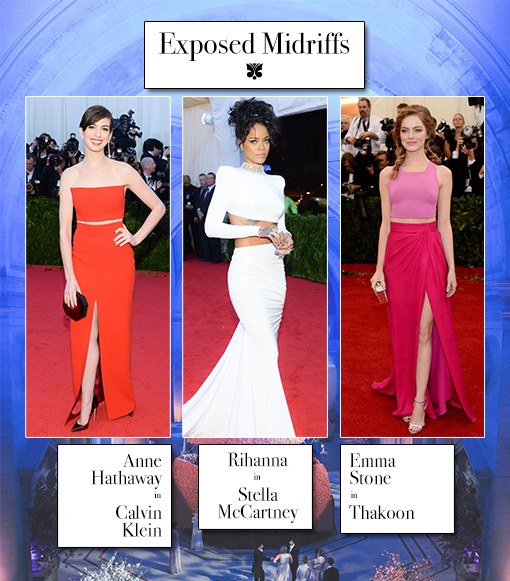 You tell me. Am I old-fashioned? I just didn't think any of these work for this event even though they all look beautiful. I'm a BIG Stella McCartney fan so don't get me wrong.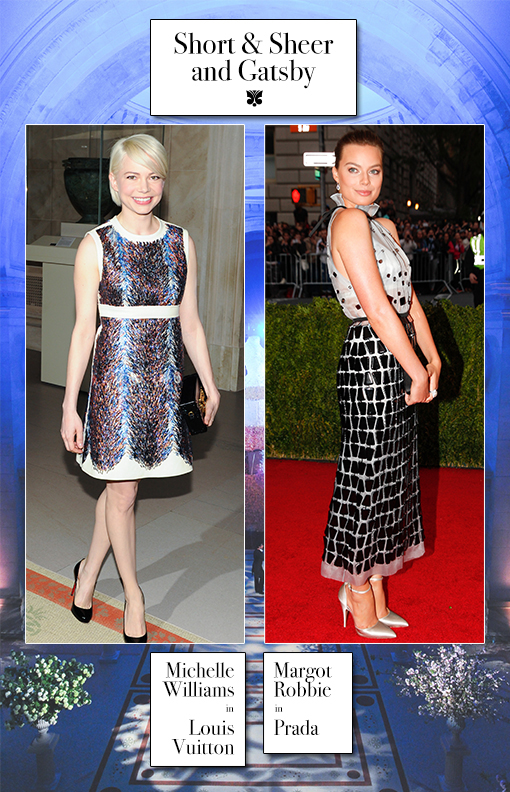 Lots of designers are reinterpreting evening wear including Nicolas Ghesquiere for Louis Vuitton (and I would have loved to have seen him produce a stunning gown in the same genre as the one he did for Jennifer Connelly) for Michelle Williams. She's absolutely lovely and couldn't have been more gracious discussing the new LV collection.
Mrs. Prada, always, always, always does her own thing (and by her own admission doesn't do gowns) and proved that on Margot Robbie, Elizabeth Olsen and Lupito N'Yongo. But these were huge missteps. Lupita's dress is actually an unsuccessful take on the Prada crystal chandelier dress from 2010, Elisabeth Olsen looked as if she belonged on the skating ring at Sochi and Margot Robbie, was lucky enough to get a better look but it was still a miss. It's White Tie!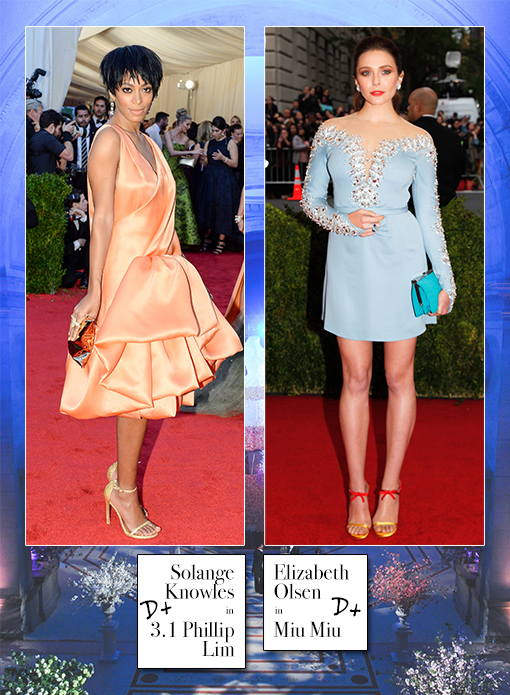 Solange had a short version of a duchess satin coulda woulda wished she had ballgown.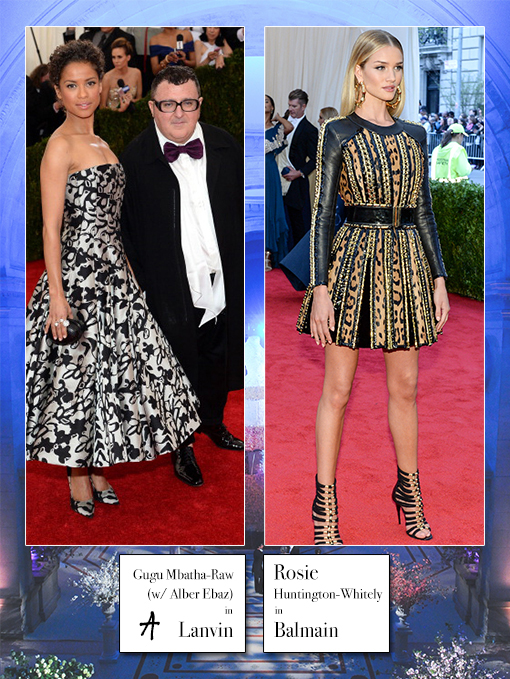 Actress Gugu Mbatha-Raw attended with Lanvin artistic director Alber Elbaz wearing a custom head-to-toe black & white abstract floral silk jacquard tea-length strapless dress, matching pumps and black python oval clutch. Loved it.
You vote. I love both these ladies but I'm having a hard time with each of these looks. They certainly have generated a lot of attention and discussion. Maybe that's the whole point.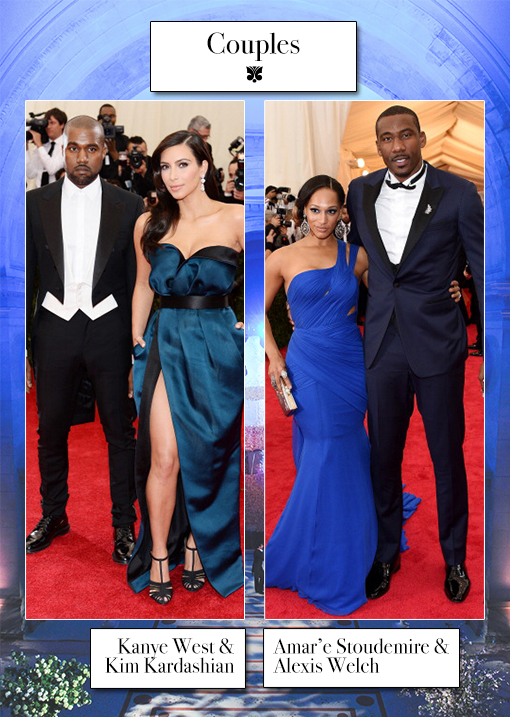 I loved all the men in white tie and decorations. Kanye went with LANVIN black wool-silk tails, white piqué vest, and black wool-silk tuxedo pants.and Amar'e Stoudemaire didn't disappoint in a Lanvin made-to-measure midnight blue one–button tuxedo jacket with black satin peak lapel & matching pant, black wool 4-button waistcoat, white cotton piqué wing collar dress shirt, and black satin bristol bow tie. I still am perplexed why all the men didn't wear White Tie. That was the dress code.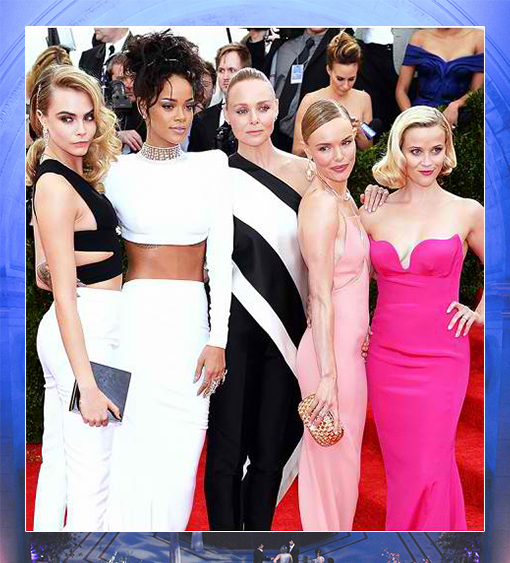 Not to be outdone and possibly the photo of the night, it truly tells a story although pants and a bandage top are a huge no-no. I must be missing something. The bottom line is The Met Gala is all about girl power. Steel McCartney proved it with her crew. Time to party on!
With Love From the Met Gala and LA,
NJ Goldston, The Brunette & David Soriano
all photos: Julian Mackler/BFAnyc.com & Joe Schildhorn /BFAnyc.com,