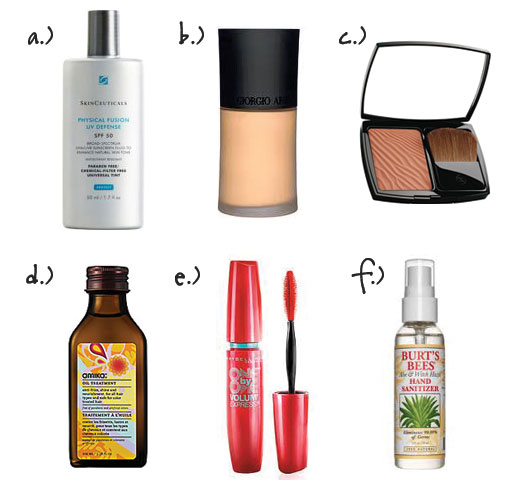 As the The Blonde and the Brunette's New York City Brunette Contributor, I thought I'd start by sharing my top beauty product picks, the all-stars I simply can't leave home without.
a.) SkinCeuticals Physical Fusion UV Defense SPF 50 ($30): While I spend most of my day shielded from the sun's harmful rays in front of my computer, the walk to and from work is a minefield of sun exposure so I cover up with this ultra-protective, but super-lightweight formula. It's perfect for grease-prone skin like mine and comes in "universal tint" this great neutral beige that blends seamlessly into almost all complexions.
b.) Giorgio Armani Luminous Silk Foundation ($59): I'm not interested in new foundation launches, this skin-perfector has me hooked for life. I can't tell you how many compliments I've received on my "perfect skin" when my true complexion is all sleepy under-eyes and broken blood vessels– that's how good this stuff is!
c.) Soleil Tan de Chanel in Terre Epice ($50): The perfect natural color, Chanel really nails the lit-from-within look with this bronzer.
d.) Maybelline Volum' Express One by One ($8.49): I won't preach the merits of drugstore mascara, we've all heard it before, but let me just say this little wonder convinced me to shred the Latisse script and keep it au natural (well virtually).
e.) Amika Oil Treatment ($34): I have terrible split ends and this hydrating formula effectively disguises my shredded strands without adding extra weight.
f.) Burt's Bees Hand Sanitizer ($5): If you ride the subway as much as I do, an on-the-go cleanser is non-negotiable. Unlike sticky anti-bac, the aloe and witch hazel infused mist dries down quickly and doubles as a softly scented body spray.
– Julie, Brunette Contributor