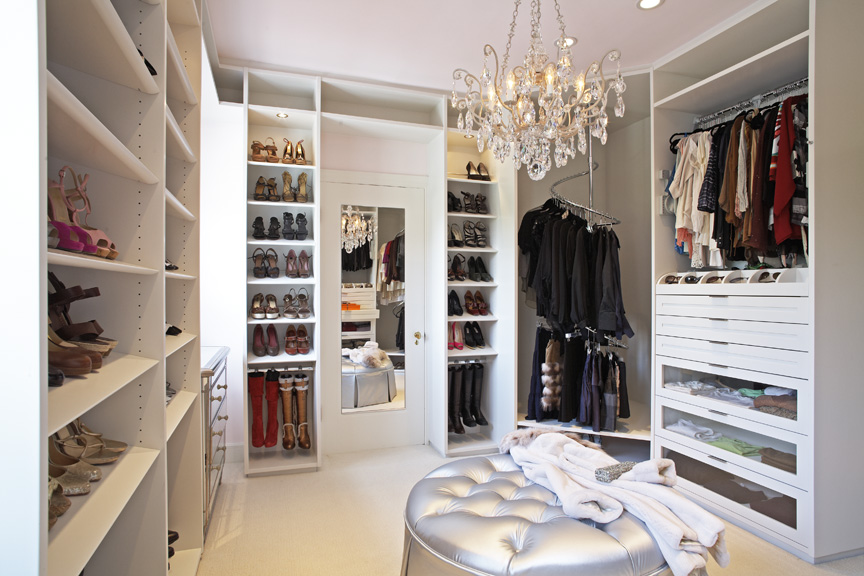 We'd love to take credit for all these great closet organization tips. But The Blonde and The Brunette got the down-low on how to simplify your life and closet from Lisa Adams of LA Closet. Here's Lisa's top ten list . This is definitely one of my New Year's Resolutions.
10 Ways to Improve the Organization of Your Closet
1. Downsize your wardrobe. Go through each item in your closet and ask yourself if the garment fits and flatters. If you have not worn the item in the last six months, then it should be donated, purged or recycled.
2. Organize your closet in sections (informal vs. formal wear, shoes and accessories, etc.). Then, organize each section in a chronological manner the way you would get dressed in the morning.
3. Create a system for your items on hangers and items in drawers. You can organize by color, brand, fabric, cuts, etc. Then, stick to whatever system works for you!
4. Replace your hangers. Omit those flimsy dry cleaner hangers from your closet and replace them with good quality hangers.

5. Use pull-out shelves for easy access. Narrow depth shelves should be used, so smaller items don't hide at the back of your shelves.
6. Organize shoes. Just like you would sort your clothes, it is important to sort through your shoes. Ask yourself again – keep, purge, recycle, or donate?
7. Designate a dirty laundry area. Pull-out or free-standing laundry baskets in a closet can prevent garments from landing on a chair or on the floor. Make sure everything in your closet has a space and is always kept in its place.
8. Include a landing table (island or pull-out table). This allows for ease of packing and folding garments.
9. Invest in pull-down swing rods. Pull-down swing rods are a great addition to closets that have vertical height. The rod can be placed at a higher height than traditional rods, but with a swing of a rod, pulls down to eye level. This way, you can maximize the vertical height by creating more accessible drawer/shelving space below.
10. Compartmentalize small items. It is much harder to organize smaller items such as belts, ties, and jewelry within the closet space because smaller items tend to get lost much more easily. There are unique organizational tools on the market that make it easy to organize, view and store these accessories.
– NJ, The Brunette