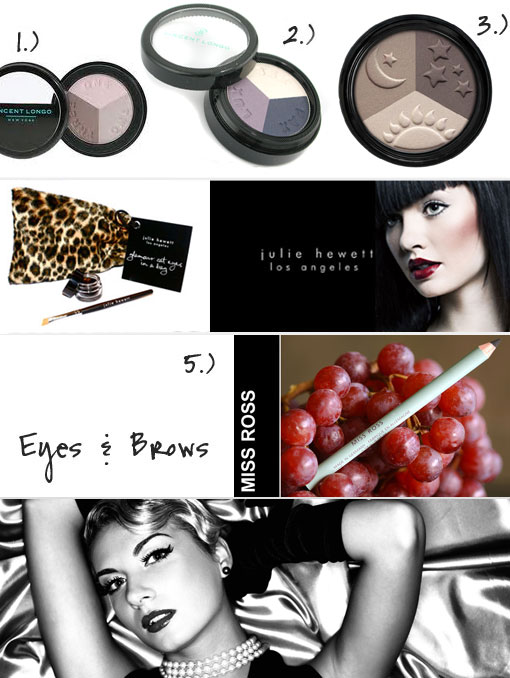 O.K. Remember my 12 to 14 hour work schedule I was telling you about? This is my my make-up bag for going from day to night without going home. For eyes, I adore all the Vincent Longo eyeshadow trios to go from simple to uber-glam. My go to eyeliner is the mini cat eyes by Julie Hewitt and the leopard option comes with a mini eyeliner brush, and then of course, the Beverly Hills King of Brows, Damone Roberts, has his famed eyebrow pencils. Miss Ross, which is named and developed for Diana Ross, is the signature soft shade of black developed in her honor.
Eyes & Brows:
For lips, I adore Vincent Longo for the striking, semi-pearlized pink and peach lipsticks. I combine this with Estee Lauder's ultra creamy lip liner that travels perfectly with its smartly packaged lip brush on one end and the retractable color on the other end.
Lips:
Again, it's Vincent Longo to the rescue for me. I use his first rate concealer and I am completely dependent on his travel compact because you just pop in a new pod when it runs out. For a foundation, Armani is simply flawless, lasting all day and into the night, which I combine with a Vincent Longo day/play blush for the girl on the go.
Face/Cheeks: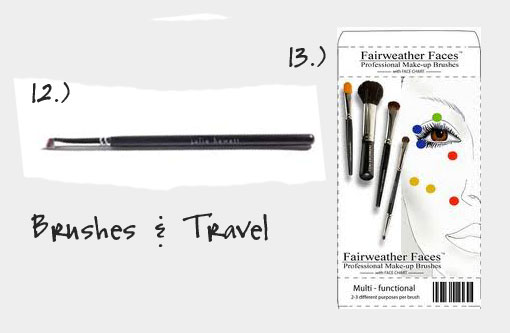 Brushes & Travel:
– NJ, The Brunette