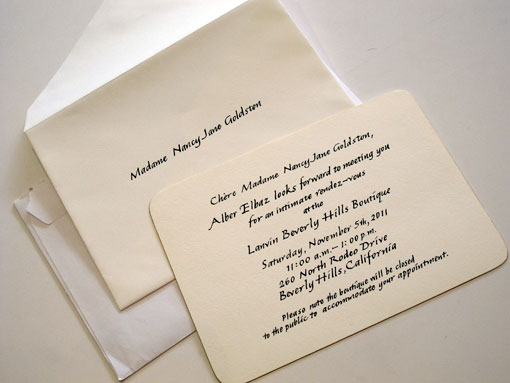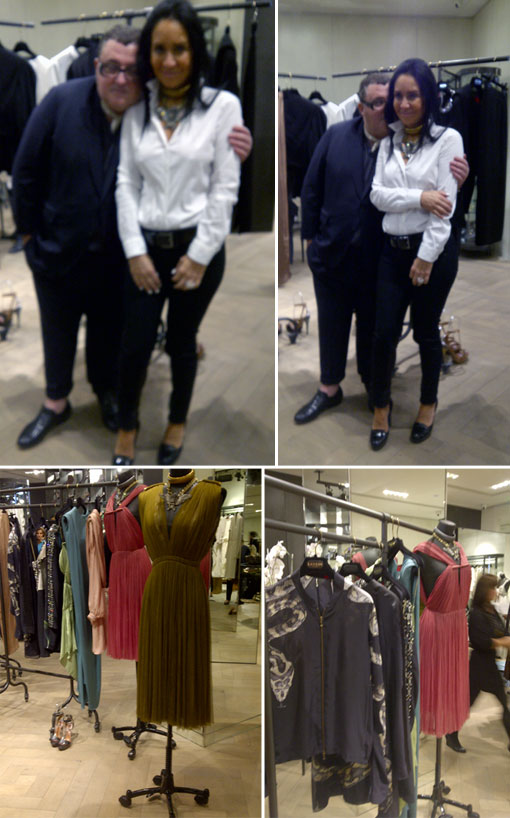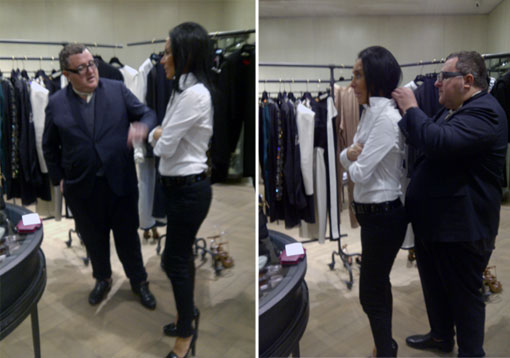 There's a bit more to Alber Elbaz's very rare visit to the City of Angels. I received a special invitation to an intimate rendez-vous with Alber to join him at the Rodeo Drive Lanvin boutique on Saturday morning. This was the morning after the spectacular Lanvin event the previous night. I wore my skinny black jeans, a simple white shirt, a Lanvin sweater from the current Fall collection with embroidered crystal brooch and a 3/4 length black vintage Lanvin vest for the meeting.
Its taken me close to two weeks to tell you about it as I absorbed the experience and I apologize for some of the fuzzy pictures but we were all a bit awed so we had "shaky camera syndrome." First, I made sure I was on time! This was the treat of a lifetime. Besides being beyond charming, Alber is warm, approachable, funny and, of course, a styling genius. His extraordinary design skills are universally acknowledged; yet of paramount importance is he sincere, caring relationship with his customers. It's a mutual appreciation club based on the the wear-ability of his collections.
An intimate group of dedicated followers joined Alber. We all share a mutual love of the luxury brand's distinctive, modern aesthetic and the thematic details which have resonated with our love for exposed zippers, gros-grain ribbon, the fraying edges (which whenever I am wearing an item, someone thinks it's a mistake — not), signature pearls on strands of bow-tied ribbon (and Alber says the ribbons should run down your back), the floral rosette t's, and the amazing crystal embroidery which weaves its way into each collection.
So what did I learn from Alber?

More is more. When it's done right, this is the perfect option. Stack and mix your statement necklaces and bracelets. Chokers at the neck and then one long statement necklace mixed with two chokers. Try one of each. The combination works with simpler outfits or the most elaborate. Or stack your chokers. Do two together. I've always been shy about doing this and he gave me the confidence to give it a try.
Less is more too. With a great statement dress or even a refined look, let one accessory add the pizazz.
White shirts…open one more button and let the accessories do the talking. I was self conscious about this but Alber was right again.

Stack lots of bracelets at the wrist when there is a highly detailed neckline or with a very simple dress.
Take in the sides of a baggy dress just at the bottom, about an inch on each seam, to give it a more fitted, stylish look. It slenderizes your figure.
With fitted (or skinny-fit) pants, be sure your ankles show. Ankles are sexy with heels or flats.
Layer your knits making sure certain items are more fitted.
With fabrications becoming more sheer or daring, pay attention to your under garments. Use a nude panty with a seamless line or add a lining if need be to an outfit.
Pay attention to your hemline and adjust it to your body type. Tailoring is the final touch to making an outfit look great. I can get lazy about this and taking the time to shorten or lengthen a dress. Alber showed me how 1 to 2 inches can make a huge difference in your look.
Don't be afraid to experiment. That's what personal style is all about.
I'm still feeling the love so we will share a bit more of it with you on Monday. The Blonde & The Brunette have another special Lanvin giveaway. Check in then for all the details.
– NJ, The Brunette