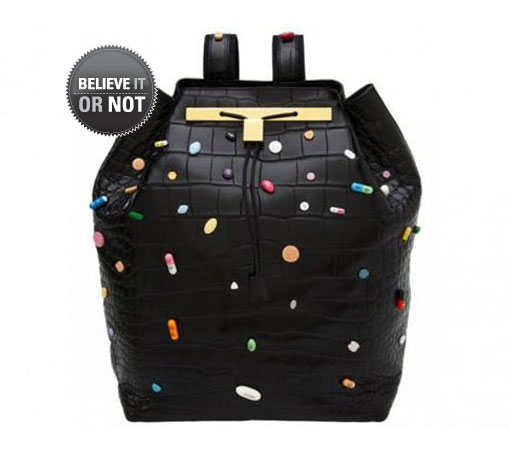 This just hit our fashion radar and we did a triple take. Mary-Kate and Ashley Olsen's high-end fashion line, The Row, has created 12 limited-edition backpacks made of black patent Nile crocodile leather adorned with prescription pills and colorful circles. The catch? They're selling them for a whopping $55,000 a piece!
The bag is collaboration between The Row and famed British artist Damien Hirst, who's known world-wide for his conceptual art and spot paintings (which are rows of randomly colored circles actually produced by his assistants). Created in a limited edition of 12 and with a portion of each sale to benefit UNICEF, these backpacks blur the line between high art and high fashion. Signed by the artist, each one features uniquely individual embellishments, from an assortment of prescription pills, to Hirst's signature spots. Hence, each is a separate, signed work of "street" art.
If by some remote chance this is in your fashion wheelhouse, they are being sold through Just One Eye, in LA, of course (!). You can contact them at +1 (888) 563-6858 or customerservice@justoneeye.com. I'm supposed to be at a small cocktail party next week with the Olsen twins. Will they or won't they be toting one of these beauties?
xo
NJ, The Brunette