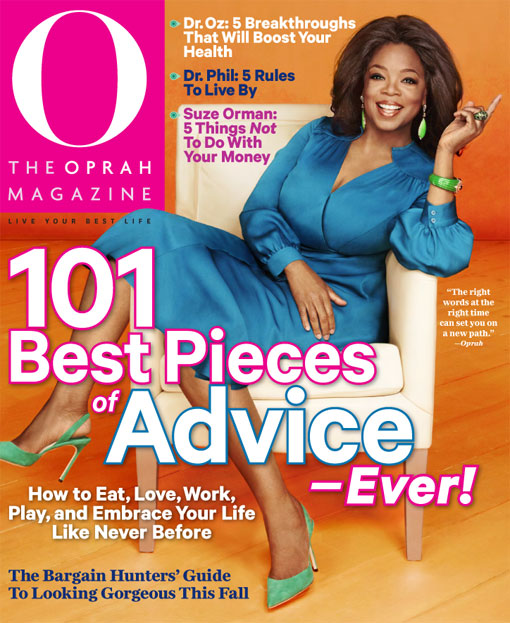 Courtesy Hearst Publications
I'm always looking for a better way and if someone has it, I'm game. Well the latest edition of O, The Oprah Magazine, has 101 tidbits from all the Hall of Fame advice gurus we love. Dr. Oz, Dr. Phil, Suze Orman, Gayle King and Oprah (of course). If you are wondering why we are mentioning this now, if you're in the L.A. area (or it might even be worth the trip) they are also bringing their "Live Your Best Life" mission to Los Angeles on Saturday, October 20 with O You! It's a pretty intense, interactive day of seminars and workshops with Oprah's hand-picked experts plus advice and personal stories from Valerie Bertinelli and Robin McGraw.
This is how it works. It's a simple and brilliant format. Editor-at-large Gayle King welcomes attendees at the Los Angeles Convention Center with everyone able to participate in seminars with O's distinguished group of trusted experts. For the first time, mental health professional, daytime talk-show host and best-selling author Dr. Phil McGraw joins the the group. It kinda helps that he does live in L.A . Along with Dr. Phil, other contributors will include financial expert and Emmy Award-winning television host Suze Orman, best-selling author and life coach Martha Beck; organizational management expert Peter Walsh (maybe I can convince him to do a house call as this is the closet intervention I've been dreaming of for years. Did I mention he's my hero?); sex and relationship educator and therapist Dr. Laura Berman and O's creative director Adam Glassman and beauty director Val Monroe. Jenny Craig spokesperson Valerie Bertinelli will be making an appearance, as will Robin McGraw, for Poise. Oprah herself will wrap up the day with a personal and highly inspirational talk.
There will also be other fun style stuff. Sally Hansen will host celebrity manicurist Gloria Williams of footnanny.com, and offer free manicures and new product samples to attendees. IKEA's Life Improvement Project will be showcased in four fully-furnished rooms: Living Room, Bedroom, Dining Room and Kitchen and Paul Mitchell hair care professionals will offer custom consultations, on-the spot hair styling and samples of their styling products. You get it. Freebies. Chance to win. Who knows what could happen. It might be a fun girl's day. Tickets are on Sale Now at oprah.com/oyou.
It might be time to "Live Your Best Life".
xo
NJ, The Brunette