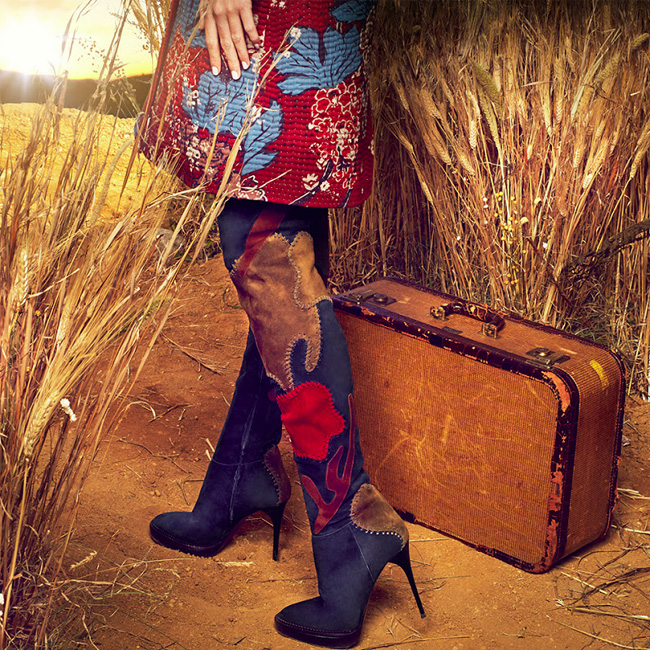 Fall is in the air, and we start the endless debate in our minds. What shoes will we be rocking this season for Fall? With all the trends we saw on the runways during the last fashion week month, it had our heads spinning. Well we've made it easy for you and rounded up our top 4 favorite Fall shoe trends you gotta try this year!
The patchwork boot is going to be a big one for Fall this year! We saw some amazing versions of this trend go down the runway (above) and we're loving the groovy vibe! The 1970's show no signs of being a passing trend—its a sophisticated lookthat leverages lots patchwork and texture play.
Fur shoes have been getting more and more popular, at first we thought this trend was a bit ridiculous, but with these designer's new take on this trend, we actually see it being wearable! And we are definitely lusting over those black furry pumps above! So cute!
Over-the-knee boots are not new, however designers have gotten more daring and have taken the boot trend to new heights! Now it's all about the thigh-high boots. Pair with a simple black dress or skirt, and you've got the perfect statement boot for Fall!
Borrow from the boys! This trend is getting better and better, and we are loving the comfort factor too! Men's shoes and boots are the hot thing for stylish women on-the-go! A deff must have for fall.

xo,
-Lauren, The Blondette.