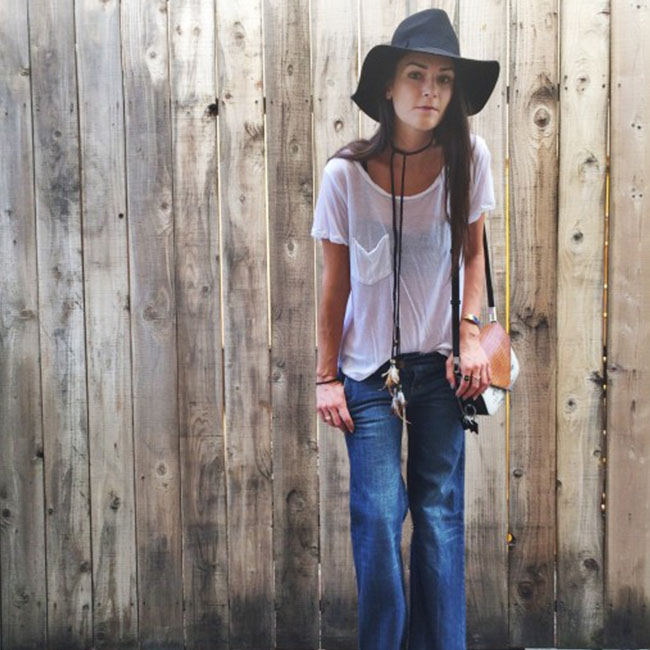 Considering the 1970's have been a major influence in our wardrobes throughout the last few seasons, it's no surprise that flared trousers are back in a big way for Fall! It's time to put your skinny jeans to rest and start shopping the flare. You can start by digging through your closet to see if you still have some flares in hiding, you might just be surprised! We got on the band wagon when Vogue and J Brand introduced their Demi High Rise Patch Flare to trendsetters, including our very own NJ, at a #Vogue120 party a few months ago in LA. Right about the same time we started spotting the flare on LA streets and celebs.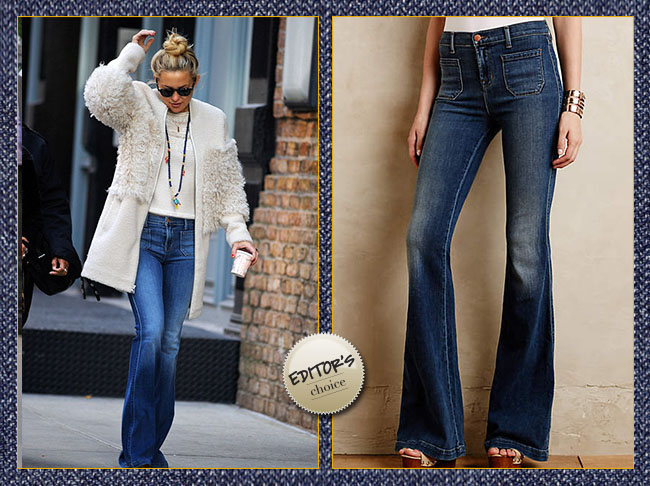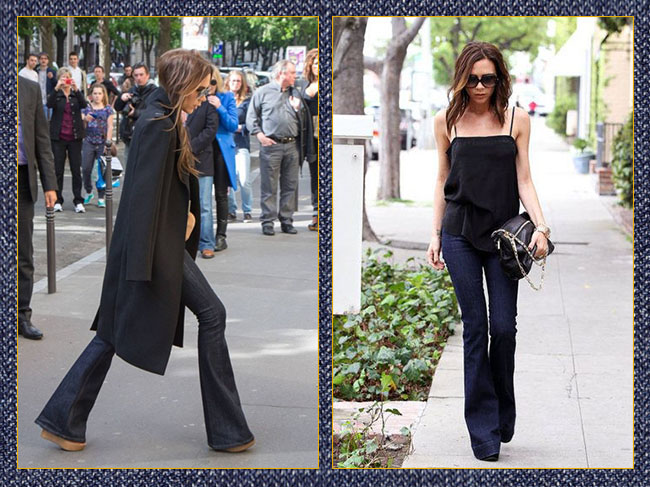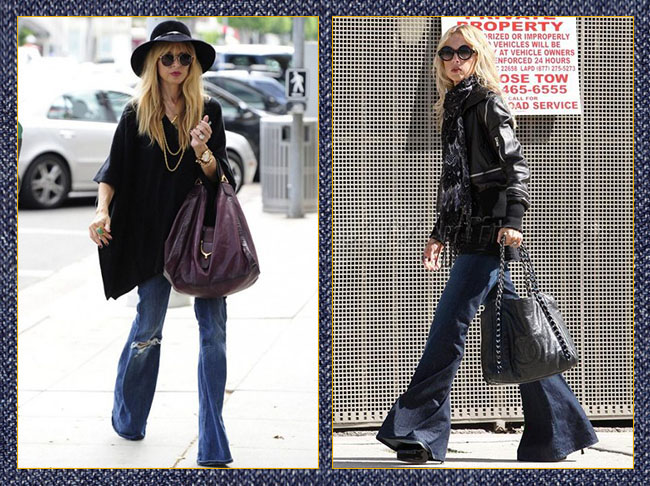 Victoria Beckham and Rachel Zoe are repeat flare offenders. Wait there's more! Who better to be our style icon than these two? Kendall Jenner rocks a flared jumpsuit that literally screams perfection.
Kate Hudson, Rosie Huntington Whitely and Kim Kardashian are also big supporters of the flare.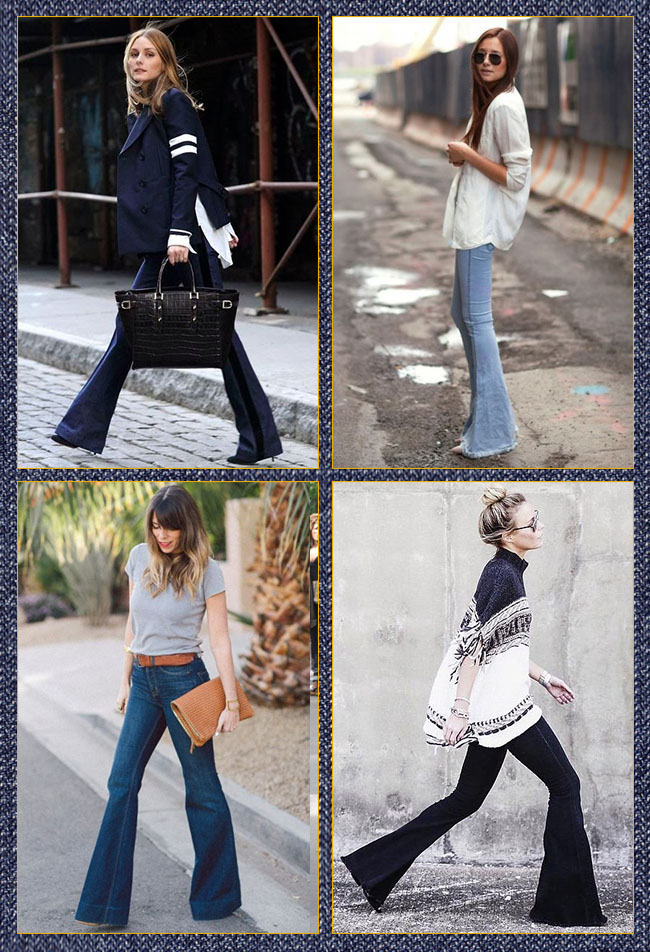 Unfortunately, or fortunately depending on how you look at it, I had to go shopping for my new pair of flares. I raided my closet just a few months back in one of my purging episodes, and threw away all my flares thinking "these will never come back in style!" In the past few years, the skinny jean became so popular, that it was nearly impossible to find any other style on the market! If only I'd have been more patient! Now I'm ready to take on Fall in my flares!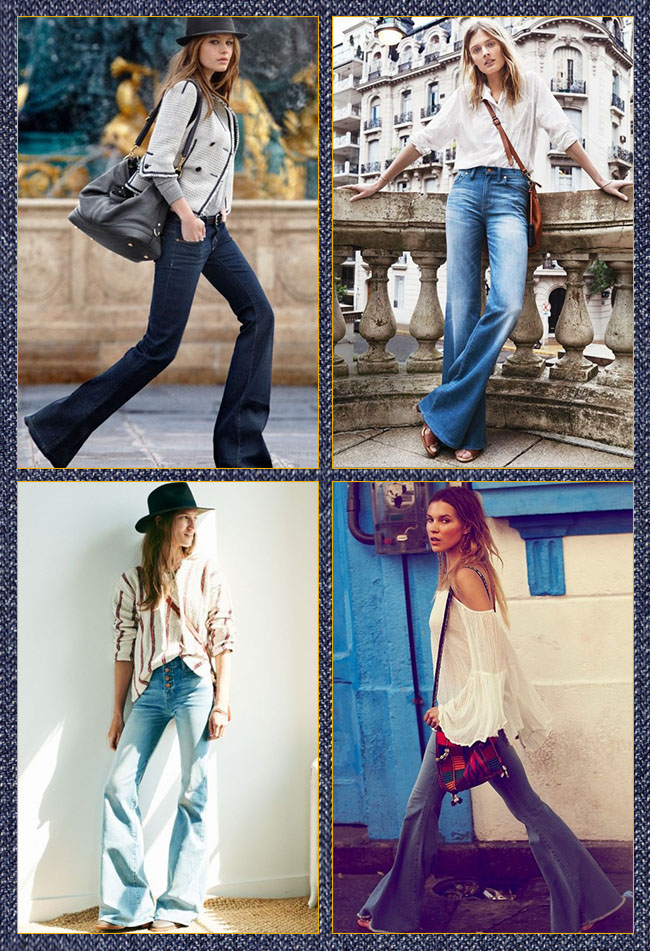 I keep asking my self why this resurgence. Maybe designers are revamping this style and taking us straight back to the hippie era with retro patterns, suede, and denim silhouettes! Flares, also known as bell-bottoms help elongate your legs and make you look extra lean. Let's be honest though, flares aren't as easy to throw on as skinny jeans. To get that slimmed down look, you have to take the time to style them properly.
Three Rules To Wearing Flares :
1. Flares almost always require a proper pair of heels. The added height is in connection to the super slimming ultra flattering praise flare gets. Platforms and flares were made for each other, comfort and height all rolled into one! If you're more of a stiletto gal, flares also look great with a pointy pump! Tip: Hem the bottom of your pants to match the height of you're shoes. No one likes a torn up hem!
2. Your top is key to keep you looking lean! Short tops or tucked in tees keep the emphasis on your waist. Tie it all together with a belt to accentuate the smallest part of your body & it'll keep you looking lean!
3. Opt for fitted flares. Flares should be fitted at the knee, and then flare out gently around the calf. To keep the legs looking even leaner, try a pair of high-waisted. Do these three things, and you'll no doubt be rockin' the flared fashion.
Don't forget to shop our one stop flare stop below!

Xx. Jadan Huter