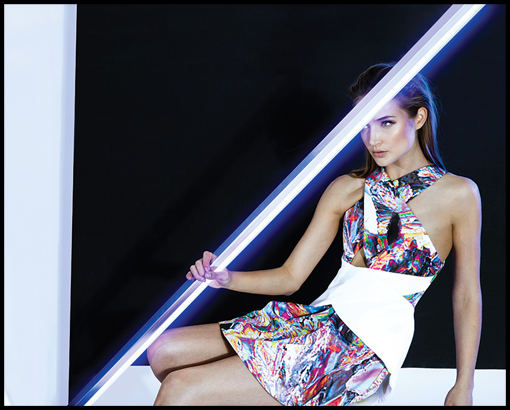 Fashion flash! The Australian fashion scene is going through a seismic shift and I'm loving it. It used to be considered two steps, well, at least a season behind everyone and everywhere else. Not anymore. Suddenly all kinds of brands from Australia are at the forefront. Edgy and different from the American scene, it's time I caught up our stateside (or not) followers with my personal must and lust favorites. You're not going to want to miss out on this group of secret gems.
My personal favs include flirty Cameo, the colorful, yet edgy Finders Keepers, KEEPSAKE for beautiful evening wear, new comer Jaggar and The Fifth. Check out and shop some of my favorite pieces! The best part, you won't see yourself coming and going in any one of these special selects. You'll literally stand out in a crowd without breaking the bank. My favorite fashion combo.

With it's fashion forward and experimental visionary designs, Cameo is a feminine yet flirty brand with a streak of the unexpected. Think Lanvin meets Peter Pilotto. Their heavy but touch-soft fabrics, bold prints and polished finish is part of their figure-flattering signature aesthetic.

If you don't know about them, you should. The Finders Keepers brand is one of the top global Australian Fashion Labels. Connecting of-the-moment trends with timeless style, Finders Keepers is all about eye-catching prints and colours mixed up with a feminine aesthetic. It's for the girl who takes untold pleasure in styling her look from head to toe, being at the forefront of new trends and shining like a diamond in her sartorial choices. OK. That's a bit over the top but you get what I mean. If you love to experiment, this one's for you.

Keepsake is Australia's go-to label for directional and beautiful evening wear with a twist. Contemporary, bold lines and silhouettes intertwine with elegant, classic fabrics, and colors. The line has an unashamedly feminine aesthetic and playful details. They even define the the "Keepsake Girl " as "not afraid to dress up for an occasion and become the visual focus of the event. She's the perfect balance of delicate femininity and strong convictions for a modern world. She is very aware of trends but uses them in a way that suits her own, unique style." Whoa! I just might be that girl.

At the opposite end of the spectrum is newcomer Jaggar's aesthetic which combines clean tailoring with an edge. They use luxe fabrics such as leather, denim and extensive prints to deliver effortlessly stylish pieces. Each one is perfect for rocking on the streets of Beverly Hills (and I get lots of shout outs on Rodeo Drive when I do) to strutting your stuff down under with the Kiwis.
Looking for statement basics that do all the heavy lifting? I found it. Fusing the attitude of street wear with the fine cuts and quality of high fashion, The Fifth Label has a laid-back sensibility with a focus on quality and wear-ability. With Clean lines, a versatile palette and original bold prints, The Fifth has created a range of pared back essentials each instilled with an understated edginess.
xo,
-Lauren, The Blondette with an assist from NJ, The Brunette