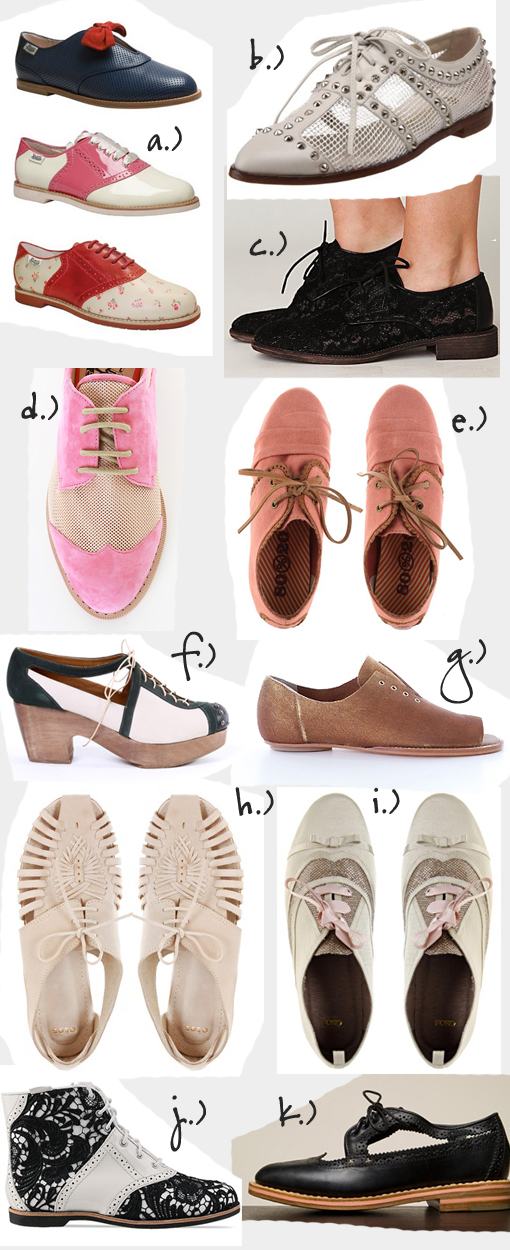 If you weren't already aware, I am updating from across the pond! That's right! I'm in London town! I thought since I was lucky enough to spend my day shopping down on Oxford Street, my next post would co-inside, and be all about my favorite shoes at the moment…Oxford shoes!
I came home and perused from all of my favorite online shops to find a selection of the very best! That is…in my opinion! Just because your not on Oxford Street in London, doesn't mean you can't lace up & take a walk in your Oxfords.
I want them in every single color. They are like candy!
Um, could these be any cuter/sexier? We all need these immediately. I love that little bit of a heel.
These are the cutest things ever. I may have to snag these even before the Rachel Antonoffs. So far the lace, the studs and these are my top three! With cut off jean shorts and a baggy tee?! Perfection!
e.) 8020 Marlee Oxford $30
Everything on www.Moxsie.com is 50% off right now! Enter Blowout50 at checkout!
These are so cute for day and night! Add a cute pair of tights & you'll look flawless!
These win for most unique!
Cheap. Cute. Easy. Done.
These are so darling!
j.) Rag & Bone Bradford Brogue in Nero Toscano $298 (On sale from $425!)
k.) Rachel Antonoff X Bass Beatrix Lace Boot $99 (On sale from $150)
Xx. Jadan